5 Innovative Snow Removal Machines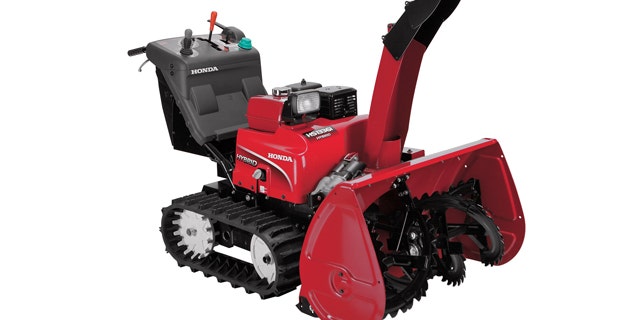 Across much of the country January means one thing: Snow. And lots of it. For skiers and kids freed from school by a snow day, snow can be a real blessing. But for the rest of us, it can be a pain in the back, literally. So if you have a ton of the white stuff piling up outside your home, consider some of these top tools to keep your driveway free and clear this winter.
Honda Hybrid Snowblower
Perched atop a set of self-propelled tank treads, the Honda HS1336i Hybrid ($8,000) will tear through 83 tons of snow per hour, all with minimal effort from you. But what really makes this blower stand out is its hybrid electric technology. Sporting a traditional a gas engine, the HS1336i also features a pair of electric motors for the track system, which are powered by capturing excess energy from the brakes and augur. A rarity in the snowblower world, this hybrid machine will maximize power while minimizing the cost of running it.
Meyer Home Plow
For the biggest jobs, you're going to want to strap on a Meyer Home Plow to the front of your truck or SUV. This $2,399 plow gives you the shoveling power of an industrial-size snow-clearing machine. Powered by an electric motor (there's also a more powerful hydraulic option starting at $2,649), the plow is controlled by a wireless remote, so you don't have to get out of the truck to mess around with the blade's settings. While overkill for the typical urban dweller, a plow like this is great for those that live in more remote areas where you can't rely on a municipality to clear the roads right away.
This mean machine will certainly clear your driveway in a jiffy, but if you get one, be careful: buy one of these and all your friends and family will want you to plow their driveways as well.
i-Shovel
A better blower can make the job of clearing snow a lot easier, but no matter how good the machine, you still have to suit up and face the chilly winter weather. The i-Shovel, however, seeks to change that. Much like a robo-vacuum, this diminutive snow plow will do all the work, using a set of cameras and a fully automated shovel system to clear your driveway without any effort from you. This little device has been designed to detect when the snow is falling, and puts itself to work as soon as it senses enough snow on the ground to warrant clearing the way. The i-Shovel is still a late-stage prototype, but the prospect of never having to lift a shovel again is something to get excited about.
Toro Power Shovel
With a form factor similar to a weed whacker, the Toro Power Shovel is a small tool that packs a punch. Despite weighing only 13 pounds, this electric snow blower can still chew through half a foot of snow. It's not exactly a replacement for a full-sized snow blower, but if you have a small walkway, or just want to clear off a light dusting of snow on the driveway, the Power Shovel is the perfect lightweight tool. And at $120 it's also a great option for people who have small outdoor spaces or who live in climates that only get occasional snowfall and don't want to drop a ton of money on a snow blower they might only use once or twice a year.
Sno Wovel
Finally, for those that insist on clearing snow by hand, there's the Sno Wovel ($150), which the company aptly bills as "a snow shovel on a wheel." It looks a little ridiculous, but it sure beats doing it with a regular shovel. The Sno Wovel's design elevates the handle and redirects some of the energy, greatly reducing the strain on your back. And because it's on a wheel, it makes pushing huge heaps of snow a whole lot easier. Yeah, it's not as fast a solution as a gas-powered blower, but think of all the calories you'll burn, perfect for shedding those extra pounds you picked up during the holidays.
Click here for more from FoxNews.com Home and Garden