5 Incredible home conversions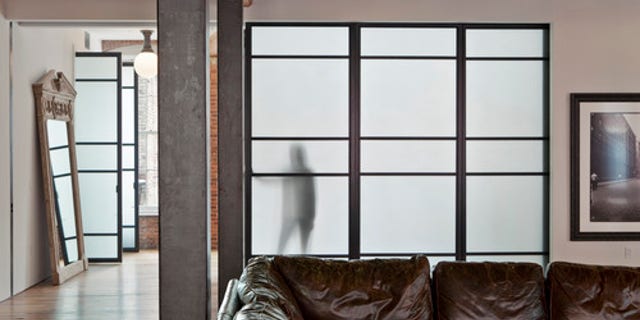 I believe the movies have fueled our love of converted spaces: that crusty warehouse where Jennifer Beals danced like a maniac, that amazing white former meat-packing joint where Glenn Close acted like a maniac, that hazy book-filled loft where Diane Lane turned into a sex maniac ... I have no theory about the connection between maniacal behavior and converted spaces, but I do believe their unique character, high ceilings, light-filled spaces and opposite-of-cookie-cutter style have wide appeal that entrances us on the big screen.
Living in a space that was formerly full of classrooms or assembly lines is always a great conversation starter, and such a home offers many chances to live in a unique way surrounded by history. Check out these five striking conversions -- which one appeals most to you?
Schoolhouse in Lincoln Park, Illinois
Determined to preserve this historic school building and teach their children environmental responsibility in the process, a couple converted the building into a sustainable home. A geothermal heating system stands up to freezing Chicago winter temperatures.
During construction, the team ripped down drywall to expose floor joists. They also reclaimed and repurposed wood joists from other areas of the house and created countertops, benches and ceiling treatments.
Bright color engages throughout this unique home.
Philadelphia Warehouse
It takes having a special eye to be able to walk into a space like this and fall in love with the potential. That's what husband and wife architectural team Kevin Rasmussen and Vivian Su did as soon as they saw this dilapidated warehouse in downtown Philadelphia.
The couple brought in the light and kept the wide-open feeling of the warehouse. Touches like leaving the original ceiling remind them of the building's history.
Now the remodeled exterior glows like an inviting contemporary jack-o'-lantern.
Pittsburgh Radiator Shop
Some see a crusty old radiator shop on this Pittsburgh street corner, but Mark Frankovitch envisioned a polished contemporary home.
Cedar siding adds some modern oomph to the original concrete blocks on the exterior.
An open spatial sequence with the kitchen in the center creates a harmonious interior flow.
The best part: an urban roof deck with a pergola, a fire pit and a bubble chair.
Industrial Warehouse in New York City
This renovation incorporated elements of the unique street architecture of its Tribeca neighborhood, like the glass garage-like door hanging over the kitchen and vintage furniture from an old mill.
Tip: When designing for a large, open space, consider scale and history. A copper window from a building facade now serves as a unique, patinated mirror in the powder room and holds its own within the large proportions of the loft.
A tricky part of renovating these kinds of spaces is keeping the open feeling and making the most of the light, while also allowing for some privacy. This transparent part of the wall is actually pocket doors, which can open up the main space to the bedroom.
Milk Factory in Atlanta
Interior decorator and TV producer Brian Patrick Flynn, aka the "Decor Demon," definitely understood scale when decorating his loft. An wall-size vintage photo of his parents, a large "F" (recognize it? It's from a T.G.I. Friday's) and a grand light fixture all fit the scale of the great room to a T.
Tip: You don't have to go over-the-top industrial to pay homage to a loft's history. Here, Flynn replaced builder-grade laminate countertops with poured concrete to give the kitchen a hint of industrial style.
Flynn made the most of this communal roof deck, where everyone can gather and enjoy the view of the Atlanta skyline in style.
Related:
Becky Harris currently lives in a 1920s cottage in Atlanta that she describes as "collected." Harris got into design via Landscape Architecture, which she studied at the University of Virginia. She's been writing about design online for a few years over at Hatch: The Design Public Blog.