3 Cool DIY spice rack ideas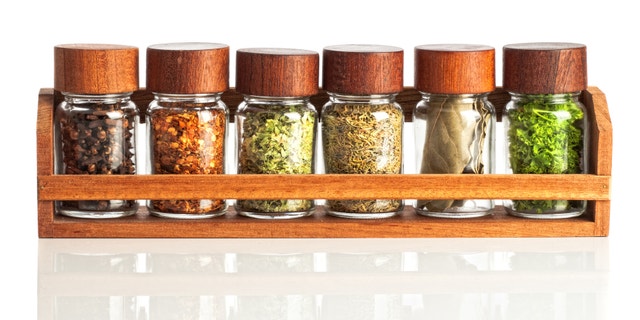 It's six o'clock in the evening. Do you know where your spice jars are? Three bloggers certainly do, as they have invented and built cost-and-space-efficient spice storage solutions. These three solutions use wall and pantry space to the fullest. Are you ready to make the most of your kitchen? Let's go!
Built-in spice rack: KariAnne from the blog Thistlewood Farms built this clever spice rack into an overlooked, unused space in her kitchen. With the help of her husband, who is a pretty good carpenter, and only $25 worth of materials, she built a clever spice rack onto the side of a cabinet. The sides of cabinets and shelves are often unused. KariAnne took advantage of the space by by installing boards and decorative molding to form a ladder of shallow shelves the width of the end of her cabinet. The shelves are the perfect depth to store bottles of spices or decorative plates. Although KariAnne had the help of her husband, the woodwork involved in this project is basic enough for an intermediate DIY-er to do.
Pantry door spice rack: Without even the help of her local Dallas handyman, uber-talented DIY blogger Whitney from Shanty2Chic built a huge, sturdy spice rack inside her pantry door. The inside of a door, whether it is your kitchen door or kitchen closet door, is usable storage space. She built herself a whopping six mini-shelves for spice jars of all sizes, including a cute top shelf for mini-jars. The best part of her project is her step-by-step instructions for building it. Well documented with pictures, you can follow her steps to replicate the project in your own house.
Wall-mounted wire grid: Jessica Hill of the blog Mad in Crafts shared a paint bottle storage solution that I saw and thought, "Spice rack!" She used wire shelving squares and a clever arrangement of PVC pipe, and the result was mod-looking storage grids. By carefully mounting the shelving to the wall, she ensured that the petite shelves could hold the weight of many, many bottles of craft paint. Girds like the ones that Jessica made could be mounted to a wall, on the end of a cabinet, or on the inside of a cupboard or pantry door.
Chaya Kurtz writes for Networx.com.