$28K 'Fixer Upper' home now selling for $1 million, but is it worth it?
Over the last four seasons of HGTV's "Fixer Upper," Chip and Joanna Gaines have transformed dozens of modest houses into luxurious dream-homes featuring everything from subway-tiled doggie showers to outdoor dining rooms. So it comes as no surprise that one of the homes featured on the series is now selling for nearly $1 million.
What is surprising is that the owners of that particular home bought it for only $28,000.
Cameron and Jessie Bell, the couple who purchased the 700-square-foot shotgun-style house that was featured in a March 2016 episode of "Fixer Upper," are now listing the property for $950,000 with Briggs Freeman Sotheby's, according to Realtor.com — but real estate agents are divided on whether or not it's worth it.
CHIP AND JOANNA GAINES ANNOUNCE NAME, DETAILS OF WACO RESTAURANT
In fact, a real estate agent who spoke with the Waco Tribune-Herald initially thought the price was a mistake.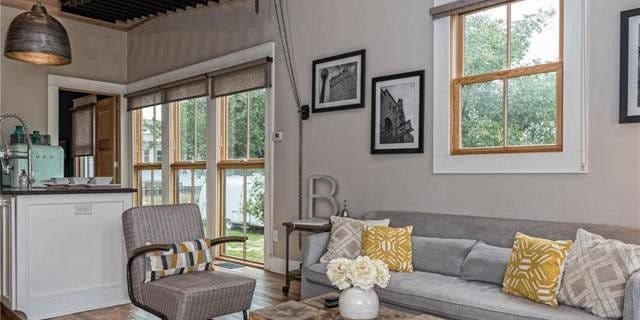 "That's probably a typo," said Julie Pendergraph, a residential sales specialist with Keller Williams Realty. "There is no way on God's green earth they are going to get that kind of money. That's $905 a square foot.
"It's a nice house, with one bedroom and one bath, and it's over there by Magnolia Market, but still."
The house's actual listing agent, Jennifer Roberts, told KWTX she feels differently about the Waco, Texas, property.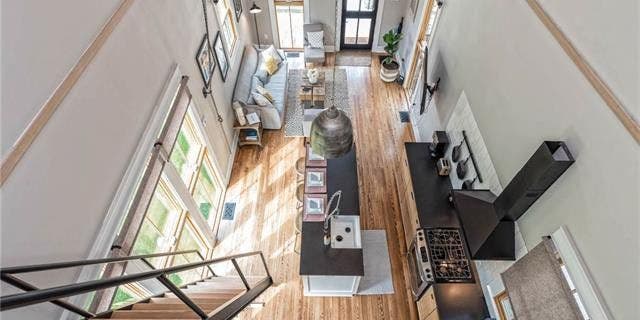 "I think there are a lot of reasons it's worth it," Roberts told the station, citing its included furnishings and close proximity to shopping and dining options at Magnolia Market. She says the new owners could also use it as a rental property, like the Bells do now. (The couple currently lists the home for $324 per night on Airbnb).
'FIXER UPPER' STAR JOANNA GAINES SHOWS OFF NEW HOME LINE
When the Bells first approached Chip and Joanna about buying a house, the couple didn't have a lot to spend. But through careful budgeting, they was able to afford a run-down, soon-to-be-demolished home for just $28,000. They also put an additional $103,000 into renovations and moving costs (the house had to be physically moved to make way for a developer), according to HGTV.
By the time Chip and Joanna revealed the Bells' finished home, the house had hardwood floors, an antique brick patio, a walk-in shower, and an additional 350 square feet of living space in the upstairs loft, which Chip was able to accommodate by raising the roofline of the original home.
"From the beginning, the tiny shotgun house had lot of big challenges," Joanna said of the renovation process. "But in the end, the reward was huge."
The Bells, however, are apparently hoping to reap an even huger reward by listing their narrow home for just under $1 million.
And although the Gaines themselves have no say in how the home is handled by the new owners, they might not be thrilled with this latest development.
FOLLOW US ON FACEBOOK FOR MORE FOX LIFESTYLE NEWS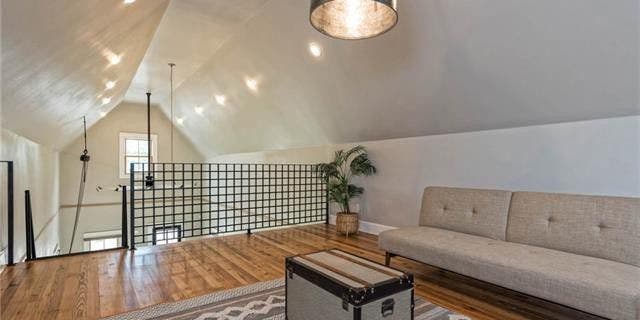 According to a 2016 article in Country Living, a spokesman for the duo claimed that they weren't necessarily against people renting out the homes featured on "Fixer Upper," but they weren't too happy about it, either.
"We have no problems with our clients' interest in using sites like VRBO and Airbnb to rent out their homes. In fact, we get it. But we are going to be more strict with our contracts involving Fixer Upper clients moving forward."
"We want to do remodels for clients' homes," he continued. "That's the true intent of our show, and we want to ensure that does not get lost in this new vacation rental trend. What started off with perfectly understandable intentions could cast a shadow of a doubt on the much bigger picture, and we are going to do our best to protect that moving forward."