12 Coffee tables to stir up a living room look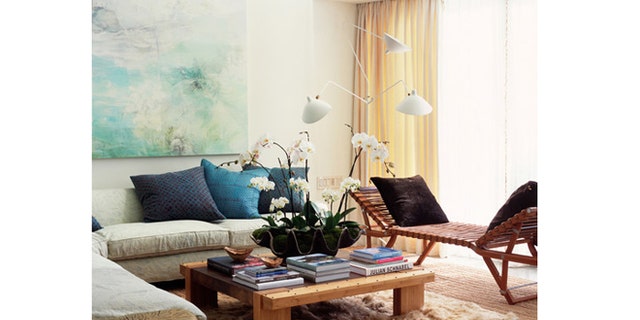 A coffee table can reveal many things about its owner: style, reading interests, sometimes even age. My mom has a coffee table from the early '70s that she just won't get rid of. I can recall pictures of myself as a baby learning to stand using the edges to pull myself up. Her sentimental feelings for this table have led her to keep it, and it offers a hint that she's in the baby boomer generation.
Coffee tables are one of the most basic furniture pieces, often one of the top three first purchases when someone is furnishing a home. And just like fashion, table styles change. Styles reflect the times, including materials, form and function. If you're considering a new coffee table for the new year, here are 12 ideas to get you started.
This basic wood coffee table has a fresh twist with a lower-than-standard height, about 12 to 14 inches, giving this sunny living room an updated appeal. Stack your favorite books in piles on top for a casual, homey look.
The glass table is a classic choice for both traditional and contemporary interiors. Glass tables help create an airy, uncluttered feel. If you have a beautiful rug that you don't want covered up, glass is your answer.
A live-edge slab table gives an instant soft modern appeal. With a metal base, it's a great style to mix into eclectic arrangements.
Tree trunk coffee tables such as this trio have become very popular as part of the green furniture movement. They're typically very heavy; buy ones with casters to make transit much easier.
A coffee table made of separate pieces, such as these four square ones, is perfect for people who like to mix things up and move furniture around regularly. This geometric grouping has great modern appeal.
Have a favorite table but long for a change? Splash on some paint! The color can tie into the room's palette or introduce a splash of random color.
A petite coffee table set to one side is a great option for a daybed. Allowing for easy access to the seat, this small table is just big enough to hold books, a lamp or a mug.
A painted coffee table feels very traditional, adding complex layers the eye loves to rest on. Note how this black coffee table is mixed with white painted chairs and medium-toned end tables.
Make it a soft top. An upholstered ottoman is so comfortable and legs-up casual that it's hard to resist. You can always place a tray on top as a solid surface for drinks or accessories.
Natural stone tables are beautiful in traditional and modern settings. Durable and substantial, they anchor a room as the focal point. Stone is a great starter for a neutral palette.
Repurpose an old trunk or suitcase. These types of pieces give a room a lived-in look while adding storage for blankets and pillows.
Consider a cafe-style height, just like in your favorite coffee shop. A café height changes the look and function of the table completely.
Related:
Houzz is the leading online platform for home remodeling and design, providing people with everything they need to improve their homes from start to finish -- online or from a mobile device. From decorating a room to building a custom home, Houzz connects millions of homeowners, home design enthusiasts and home improvement professionals around the world. Charmean Neithart is a contributor to Houzz.