10 ways to enjoy your garden more this holiday season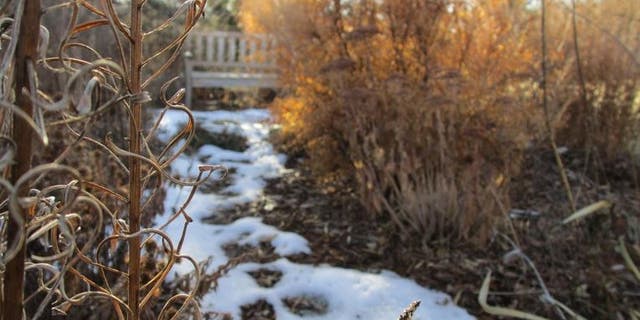 Colder weather and shorter days tend to make us feel like hunkering down indoors, but a dose of fresh air can be just what we need this busy season. Whether you're looking for ways to entertain friends out-of-doors or would like to escape the house for a bit of peace and quiet yourself, here are 10 ideas for getting out in the garden soon.
1. Cozy up around a fire pit. If you're hosting friends for dinner, take the group outside to enjoy a bit of fresh air before the meal. Bring out drinks and appetizers to share and plenty of warm blankets to wrap around shoulders. When you step back inside for dinner, the house will feel even more warm and inviting.
No fire pit? You can enjoy the same breath of fresh air before or after a meal by bundling up and sitting on a patio or taking a walk around the neighborhood.
2. Refresh seasonal containers. Some garden projects can feel too ambitious when it's chilly out. By redoing or refreshing containers, you can pack a lot of punch for not too much time or effort, and little or no cost. Use cut branches and pinecones instead of live plants for a seasonal display.
3. Go for a garden stroll. The holidays are a busy and often stressful time of year, and just getting out into your backyard can be one way to calm your mind. Instead of focusing on garden chores, the shrubs you should have cut back or the bulbs you wish you planted, change the way you look at and experience your garden to one that's more forgiving. The grasses you didn't trim might catch the light in a beautiful way, or the seeds of a plant might be providing food for birds.
4. Putter around in a greenhouse. If the weather is poor — or you're looking for an escape from a full house — head out to the greenhouse and get a head start on some of your winter garden tasks. Oil and put away tools for the season, organize potting supplies and bookmark seed catalogs for the spring garden. Or just sit and curl up with a book and a cup of tea and enjoy a bit of downtime.
RELATED: Don't Have a Greenhouse? Bask in a Warm Sunroom Instead
5. Deck the halls. Dressing up the exterior of your home for the season can be a great way to get in a festive mood and create a welcoming entrance. Whatever decorations you choose – making a wreath for the door, lining the eaves with lights or draping garlands along windowsills — get the whole family outside to help share the work and the fun.
6. Host a dinner outside. If you live in a warm climate or have lingering warm weather in fall, host an outdoor meal. Make it into an occasion, such as a celebration of the season, holiday dinner or even just one last hurrah before you pack up the patio cushions. Bring out blankets to drape on the backs of chairs, heat sources like portable electric heaters if needed and light sources to make the patio feel more comfortable.
RELATED: Pile on the Outdoor Cushions and Pillows
7. Create an inviting outdoor destination. Sometimes the hardest part about getting people outside in chilly weather is getting them to leave the house. You may need to lure them there, such as with a row of luminarias set across the lawn or along a garden pathway leading to a cozy lounge setup. Be sure the eventual destination also has something inviting to offer like warmth from a fire pit or portable outdoor heater, or the prospect of hot drinks or desserts.
8. Take dessert outside. A perfect way to lure guests, particularly young ones, outside is to sweeten the deal; for instance, plan for making s'mores around a fire pit after dinner. Stock up on graham crackers, marshmallows and chocolate now and you have an easy fallback dessert tucked away in your pantry.
9. Watch birds. Another way to take a break and enjoy your garden this season is by paying more attention to the wildlife your garden supports. If you've been observing birds for a few seasons, perhaps you'll spot ones you haven't seen before, as winter migrants return to your neighborhood.
Putting out sources of food and water —particularly important in dry climates and if available sources are scarce or frozen — can be a great way to draw wild birds to your garden and help them survive.
While some birds thrive on seed, others prefer fruit, nectar or bugs (they'll find their own) as sources of food. Hanging suet (animal fat, available from butchers) also provides birds with a high-calorie food source that can be much needed this time of year.
10. Forage for decor. Instead of adding more to your shopping list, plan on gathering ingredients from the garden or fallen branches on sidewalks to make seasonal arrangements. When you're walking around your yard, it's easy to spot the ones like winterberry (Ilex verticillata) or heavenly bamboo (Nandina domestica) that have bright-colored berries. Supplement these with bare twiggy branches or ones with dried fall leaves, peeling bark or evergreen conifers.