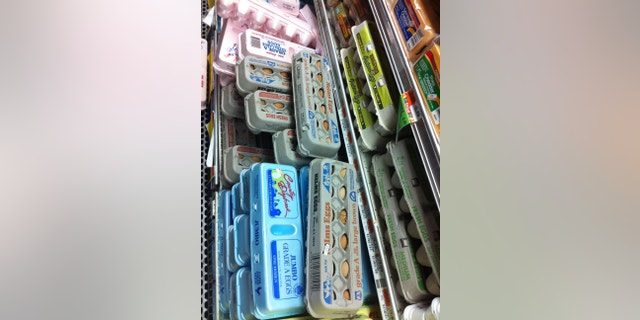 Eggs are a versatile and readily available food, and if you're a fan of them fried, poached, boiled or scrambled, you likely have a ton of old egg cartons lying around. But rather than toss them into the trash, why not put these household helpers to work? Here are some of the best uses for egg cartons.
Start a Garden From Seed: Fill the cups of a paper egg carton with soil and place a seed in each one. Once the seedlings have sprouted and you're free of the final frost of the year, simply snip each cup free and pop them straight into the soil. The cardboard will decompose as your young garden grows.
Packing Material: Egg cartons are specifically designed to cradle fragile eggs, but you can also repurpose them to cradle fragile items that you ship. Line a box with eggs cartons using some double-sided tape and your items are sure to arrive in one piece.
Sorting Small Items: Egg cartons are the perfect way to sort and store pocket change, nuts and bolts, buttons or any other tiny items.
Golf Ball Storage: Before you hit the links, use an egg carton to sort out your golf balls. That way, when you inevitably slice on the fifth hole and lose one in the rough, a replacement is at hand without having to rummage around in the bottom of your golf bag.
Christmas Ornaments: Once the holidays are over and it is time to pack away all the decorations, you can use an egg carton to keep fragile Christmas tree ornaments safe and sorted.
Fire Starter: Add sawdust to each cup of a paper carton and pour melted candle wax over it. Tear a cup free when you need a quick fire starter for a fire pit or barbecue. (Via Lifehacker.)
Mixing Paints: During craft time with the kids, you can use a plastic or styrofoam egg carton as a paint palette. The individual cups are perfect for mixing colors. When the painting is done, simply toss them in the trash. The best part: There's no messy cleanup. If you want to be more green, use water-based paint; wash it out; and recycle the egg carton. (Get more secrets of saving paint from Atlanta painter Kass Wilson.)
Ice Cube Trays: Big party coming up and worried you won't have enough ice for guests? Increase your ice-making capacity by using plastic egg cartons as additional ice cube trays. (Via DIY Life.)
Egg Carton Flowers: If you're the crafty sort, artfully snipped and painted egg carton cups make a great floral centerpiece. (Via Shelterpop.)
Storing Eggs: If you like shopping at the farmers market, then save up your old egg cartons and re-use them the way they were intended: to transport eggs. The local farmers will surely thank you for sparing them the cost of another piece of packaging, and you'll have done a good deed for the Earth.
Adam Verwymeren writes for Roofing Networx. Get home & garden ideas like this - http://www.networx.com/article/10-smart-uses-for-egg-cartons - on the Networx family of sites.