10 Inspired ways to refresh your mantel now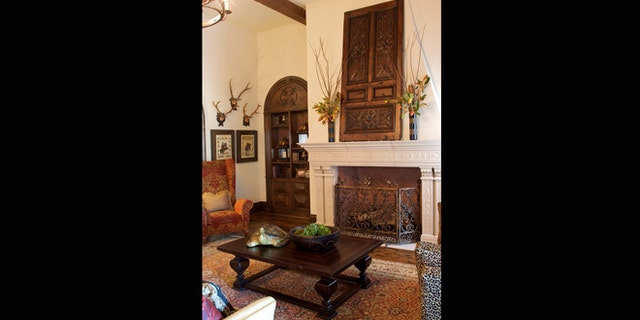 What goes up must come down. That saying certainly applies to Christmas decorations. About this time of year there are bare mantels everywhere looking sparse and lonely, in sharp contrast to the previous weeks of garlands and twinkling lights. What's a mantel to do after the glory of Christmas?
The hearth is often viewed as the center of the home. That being said, the mantel is a great place for displaying a story about the home or homeowner. It's a place for showcasing our favorite things, or it can be that one area for rotating weekly doses of design. Feeling like a fresh start for your mantel now that the holidays are winding down? Here are some simple ideas to kick off the new year. Let us know what's on your mantel in the Comments section.
Ah, symmetry! What I particularly like about this mantel besides the great symmetry is the layering of mirrors. Notice that the starburst mirror is mounted directly onto the built-in mirror. I recommend hiring a professional glass company or framer for this type of installation.
Do you collect botanical prints? Display them on the mantel. It's fine to prop art up against a wall. Fresh potted plants act as perfect bookends.
Repeat rounds. A circular shape is a nice complement to the squareness of a mantel. Here they're used effectively in pairs.
A minimalist statement can also work on the mantel. Try grouping a cluster of like-colored pottery to one side. The visual weight of the grouping to one side helps create a modern vibe. A great-looking pendant balances the vignette.
A mantel can be your area for a rotating design element. If you like a little something fresh every week, use this spot to display fresh flowers. Notice how the designer used lighting to create a focal point here.
Why let your favorite china collect dust in the pantry? Consider putting a favorite dish collection up on the mantel for everyone to enjoy. Dishes can be mismatched or matching. Display them using small plate stands or easels.
Use location-specific accessories to make a statement about your home. I can visualize this rustic-looking door in the mountains somewhere.
Tell a story about your hobbies or occupation. I think this artwork is a classy way to showcase a riding hobby, a horse-breeding occupation or perhaps just a love of horses.
Let lighting do the talking. Perhaps the only change needed to your mantel is the way in which it's lit. Make a statement with interesting pendants or sconces in pairs or other repetitions.
Consider fresh paint. I just love the boldness of this high-gloss green. The color is unexpected and fun. There's no need to over-accessorize a mantel with bold color.
Related:
Houzz is the leading online platform for home remodeling and design, providing people with everything they need to improve their homes from start to finish -- online or from a mobile device. From decorating a room to building a custom home, Houzz connects millions of homeowners, home design enthusiasts and home improvement professionals around the world. Charmean Neithart is a contributor to Houzz.