You Know the Summit Isn't Going Well When...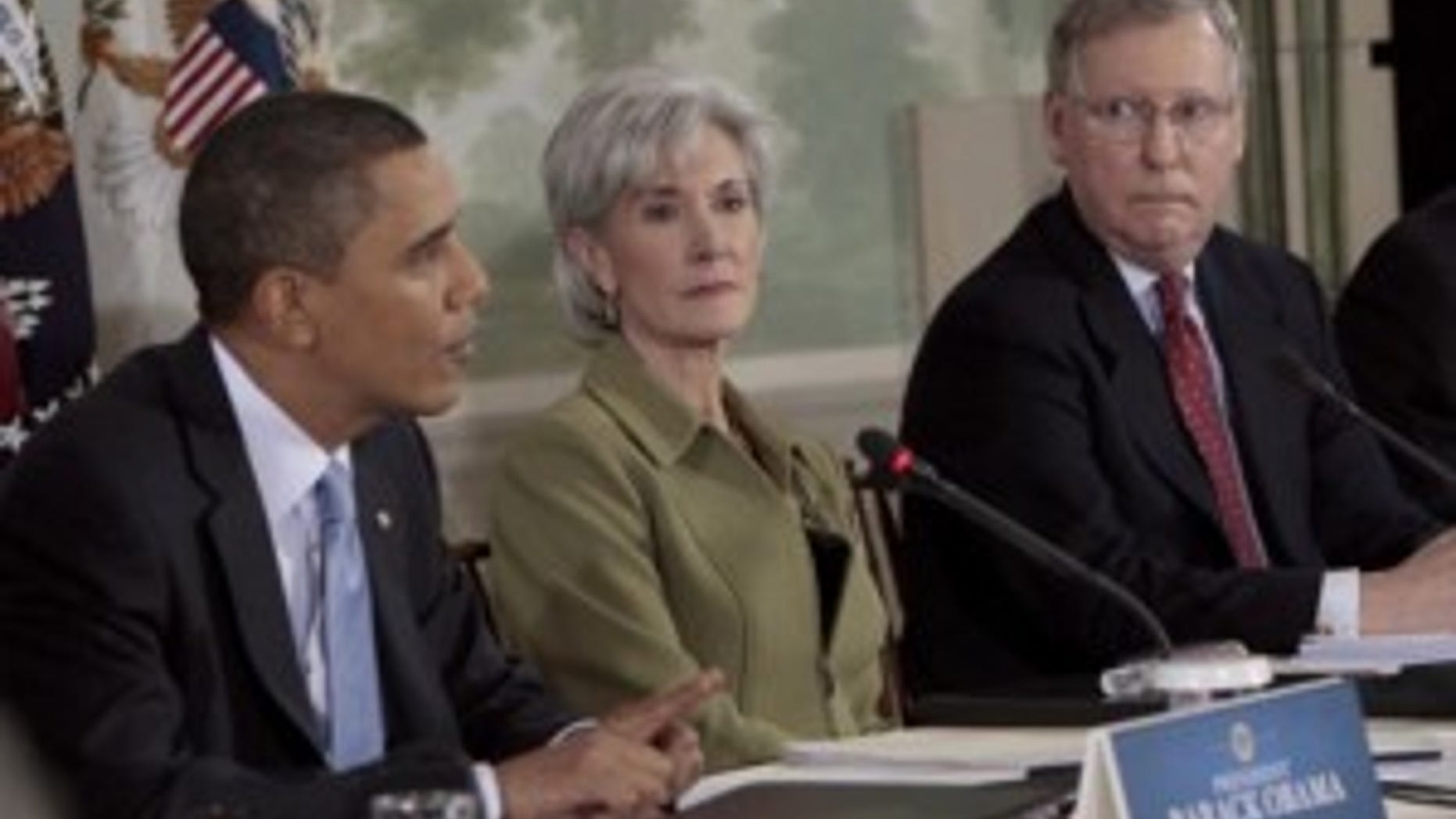 Listen.  Hear that sound? It's the ticking of Minority stopwatches.  And you thought those little pesky devices were only being employed in Vancouver!
Republicans bristled as Democrats gobbled up more time for remarks during Thursday's bipartisan healthcare summit, ever aware that the cameras are rolling and cases must be made during this tense midterm election year.  And the one thing you learn in Washington --- politicians are talkers of the Olympic varietal; and they are uber-competitive.
Senate Majority Leader Mitch McConnell, R-KY, was quick to reprimand Obama, pleading for "fairness", saying Republicans had only gotten the mic for 24 minutes to the Democrats' 52.
Obama, at first, seemed puzzled, then admitted that he had forgotten to count himself on the Democrats' ledger.
Now, if you are scratching your head wondering if Mitch  McConnell is sitting in that stately room in the Blair House with a stopwatch in hand, like some kind of crazed training coach for a speed skater, well -- not really.   The advent of the Blackberry (you can even hear that annoying microphone interference - the buzzing sound -- from time to time...that's the mails beaming into the electronic email contraptions) has changed quite a lot.   Staffers to the leader are sending him updates.
Earlier, the President wagged the proverbial finger at Sen. Lamar Alexander, R-TN, for talking too long but said he wasn't blameless either. "Both I and Lamar went a little bit over our original allocated time. I'm not one to be a hypocrite. I wanted to give you some slack."
Well, "Lamar's" staff did not like that "slack" remark too much.  A little while after, aides to the Senate GOP Conference Chairmen sent journalists the following:
"At the start of the White House summit on health care, President Obama suggested that he cut Republicans some slack and allowed Senator Alexander to give longer opening remarks. Democratic leadership and President Obama's opening remarks totaled more than 30 minutes. Senator Alexander clocked in at 13 minutes and 10 seconds."
And then we got this helpful chart:
DEMOCRATS' OPENING REMARKS
Pres Obama 14 mins, 36 secs
Speaker Pelosi 7 mins, 57 secs
Leader Reid 8 mins, 13 secs
TOTAL FOR DEMS: 30 mins, 46 seconds
REPUBLICAN OPENING REMARKS
Sen Alexander 13 mins, 10 secs
It, indeed, does not make Democrats look very good that they are bogarting the mics, especially as they were to have decided yesterday, according to many Dem staffers, that they would be in "listening mode" (see yesterday's blog entry).
BUT -- it speaks to the larger situation here.  There is an ideological chasm as large as the natural wonder in Arizona in that summit room.  Though the conversation has been interesting, it seems impossible to imagine that they can bridge it.
UPDATE: Here are some new numbers from the GOP on their measuring of clock disparity in this morning's session.
Democrats: 108 minutes
Republicans: 56 minutes
• President Obama spoke for 58 minutes.
• Democrats spoke for 50 minutes.
• Republicans spoke for 56 minutes.
ANOTHER UPDATE: (from the GOP)
DEMOCRATS (Including President Obama): 233 MINUTES OR NEARLY 4 HOURS
REPUBLICANS: 110 MINUTES OR 1 HOUR 50 MINUTES
PRESIDENT OBAMA ALONE: 119 MINUTES OR 1 HOUR AND 59 MINUTES