WWII vet dies after casting final ballot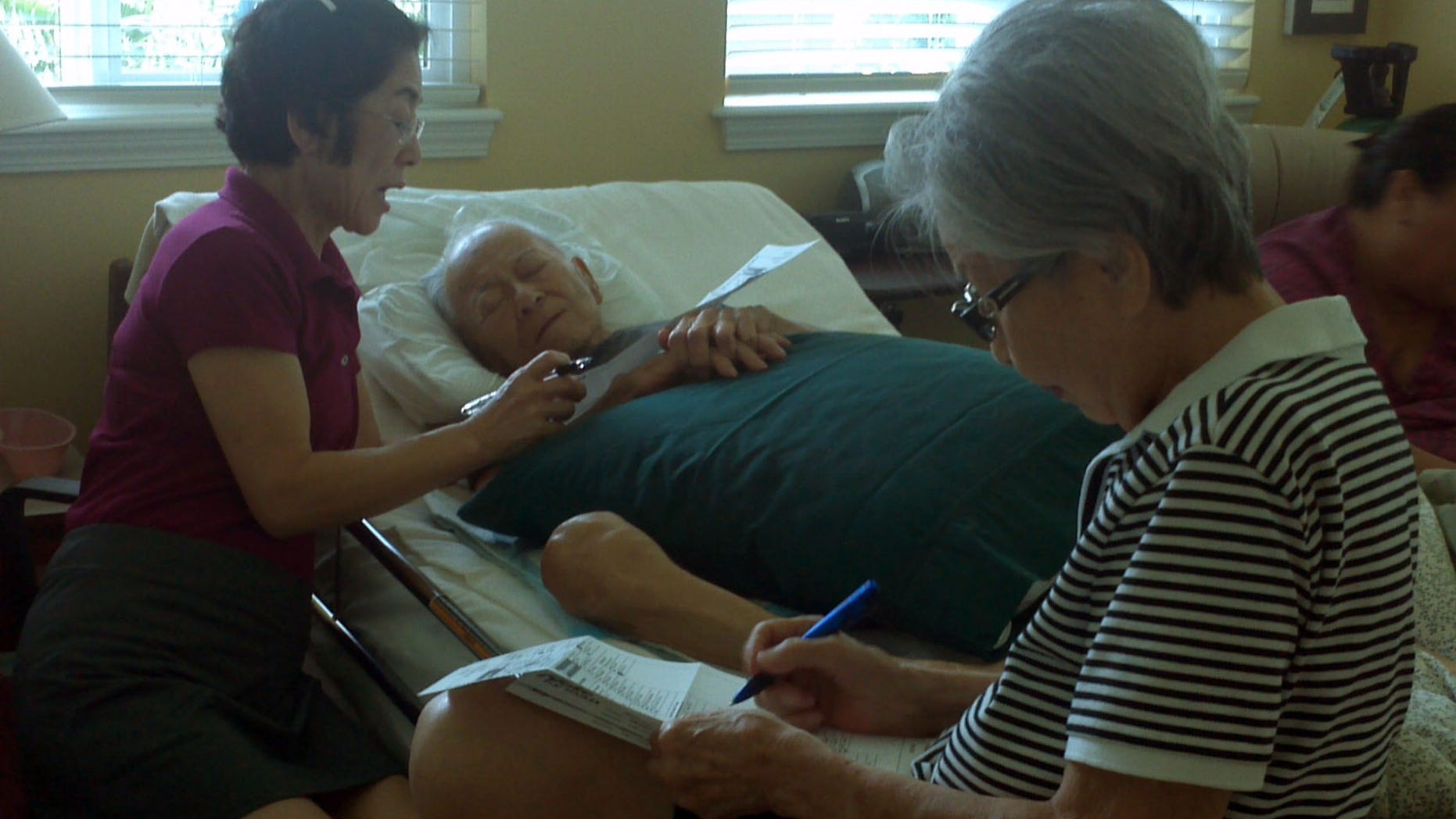 The 93-year-old World War II veteran who captured national attention after a photo circulated of him casting a ballot from his hospital bed has died.
Under state law, Frank Tanabe's vote would not count.
Still, the photograph of Tanabe filling out his absentee ballot with the help of his daughter last week became an inspiration to the country after his grandson Noah Tanabe posted the picture on the social media site Reddit.
Doctors diagnosed Tanabe with an inoperable cancer tumor in his liver two months ago. He was in hospice care for the past three weeks at the home of his daughter Barbara.
He was determined to vote regardless, eagerly asking when the ballot would be arriving in the mail, his daughter said. He filled it out immediately when it landed in the mailbox on Oct. 17.
Barbara Tanabe read aloud the names of the candidates to her dad. He either nodded "yes" to the names or shook his head "no." She filled in the boxes on his behalf, following his instructions even when he didn't pick the candidates she preferred.
According to state law, officials would pull the ballot of any deceased voter after receiving his or her death certificate. Some, though, want the law changed.
"My feeling should be just once you voted, that's it, unless there's some fraud involved," state Rep. Karl Rhoads told KHON2.
Tanabe served in a mostly Japanese-American unit of the Military Intelligence Service during WWII. He volunteered to join the Army from the Tule Lake internment camp in California.
A half-million people saw the picture on Reddit after Noah Tanabe posted it there last Thursday, making it one of the most popular items on the social media network for a day after.
"True Patriotism," was the top rated comment on the post. "This is America. Amen," was next, followed by "Thank you, Citizen."
Tanabe volunteered to join the Army from behind barbed wire at the Tule Lake internment camp in California. He was pulled out of college at the University of Washington and taken to the camp when President Franklin D. Roosevelt ordered 110,000 Japanese-Americans detained and isolated after the start of the war with Japan.
The Army assigned Tanabe to the Military Intelligence Service, a classified unit whose members were collectively awarded the Congressional Gold Medal last year along with soldiers who served in the 100th Infantry Battalion and 442nd Regimental Combat Team - highly decorated segregated units of mostly Japanese-Americans.
The Associated Press contributed to this report.