Wreckage in wake of bungled House coup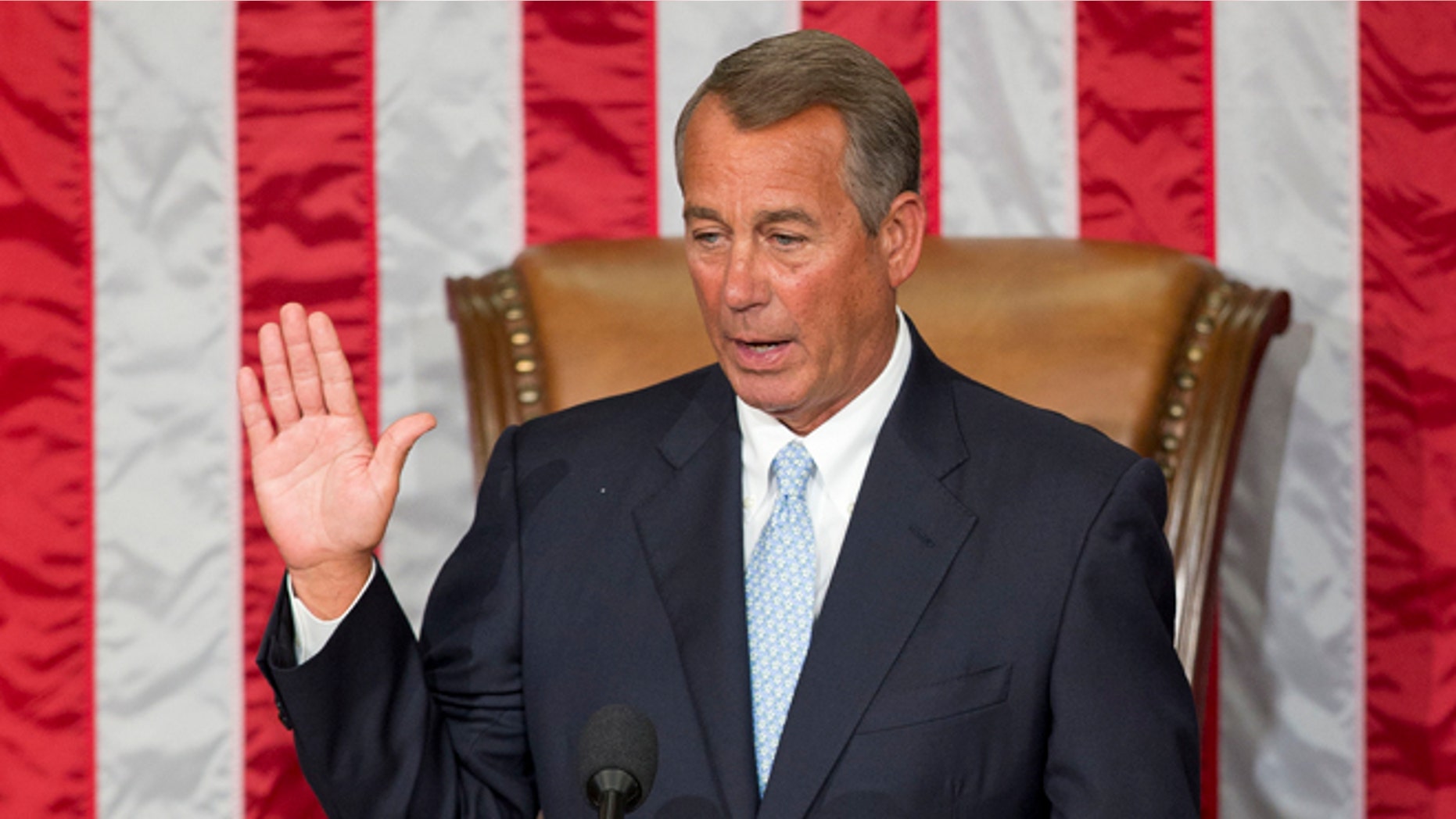 **Want FOX News First in your inbox every day? Sign up here.**
Buzz Cut:
• Wreckage in wake of bungled House coup
• Baier tracks: Islamist militants leave no doubt in Paris
• Warren to rally labor allies
• Rubio comes out swinging at Hillary
• Lizard lips
WRECKAGE IN WAKE OF BUNGLED HOUSE COUP
WashEx: "Republican leaders on Tuesday infuriated conservatives by meting out punishment to a group of far-right GOP lawmakers who tried to oust House Speaker John Boehner. Hours after 24 Republicans voted against Boehner, GOP leaders removed two members from a key committee. By late Tuesday, Reps. Daniel Webster and Richard Nugent, both of Florida, were stripped from the powerful House Rules Committee, which governs the legislative process, including amendments and changes to bills before they reach the House floor for debate. Webster was one of three candidates who announced they were running against Boehner…But GOP lawmakers told the Examiner that others could feel repercussions, including Rep. Scott Garrett, R-N.J., who could lose his chairmanship of a Financial Services subcommittee."

[The Hill: "Rep. Tim Huelskamp [R-Kan.] on Tuesday said he had a chairmanship taken away from him shortly after he announced he would vote against Rep. John Boehner [R-Ohio] for Speaker."]

Mulvaney blasts bunglers - Rep. Mick Mulvaney, R-S.C., took to Facebook to vent his frustrations with the bungled coup: "…the Floor of the House is the wrong place to have this battle. The hard truth is that we had an election for Speaker in November – just among Republicans. THAT was the time to fight. But not a single person ran against Boehner. Not one. If they had, we could've had a secret ballot to find out what the true level of opposition to John Boehner was. In fact, we could've done that as late as Monday night, on a vote of 'no confidence' in the Speaker. But that didn't happen…and at least one of the supposed challengers to Boehner today didn't even go to the meeting last night. That told me a lot."

Here's how it's done - Some advice for conservatives from John Hart, who as a senior staff member, helped execute the successful GOP leadership coup of 1998. He was not impressed by the failed effort. "In contrast, today's effort gives rebellion a bad name. It is tepid, poorly planned and pretends to be conservative but is conventional Washington politics and posturing at its worst."

OBAMA TO WARN OF GAS PRICE RISE IN DETROIT GREEN CAR PITCH
Detroit News: "President Barack Obama is warning Americans that cheap gas prices won't last indefinitely, and he's standing by his support of small, fuel-efficient vehicles. "I would strongly advise American consumers to continue to think about how you save money at the pump because it is good for the environment, it's good for family pocketbooks and if you go back to old habits and suddenly gas is back at $3.50, you are going to not be real happy," Obama said in an exclusive telephone interview with The Detroit News on Tuesday, the eve of his visit to Ford's Michigan Assembly plant in Wayne."

Hang time - WashEx: "President Obama has invited the top four Democratic and Republican leaders in the House and Senate to a meeting at the White House next Tuesday, as Obama tries to build momentum for his legislative agenda at the start of the 2015 congressional session."

Swing set - The Hill: "Senate Republicans are reaching out to about nine Democrats they see as crucial swing votes in the new Congress. With his 54-seat majority, Senate Majority Leader Mitch McConnell (Ky.) is six votes short of overcoming Democratic filibusters, making bipartisan support a necessity for getting most legislation to President Obama's desk. Republicans have identified six go-to centrists: Democratic Sens. Joe Manchin (W.Va.), Heidi Heitkamp (N.D.), Mark Warner (Va.), Tim Kaine (Va.) and Joe Donnelly (Ind.) and independent Sen. Angus King (Maine), who caucuses with the Democrats. Several other Democrats, including Sens. Claire McCaskill (Mo.), Chris Coons (Del.), Tom Carper (Del.) and Martin Heinrich (N.M.), are also targets, though they are seen as riskier partners."

CBC will feel the Love - Daily Caller: "Utah Rep. Mia Love, who recently became the first black female Republican ever elected to Congress, joined the Congressional Black Caucus, according to a Tuesday announcement - potentially bad news for the group.  Love, the former mayor of Saratoga Springs, has stated that she would likely join the CBC but would attempt drastic change from within the group, which tends to lean to the left."

BAIER TRACKS: ISLAMIST MILITANTS LEAVE NO DOUBT IN PARIS…
"The Paris terrorist attack is another stark example of the threat the Western world faces from radical Islamists of all names, acronyms, shapes, sizes, and locations – Muslim extremists who seek to impose their 'law' on everyone else.  Today's version involved military style terrorist commandos dressed in black, armed with AK-47s, clearly trained and moving in a coordinated fashion. Multiple reports say the terrorists yelled 'Allah Akbar' as they shot reporters and cartoonists in the newsroom of the Charlie Hebdo magazine in Paris, which had written satirically about Islam and published cartoons about the Prophet Muhammad. Witnesses say the gunmen yelled, 'We've avenged the honor of the prophet!' in French- before escaping.

The first public reaction from the White House was to 'condemn this act of violence'. Pressed on why it wasn't an act of terrorism, spokesman Josh Earnest said 'it's early'. 'If it's an act of terrorism we will condemn that too'. Then the French President put out a statement calling the onslaught a horrific act of terror.  Afterwards, Earnest, appearing on Fox, adjusted and called it an 'act of terror'. What this semantics game shows is that the White House still seems reticent to speak out against radical Islamist terrorists in the strongest terms - early and often. We all understand the 'fog' of the early minutes of an 'attack', but after a short time this seemed cut and dry. And the French certainly understood it early. We'll see how forceful the president is about it today as he touts the U.S. economy in Detroit." – Bret Baier.

WITH YOUR SECOND CUP OF COFFEE...
The Daily Mail reports on the spectacular photos of Comet Lovejoy, which will pass Earth at its closest distance today. The comet was first spotted by amateur astronomer Terry Lovejoy in August and is thought to be about 43 million miles away and traveling at 15 miles per second. Lovejoy has an extremely strong record in comet watching, discovering five thus far in with simple equipment. Slowly gaining brightness, the striking comet with its green glow from the cyanogen and diatomic carbon should allow viewers even in light-polluted suburbs to catch a glimpse. Comets are rock, gravel and dust held together by ice.

Got a TIP from the RIGHT or LEFT? Email FoxNewsFirst@FOXNEWS.COM

POLL CHECK
Real Clear Politics Averages
Obama Job Approval: Approve – 44.3 percent//Disapprove – 51.4 percent
Direction of Country: Right Direction – 27.5 percent//Wrong Track – 64.3 percent

RUBIO COMES OUT SWINGING AT HILLARY IN NEW BOOK
Tampa Bay Times: "Marco Rubio wastes no time in his new book, American Dreams, going after Hillary Clinton. On page nine of the forward, a lament that the dream is fading for many, the Republican senator from Florida argues Clinton 'has proven herself wedded to the policies and programs of the past. Instead of reforming a higher education system that costs too much money, is too hard for nontraditional students to access and awards too many degrees that do not lead to jobs, another Clinton presidency will be about spending more money on a broken system,' Rubio writes…'The election of Hillary Clinton to the presidency, in short, would be nothing more than a third Obama term. Another Clinton presidency would be a death blow to the American Dream.' But Rubio, whose book will be published by Sentinel on Jan. 13, knows partisan jabs only go so far.…But the point of the book is to spotlight Rubio as someone who can bring it all home. He doesn't declare himself a candidate for president, of course, but the 43-year-old leaves no mystery that he thinks he's qualified to lead a movement to 'restore the land of opportunity.'"

Offers new immigration plan - National Journal: "Marco Rubio won't apologize for attempting to pass a comprehensive immigration bill that included a pathway to citizenship for illegal immigrants. But he will, in the run-up to a potential presidential campaign, offer a new, pared-down, conservative-friendly approach to immigration reform…Here are some key passages from Rubio's book pertaining to immigration.
The system is broken—and Americans are feeling 'taken advantage of' by illegal immigrants. 
Illegal immigration must be stemmed before the system can be reformed. 
The stalemate won't be resolved with a comprehensive immigration bill. 
A piecemeal approach: border security, interior enforcement, and new visa policies.
How to handle the 'dilemma' of twelve million illegal immigrants who are already here
A plan for dealing with the 'twelve million.' (Hint: There's no mention of a 'path to citizenship.') 
Opponents will emerge from both sides, but there's a sweet spot to be found."
CHAMBER POLITICAL GURU ENGSTROM JOINS UP WITH JEB
AP: "Former Florida Gov. Jeb Bush on Tuesday announced the formation of a political action committee designed to lay the groundwork for a 2016 presidential campaign…Bush's new organization is already adding high-profile operatives to his team. Rob Engstrom, political director at the U.S. Chamber of Commerce, informed colleagues on Tuesday that he is moving to Florida to volunteer for the Right to Rise PAC."

Power Play: Hot Rise - With the 2016 nomination contest heating up, Chris Stirewalt explains the whys and wherefores of the launch of Jeb Bush's super PAC, the Right to Rise, and the impact on its fundraising prowess. WATCH HERE.

"Today, Jeb Bush launched The Right to Rise, a leadership PAC dedicated to making America a place of unlimited opportunity. Laura and I are proud to support my brother and contribute." – Former President George W. Bush in a Facebook post.

INDIANA LAWMAKERS ICE PENCE WHITE HOUSE BILL
Indianapolis [Indiana] Star: "Indiana's top legislative Republicans said Tuesday that a bill allowing Gov. Mike Pence to run for the White House and governor on the same ticket is unlikely to be approved this year. Senate President Pro Tem David Long, R-Fort Wayne, said Tuesday he plans to send it to the Senate Rules Committee, shorthand for killing legislation in the Statehouse…Gov. Mike Pence called a proposal that would allow him to seek the White House without having to sacrifice the governor's office 'well-intentioned,' but would not dismiss the controversial measure Tuesday…But pressed later on whether he had asked for the legislation, Pence only repeated, 'The first I heard about it was when I read it in the paper.' State law bars candidates from seeking two offices on the same ballot, forcing politicians to choose one office or another…Pence has stoked talk of a possible presidential run, most recently with a highly touted trip to Israel, but has said he will not announce his plans until after the session ends in April."

WARREN TO RALLY LABOR ALLIES
The Hill: "Sen. Elizabeth Warren [D-Mass.] will fuel speculation that she's plotting to challenge former Secretary of State Hillary Clinton in 2016 when she delivers a keynote address before the AFL-CIO National Summit on Raising Wages [today] in Washington D.C.. It's her first major address this year and will likely only add to the growing questions about her plans for the upcoming election cycle. The address also comes as Senate Democrats are planning to make income inequality a focus in 2016."

Ready for Warren rallies set for Iowa - Des Moines Register: "House parties are planned Wednesday night in Des Moines and Iowa City by political activists encouraging U.S. Sen. Elizabeth Warren, a Massachusetts Democrat, to run for president…Activists at both parties plan to write postcards to Warren to urge her enter the 2016 presidential campaign, organizers said. They described the Iowa parties as part of a national grassroots effort to draft Warren as a presidential candidate."

Hillary staff build out continues - Politico: "Hillary Clinton is beginning to put together the pieces for a likely campaign, tapping two top strategists — including President Barack Obama's pollster — to work with her in the lead-up toward an ultimate decision. Robby Mook, who worked on Clinton's 2008 campaign and is widely expected to be Clinton's campaign manager, and Joel Benenson, Obama's pollster who had for months been eyed for a role on her team, have been working with her as she makes a final decision and begins to put together a framework for a staff, according to people close to the former Secretary of State."

KOCH BRO CALLS FOR CRIMINAL LAWS TO LIGHTEN UP
Billionaire industrialist Charles Koch, who along with his brother David helped propel Republicans to victory in the midterms, offers a plan to reduce poverty and improve race relations by rethinking our justice system, in a Politico OpEd: "Overcriminalization has led to the mass incarceration of those ensnared by our criminal justice system, even though such imprisonment does not always enhance public safety.  Indeed, more than half of federal inmates are nonviolent drug offenders. Enforcing so many victimless crimes inevitably leads to conflict between our citizens and law enforcement. As we have seen all too often, it can place our police officers in harm's way, leading to tragic consequences for all involved."

LIZARD LIPS
South Florida's Sun Sentinel reports that the owner of a reptile store, Benjamin Siegel, has been charged with battery and animal cruelty for allegedly using a bearded dragon lizard to beat his employees. He also allegedly put a lizard in his mouth. In 2012, Siegel had a cockroach-eating contest at the store where the winner, Edward Archbold died after choking on the bugs. Siegel's attorney, Ken Padowitz, said he will "vigorously defend" his client. "I'm in the process of conducting an investigation and looking into all the facts so I can best represent my client against these allegations," Padowitz said. Siegel also faces pending cocaine charges from a Christmas Eve arrest.

AND NOW, A WORD FROM CHARLES…
"[President Obama is] the fourth quarter, he's never running again. The reason he's doing X, Y, and Z is not because … he's working his way to the left or the right. He doesn't need anybody. This is Obama the way he really is." – Charles Krauthammer on "Special Report with Bret Baier" Watch here.

Chris Stirewalt is digital politics editor for Fox News.  Want FOX News First in your inbox every day? Sign up here.