With Nomination Imminent, Supreme Court Speculation Reaches Fever Pitch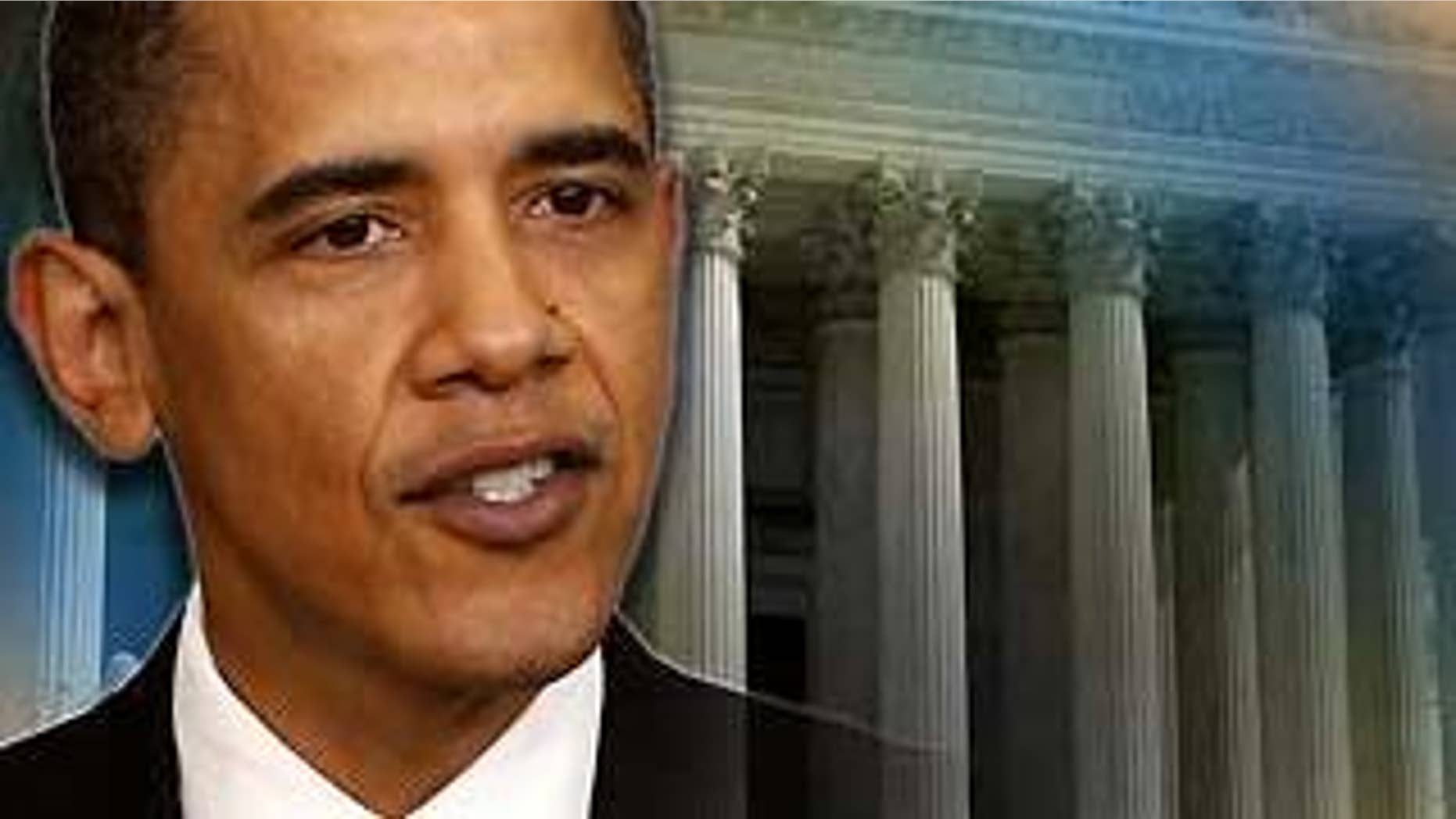 With President Obama expected to announce his Supreme Court nominee as early as Tuesday, speculation over the decision was reaching a fever pitch in Washington.
Republicans continue to brace for, and accept, the likelihood of a liberal nominee -- though Arizona Sen. Jon Kyl, the Senate Republican whip, warned Sunday that the GOP reserves the option to filibuster any nominee dramatically outside the mainstream.
Meanwhile, analysts are reading hard into Obama's comments last week that he's looking for someone with "intellectual fire power, but also a little bit of a common touch" and a practical sense of the world. The handicapping of potential candidates entered its final stage over the weekend.
The apparent short list consists mostly of female lawyers, both on and off the bench. Obama's criteria could be applied in varying degrees to any of them.
Diane Wood, a judge on the 7th Circuit Court of Appeals out of Chicago, is considered a front-runner for several reasons.
She arguably has the closest ties to Obama of all the potential contenders, since she also taught law at the University of Chicago law school -- where Obama was a colleague until 2004. Obama interviewed Wood last week while she was in Washington.
But she could also fulfill Obama's criteria for "intellectual fire power," as analysts say she's proved her ability to stand up to conservatives while serving in Chicago. They say she could serve as the perfect counterbalance to the high court's conservative heavyweights like Antonin Scalia and Clarence Thomas.
"She is a very smart, very thoughtful, very scholarly and careful judge," said Tom Dupree, who served in the Justice Department during the Bush administration and has argued cases before Wood. "The court that she sits on has a number of very prominent conservatives and Judge Wood, whether or not you agree or disagree with her legal philosophy, has certainly been able to hold her own with those conservatives. So, President Obama might see her as someone who could really provide an intellectual counterweight to some of the conservatives on the Supreme Court."
Dupree called Wood a consensus builder who possesses ideal judicial temperament.
"She's not viewed as a bomb thrower," he told FOX News.
Obama's pick would replace outgoing liberal Justice David Souter, and would not shake up the ideological balance of the court.
But Fortune magazine's Nina Easton said Wood has proved she can do more serve as a reliable liberal vote.
Wood "can also shape decisions, shape a majority and can stand up to conservatives on the Supreme Court," she said. "And she's done that."
However, Wood has taken positions on abortion that could rile Republicans in the confirmation process.
In one case, she dissented in a 2-1 decision upholding an Indiana law requiring women seeking abortions to wait 18 hours after consulting with a physician. In another, she ruled that the National Organization for Women could use a law intended to go after mobsters to sue anti-abortion protesters. The Supreme Court later reversed that ruling.
Plus her academic background could work against her, since Obama clearly stated in his interview with C-SPAN last week that he wants more than "ivory tower learning."
The emphasis on candidates with real-world experience and the "common touch" has led some to predict the president will go with someone like Sonia Sotomayor, a judge for New York's 2nd Circuit Court of Appeals. Though an appellate judge now, Sotomayor is the daughter of Puerto Rican immigrants and grew up in a Bronx housing project.
Nominating a Hispanic woman would also add to the diversity of the high court.
Weekly Standard editor Bill Kristol, though, said Obama showed his cards last week by repeatedly stating he wants a nominee with "practical" experience.
Kristol, one of the few who predicted GOP presidential nominee John McCain would pick Alaska Gov. Sarah Palin as his running mate, told "FOX News Sunday" he thinks Obama will pick Michigan Gov. Jennifer Granholm to fill the vacancy.
Granholm, who went to Harvard Law School and also served as Michigan's attorney general, could have the "empathy" Obama is looking for since she leads a state hard-hit by the recession.
Plus she would diversify the professional background of the Supreme Court, where appeals court experience is the norm for members.
"I think it would be a pretty easy confirmation in the Senate. They tend to like their fellow politicians," Kristol said, guessing Obama would make the announcement Tuesday.
Solicitor General Elena Kagan, former dean of Harvard Law School, and Homeland Security Secretary Janet Napolitano are also considered possible picks.
But whether Obama's nominee will be in for an "easy confirmation" is up for debate.
Kyl told "FOX News Sunday" that Obama's nominee will "undoubtedly" be liberal and acknowledged that Republicans don't have the votes to successfully filibuster.
"That's probably not going to happen in this case," he said.
But he warned that the GOP would take issue with any liberal judge who bases decisions on "emotions or feelings or preconceived ideas," and not the merits of the case at hand.
"In extraordinary circumstances ... I think both Democrats and Republicans reserve the right to not only oppose a nomination but also prevent vote on the nomination. That should be a rare case. And I would hope that the president's nominee would not fall into that category," he said. "But I think you never say never here. And given the fact that the president has already signaled that he wants to appoint someone who has empathy and will decide cases based on that, I think you have to reserve it."
Sen. Ben Nelson, a moderate Democrat from Nebraska, told "FOX News Sunday" he's reserving judgment, but doesn't want to see Obama appoint an "activist" to the Supreme Court.
"I don't care whether they're liberal or conservative. I just want to make sure they're not activist. I don't want an activist on the bench," he said. "We don't want to have to read judges' minds. So I think that's the test. ... I would hope that there wouldn't be any circumstances that would be so extreme with any of the president's nominees that the other side would feel the need to filibuster or that I might feel the need to filibuster in a case of extraordinary circumstances."
The Associated Press contributed to this report.