With hours to go before debate, media, marching bands, supporters gather at arena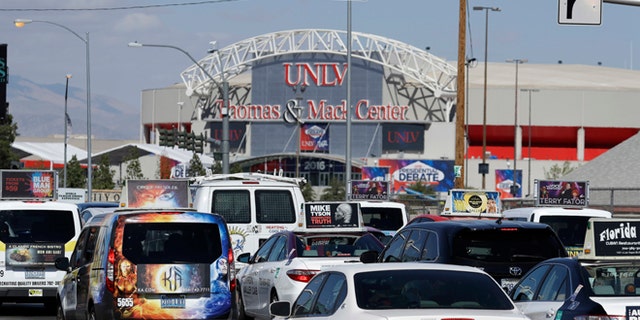 Hours before Democrat Hillary Clinton and Republican Donald Trump were to meet up for their third and final presidential debate, it was anything but quiet outside the Thomas & Mack Arena on the University of Nevada at Las Vegas campus.
Media members, marching bands and supporters of all stripes assembled under sunny skies on the campus not far from the Las Vegas Strip.
Television news shows are broadcasting live, speculating on the candidates' debate strategy and decorum.
The UNLV marching band tuned up while noisy supporters and detractors chanted loudly under the watchful eyes of a large contingent of law officers, including Las Vegas and UNLV police, Secret Service agents and Nevada Highway Patrol troopers.
Air space over the arena has been cleared, and road closures were expected to snarl traffic.
In their final showdown before voters cast their ballots, the presidential hopefuls are likely to focus on some of the hot-topic issues that escaped them in the first two debates.
Moderator Chris Wallace – the first Fox News journalist to moderate a general election presidential debate – said he plans to ask the candidates about immigration, debt and entitlements, the economy, the Supreme Court, foreign policy and their fitness to be president.
He aims to spend 15 minutes on each topic.
The last of three presidential debates, Wednesday's contest in Las Vegas comes just under three weeks from Election Day and as early voting is already underway in several key battleground states.
For Trump, the debate is perhaps his last opportunity to turn around a race that appears to be slipping away from him. His controversial comments about women and a flood of sexual assault accusations have deepened his unpopularity with women and seem to have limited his pathway to victory. His supporters remain intensely loyal, but there are few signs he's attracting the new backers he desperately needs.
Clinton takes the stage facing challenges of her own. While the electoral map leans narrowly in her favor, the Democrat is facing a new round of questions about her authenticity and trustworthiness, concerns that have trailed her throughout the campaign. The hacking of her top adviser's emails revealed a candidate that is averse to apologizing, can strike a different tone in private than in public, and makes some decisions only after painstaking political deliberations.
On Tuesday, a fleet of more than 20 taco trucks lined up at a grocery store in Las Vegas to help Nevadans to register to vote in time for the election — the deadline for the battleground state expired Tuesday at 11:59 p.m.
Taco trucks have morphed into a political gag after a Latino Trump supporter warned that unchecked immigration would lead to "taco trucks on every corner."
Progressive groups plan to form a "wall" of taco trucks outside the billionaire's Las Vegas hotel ahead of the debate.
Trump has leaned on an increasingly brazen strategy in the campaign's closing weeks, including peddling charges that the election will be rigged, despite no evidence of widespread voter fraud in U.S. presidential contests. He's also charged that Clinton attacked and intimidated women involved with her husband's affairs, bringing three women who accused former President Bill Clinton of unwanted sexual contact and even rape to sit in the audience for the second debate. The former president has never been charged with crimes related to the encounters, though he did settle a sexual harassment lawsuit.
Trump is bringing President Barack Obama's half-brother, Malik Obama, as his debate guest.
Clinton is bringing billionaire and frequent Trump critic Mark Cuban and Hewlett Packard Enterprise CEO Meg Whitman, one of the former secretary of state's highest-profile Republican backers. Campaign officials said she has also invited three Nevadans from immigrant families, including prominent Las Vegas Dreamer Astrid Silva.
The other guests are Karla Ortiz, an American citizen whose parents are in the country illegally, and Ofelia Diaz Cardenas, who works as a housekeeper at the Trump hotel in Las Vegas. According to the Clinton campaign, Cardenas wore a pro-union button on her uniform when a unionization effort kicked off in 2014, and was fired but later reinstated after complaining to federal labor authorities.
Clinton spokesman Brian Fallon said the Democratic nominee "will be ready for whatever scorched-earth tactics (Trump) tries" in Wednesday's debate.
Republicans desperately hope Trump can close the campaign by focusing on Clinton's weaknesses, a strategy some privately concede may not be enough at this point for him to win, but could help GOP Senate candidates salvage their races.
Based on reporting by the Associated Press.
Like us on Facebook
Follow us on Twitter & Instagram