Wisconsin teachers union decertified in latest blow to labor under Walker law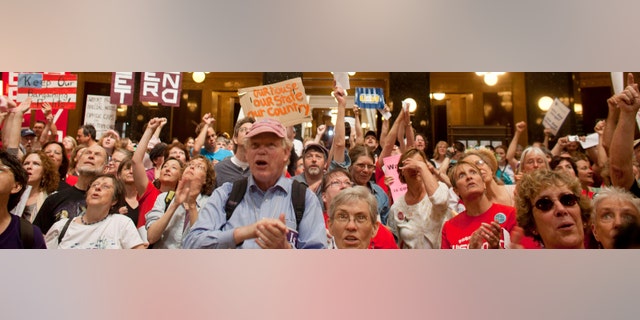 Teachers from one of Wisconsin's largest unions have jumped ship -- voting overwhelmingly to abandon the group in the latest in a string of setbacks for the struggling labor movement following Gov. Scott Walker's union overhaul two years ago.
The decision this week to disband by members of the Kenosha Education Association came after the organization was stripped of its certification and told it had lost its power to bargain for base wages with the district. The group was decertified after missing a key deadline in the annual reapplication process.
When the group might actually disband was not clear and calls to the organization were not returned.
The development is in keeping with an overall downward spiral for Wisconsin's public worker unions. The Milwaukee Journal-Sentinel reported earlier this year that tens of thousands of teachers and other government workers have left their unions since the Walker-backed law took effect.
Known as Act 10, the set of reforms includes a provision that says unions won't be recognized by the state unless 51 percent of all potential members support them in annual elections.
These elections have contributed to their decline.
According to Reuters, elections in 2011 and 2012 -- in which 207 school districts, 39 municipal and six state units participated -- resulted in 32 unions and their affiliates, or about 13 percent, being decertified.
However, those decertifications are on hold until the legal cases involving Act 10 are resolved in court.
Union contracts in three Wisconsin districts -- Janesville, Milwaukee and Kenosha -- were up for renewal over the summer and were required by law to file for their annual recertification by the end of August. Janesville and Milwaukee made the deadline. Kenosha did not, according to Peter Davis, general counsel of the Wisconsin Employment Relations Commission.
Christina Brey, a spokeswoman from the Wisconsin Education Association Council, downplayed the re-certification in an interview with the Milwaukee Journal-Sentinel.
In Wisconsin, unions that aren't certified are still allowed to operate but aren't allowed to bargain for limited base-wage increases with the district. However, trying to get re-certified after falling behind a cycle or two will cost the union money. And that money will likely come from dues raised from members. Still, Brey seems to be taking the judgment in stride.
"It seems like the majority of our affiliates in the state aren't seeking re-certification, so I don't think the KEA is an outlier or unique in this," Brey told the paper, adding that certification gives the union scant power over a limited number of issues they'd like a voice in.
But Matt Patterson, labor analyst with the conservative Competitive Enterprise Institute, claimed the vote was a sign that workers were turning their backs on the unions.
"The news today proves what unions have long feared -- that when workers are actually given a free and fair choice, they will often choose opt out of union membership altogether," he said.
"The public at large — and an increasing number of union members — have become wise to the fact labor unions stifle innovation and burden governments and businesses with unsustainable costs and regulations."
So what's this mean for the Kenosha union? For now, not a lot.
The state is still knee-deep in legal challenges to Act 10 and until all of those are decided, the rulings of the lower courts serve more as a moral blow than anything else. However, as these losses pile up, some say it's only a matter of time before the unions lose their footing in Wisconsin.
Earlier this week, in an unrelated case, federal judge William Conley ruled that Walker's public union restrictions are constitutional. It was the second major victory for Walker's Act 10.
Conley's ruling was based on a case brought by two public-worker unions from the city of Madison and Dane County. The suit, filed in 2011, claims Walker's law steps on their constitutional right to freely assemble and express their views. They also argue that Act 10 violates their equal protection rights.
Conley ruled the recently enacted laws don't silence employees or their unions in collective bargaining.
Act 10 was viewed by unions in Wisconsin as well as in major cities across the country as an assault on organized labor. The reforms led to massive protests in Wisconsin's largely liberal capital city of Madison.
Walker, after taking office, also moved to dilute the power of public unions to collectively bargain, and to require public employees to make pension contributions and pay at least 12 percent of their health insurance premiums.