Wine collectors fight to save $160G collection from state-mandated destruction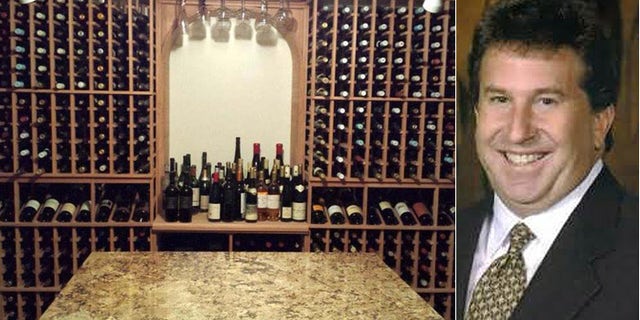 Pennsylvania v. 2,447 Bottles of Wine is a death penalty case.
The bizarre legal battle involves a Keystone State lawyer whose vino was seized when he was charged with violating the state's notoriously strict alcohol regulations. The criminal case is over -- but now Arthur Goldman and his wife, Melissa Kurtzman, are fighting the state to prevent it from destroying their collection, valued at $160,000.
"Art and Melissa deserve the return of their wine," said Goldman's attorney, Peter Kratsa. "We believe the facts of the case and the law as applied to the facts of the case will vindicate the position that they have their wine returned."
Authorities have held the collection since seizing it on Jan. 6, when they raided the couple's Malvern, Pa., home and charged the 50-year-old Goldman with being an unlicensed wine dealer who violated Pennsylvania's unique wine and spirits laws. Goldman, who lived in Pennsylvania when the alleged crimes occurred, entered into a first offender program, under which he admitted no guilt and will eventually have all charges dismissed and his record expunged. (He has insisted he and his wife bought rare wines to share with friends.)
But now the case is in Chester County Common Pleas Court, where Kratsa and a separate attorney for Kurtzman are fighting to have the valuable collection returned to the couple. If they lose, the bottles will be smashed and the wine will never meet a palate.
[pullquote]
That would be a tragedy, according to Tom Wark, executive director for the American Wine Consumer Coalition.
"It's not like we're talking about cocaine or heroin here," Wark told the Philadelphia Inquirer. "We're talking about a Napa Valley Cabernet Sauvignon from the 2012 vintage."
Goldman and Kurtzman declined to comment, deferring to their attorneys. The lawyers say property should be returned, noting especially that Kurtzman was not charged in the case and owns half the collection.
The couple began collecting wine when they married eight years ago, buying rare vintages on the Internet and sipping them together or with friends. Their considerable expertise and expenditures earned them access to exclusive California suppliers who don't sell to regular retailers or wine lovers, according to reports.
Goldman allowed a group of about 20 friends access to the top-shelf vineyards. By pooling their orders, they got volume discounts and shared the shipping costs, but Goldman insists he never made a dime.
But Goldman's circle, which received a 97-page list of available wine, seemed more like a client list, according to authorities. And in Pennsylvania, the state has tight controls on wine and liquor, which are only sold at state-designated stores. The law requires those buying it over the Internet to have it shipped to a state-sanctioned store and pay an 18 percent liquor tax in addition to sales duties.
Pennsylvania State Police spokesman Adam Reed declined to comment on the specific case, citing its pending status. But he acknowledged the state has uncommon laws regulating liquor and wine.
"Pennsylvania is unique in that it is one of a couple of states where alcohol has to be purchased through state-owned wine and spirit stores," he said. "Problems like these do pop up occasionally and liquor control enforcement does take these cases very seriously."
Baylen Linnekin, who wrote about the case for Reason magazine, said the state's laws are so strict that simply uncorking a bottle in a hotel room while passing through the state is technically illegal.
"When it comes to alcohol laws, as I've insinuated previously, Pennsylvania is about as close to Saudi Arabia as you can get in America," wrote Linnekin, the executive director of Keep Food Legal Foundation and an adjunct professor at George Mason University Law School.
The probe that ensnared Goldman and Kurtzman began in March 2013, when an anonymous tipster told Pennsylvania's Bureau of Liquor Control Enforcement (BCLE) the couple was selling wine in Pennsylvania without a license. Within weeks, an undercover BCLE officer had gotten on Goldman's mailing list. State officials say the officer and two others made purchases through Goldman.
When Goldman and his wife moved to New Jersey, where they had previously kept their wine collection, the undercover officers visited and were given a tour of his wine cellar. According to legal documents, the undercover officers told Goldman they wanted a special wine for a wedding gift. Goldman claims that he didn't typically sell wine from his cellar, but agreed to give the officers five bottles at his cost from his personal collection.
A short time later, in January, the Pennsylvania state police raided the home and seized the collection. Kratsa says Goldman intends to fight on if the wine is not returned in Chester County court, and believes a jury would reject the BCLE's interpretation of the law and send Goldman's wine back to the cellar.
"Arthur Goldman's criminal matter was resolved by the Chester County district attorney by virtue of a pre-trial diversion program without any admission of guilt by Art," Kratsa said. "That will ultimately allow for the case to be dismissed and his record expunged.
"And we believe the wine that belongs to Art and Melissa will be returned," he added.