White House officials to try and stop Trump from shaking hands with Castro: report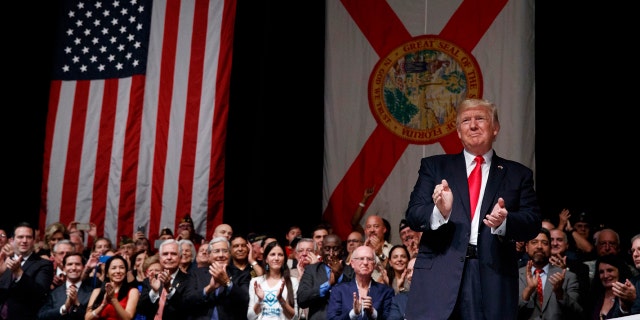 NEWYou can now listen to Fox News articles!
White House officials will try to keep President Trump away from Cuban leader Raul Castro to prevent a replay of the infamous 2013 handshake between the communist leader and President Obama.
Both Trump and Castro are expected to attend the Summit of the Americas in Lima, Peru later this week, a meeting that will focus on democracy and fighting corruption.
But the administration staffers told McClatchy DC, "There are always bumps between all the leaders at the summit, but my expectation is that we will try to keep President Trump as far away as from leaders that don't share United States values and like-minded perspectives," a senior administration official told the news service.
TRUMP'S EFFORT TO ROLL BACK 'MISGUIDED' CUBA POLICY STALLS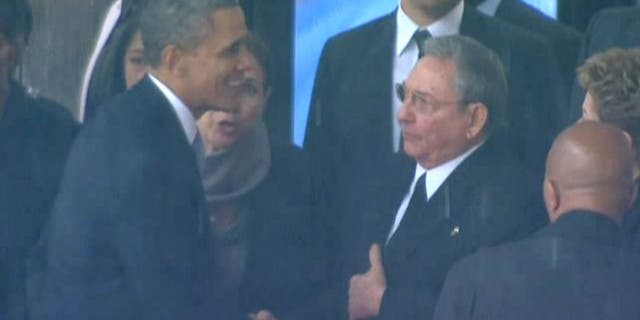 Former President Obama was heavily criticized in the past for shaking hands with Castro in 2013 at Nelson Mandela's memorial service.
Sen. John McCain said at the time that the handshake "gives Raul some propaganda to continue to prop up his dictatorial, brutal regime, that's all," The Washington Post reported. "Why should you shake hands with somebody who's keeping Americans in prison? I mean, what's the point?" he asked, adding that "Neville Chamberlain shook hands with Hitler."
The U.S.-Cuba relationship has soured since Trump took office amid his intention to roll back Obama's 2015 decision to end the embargo against the regime and reopen embassies in the nations' capitals.
"We will not lift sanctions on the Cuban regime until all political prisoners are freed, freedoms of assembly and expression are respected, all political parties are legalized, and free and internationally supervised elections are scheduled," Trump told the audience in Miami last summer.