White House Launches Support Campaign For Military Families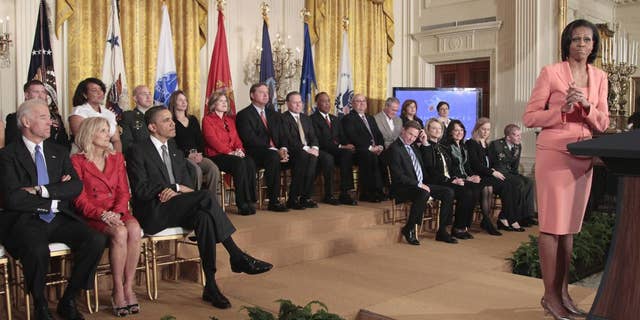 First Lady Michelle Obama kicked off a new White House campaign to support military families Tuesday, calling on a number of heavy hitting participants to help with the launch. President Obama along with Vice President Joe Biden and his wife, Dr. Jill Biden, all spoke before the First Lady took the stage and asked Americans to "mobilize" and "make a real commitment to supporting our military families."
"The truth is that as a country, we don't always see their families, our heroes on the home front," Mrs. Obama said. "These families have appealed to us, like a military mom who wrote to me and said, 'Please don't let Americans forget or ignore what we live with.'"
The initiative, called "Joining Forces," brings in help from a range of big names and organizations like the USO and Sesame Street, to Best Buy's Geek Squad and Martha Stewart.
The campaign starts tomorrow when the First Lady and Dr. Biden leave for a national tour, reaching out to military communities across the country.
Their first stop it at Camp Lejeune in North Carolina, where they'll host a unit-wide baby shower for 40 expecting mothers who have husbands serving. Martha Stewart will be there to hold a seminar on scrapbooking.
On Thursday they'll visit the Warrior and Family Support Center at Brooke Army Medical Center in San Antonio, Texas. They'll meet privately with wounded warriors there. The next stop is Colorado where they'll host a math and Science competition for students of military families. They'll also speak at Coors Field in Denver during a special viewing of the Rockies Mets game on jumbo screens for military families and their children.
The tour ends in Ohio where the USO and Sesame Street will put on a concert-style performance honoring National Guard members and their families, featuring performances by Nick Jonas and Elmo.
Each of these events, the White House says, raise awareness and informs Americans about the options they have when it comes to donating and contributing to organizations that help military families.
But the initiative also brings in a big name not heard in a while: Retired Gen. Stanley McChrystal. He's the former commanding general of the Afghan war fired last year by President Obama after the Rolling Stone published derogatory comments he made about his civilian leadership.
Now, in what's seen as an extending of the olive branch, McChrystal has accepted the offer to lead a three-member advisory board that will help businesses and community groups recognize the unique stress that military members and their families endure.
White House Press Secretary Jay Carney had to defend the pick Tuesday when reporters asked about McChrystal's firing last June as well as his controversial role in the cover-up of a friendly fire incident that killed Army Ranger and NFL star Pat Tillman.
"He is aware, very aware having worked closely with general McChrystal for you know, for some time, of the general's resume," Carney said.
"The President feels strongly that Gen. McChrystal is the right person to lead help lead this advisory committee," he said. "We have had our men and women overseas in wars for a decade, and it's important to do everything we can to remind Americans who aren't directly affected, who don't have a loved one in theater, that there is a need to support those families who do."