White House denies Jay-Z rap claim about Cuba visit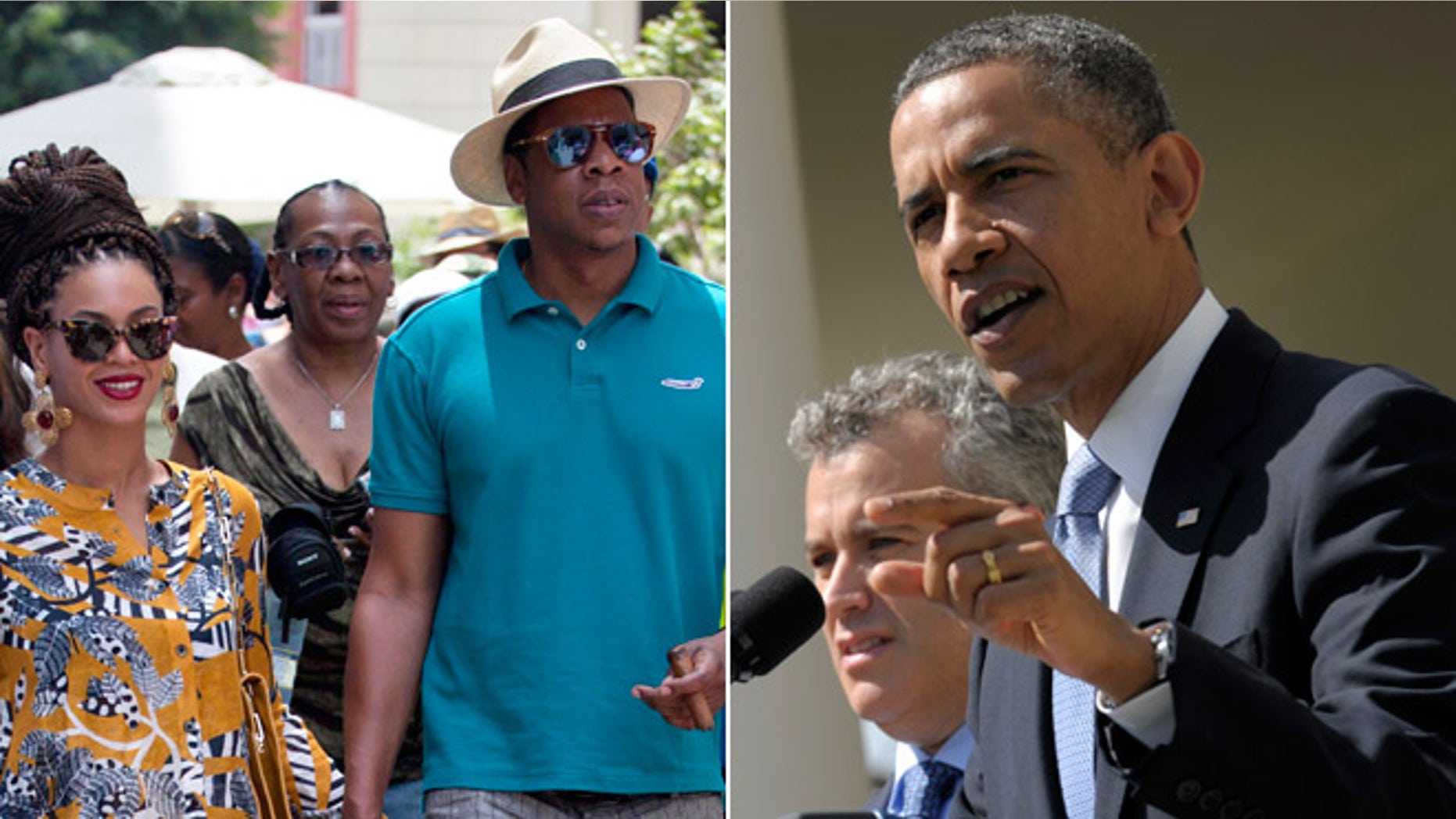 You generally don't want to get into a rap rivalry with Jay-Z.
But the White House on Thursday challenged the mega-artist after he released a track suggesting he got "White House clearance" for his controversial trip to Cuba with wife Beyonce.
Jay Carney, President Obama's press secretary, categorically denied the claim -- reiterating that the Treasury Department handles clearance.
"I guess nothing rhymes with Treasury," Carney joked, before clarifying: "The White House, from the president on down, had nothing to do with anybody's ... travel to Cuba. That is something that Treasury handles."
Jay-Z released the track Thursday shortly after returning from Cuba, a trip that drew criticism from Cuban-American lawmakers in Congress who questioned how the couple got permission to travel to the communist-run island.
The rapper boasted at length about the visit, suggesting Obama was involved.
"I done turned Havana into Atlanta," he rapped. "Boy from the hood, but got White House clearance."
He continued: "Politicians never did s--- for me except lie to me, distort history, wanna give me jail time and a fine. Fine, let me commit a real crime. ... Obama said, 'Chill you gonna get me impeached.' You don't need this s--- anyway, chill with me on the beach.'"
The track resulted in a bizarre scene at Thursday's White House briefing, as a reporter read aloud the lyrics to Carney. Jay-Z and Beyonce are both Obama supporters.
"It's a song," Carney said. "The president's not communicating with Jay-Z over this trip."
Several Florida lawmakers had lashed out at the couple, and the administration, over the trip. U.S. law bans tourism by Americans to Cuba, though there are exceptions for certain cultural trips.
Sen. Marco Rubio, R-Fla., said in a statement earlier this week: "U.S. law clearly bans tourism to Cuba by American citizens because it provides money to a cruel, repressive and murderous regime. Since their inception, the Obama Administration's 'people to people' cultural exchange programs have been abused by tourists who have no interest in the Cuban people's freedom and either don't realize or don't care that they're essentially funding the regime's systematic trampling of people's human rights."
The Treasury Department clarified in a letter earlier this week that the couple traveled to Cuba under an "education exchange trip" organized by another group. The department said it handles authorizing these trips.