While Protesters Clash With Police, Ferguson's Latino Community Sympathizes, But Nervously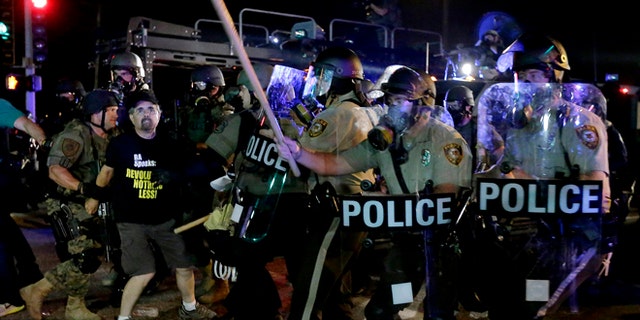 NEWYou can now listen to Fox News articles!
Clouds of tear gas and smoke once again hung over the St. Louis suburb of Ferguson on Monday night as police and protestors clashed amid the continuing unrest following the shooting death of an unarmed black teenager by a white police officer.
With National Guard troops in town and President Barack Obama weighing in on the issue, one group in the area has remained quiet on the crisis embroiling Ferguson: Latinos.
Making up just 1.2 percent of Ferguson's population – and just 2.7 percent of all of St. Louis County, according to the most recent Census Bureau statistics – the town's Hispanic community is miniscule compared to its large African-American population and has not developed the same deep-seeded mistrust of the police that has fueled the protests.
For most Hispanics in the area, life centers on the Our Lady of Guadalupe Catholic Church, which has become a vital part of the town's social landscape.
"It's done a lot for being so small over the past 20 years," Javier Orozco, the executive director of Intercultural and Interreligious Affair at the diocese of St. Louis told Fox News Latino.
Some of the leaders of the small Hispanic community say that while Latinos may not be publicly taking an active role in the protests, they have spoken out against both the killing of Michael Brown and the current unrest through their churches.
"Latinos are taking part in multi-denominational tributes and vigils and conferences about what is going and what can be done," Chris Martinez, the chief development officer at Catholic Charities and a former Ferguson-Florissant School Board director told FNL. "Nintey-nine percent of the people I spoke with – whether Latino, black or white – know that there is a logical way to deal with this."
Martinez added that he supports peaceful protests, but condemns the violence, looting and clashes with police that have occurred nightly in Ferguson – calling the agitators "opportunists."
For now, Latinos in the area said that they want to remain quiet about what to do in the midst of the turmoil in an effort to not stir up any more problems for the already beleaguered state police officers who are patrolling Ferguson.
"It's not a lack of wanting to do something, but it's a decision that whatever we do we do it with the local leadership so as not to cause more problems," Orozco said.
Protesters filled the streets after nightfall Monday, and officers trying to enforce tighter restrictions at times used bullhorns to order them to disperse. Police deployed noisemakers and armored vehicles to push demonstrators back. Officers fired tear gas and flash grenades.
Capt. Ron Johnson of the Missouri Highway Patrol, who is in charge of security in Ferguson, said bottles and Molotov cocktails were thrown from the crowd and that some officers had come under heavy gunfire. At least two people were shot and 31 were arrested, he said. He did not have condition updates on those who were shot. Johnson said four officers were injured by rocks or bottles.
Demonstrators no longer faced the neighborhood's midnight-to-5 a.m. curfew, but police told protesters that they could not assemble in a single spot and had to keep moving. After the streets had been mostly cleared, authorities ordered reporters to leave as well, mentioning the risk from the reported gunfire.
Citing "a dangerous dynamic in the night," Johnson also urged protesters with peaceful intent to demonstrate during the daytime hours.
The latest clashes came after a day in which a pathologist hired by the Brown family said the unarmed black 18-year-old suffered a bullet wound to his right arm that may indicate his hands were up or his back was turned. But the pathologist said the team that examined Brown cannot be sure yet exactly how the wounds were inflicted until they have more information.
The Associated Press contributed to this report.