Wendy Davis questions GOP rival -- who is married to Latina -- over interracial marriage stance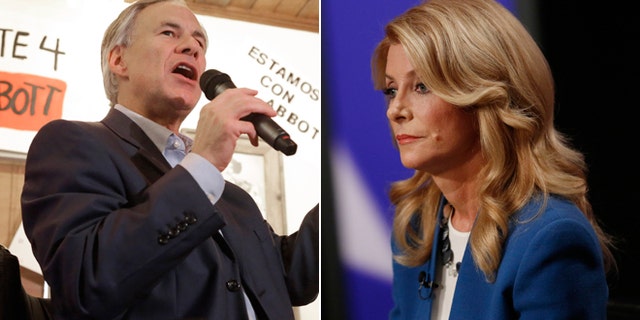 Ebola. The Islamic State. The financial markets. Health care.
The latest controversy to bubble up in the Texas gubernatorial race involves none of these. Instead, Democrat Wendy Davis is trying to make an issue out of whether her Republican rival would support a ban on interracial marriage.
Two points of clarification here: There is no such ban on interracial marriage, or any such proposal. Davis' rival, Texas Attorney General Greg Abbott, also happens to be married to a Latina.
But Davis nevertheless tackled the seemingly antiquated debate in a bid to seize on some comments the Republican made to the San Antonio Express-News Editorial Board.
In that interview, Abbott was asked a hypothetical on whether he would have defended an interracial marriage ban -- the question was an apparent riff on one posed to Wisconsin attorney general candidate Brad Schimel, who initially claimed he would have defended such a ban decades ago, just as he'd defend a gay-marriage ban today, even if it might be "distasteful." (Schimel later backed off that answer following some controversy.)
Abbott, though, chose not to respond directly.
Instead, he said: "Right now, if there was a ban on interracial marriage, that's already been ruled unconstitutional. And all I can do is deal with the issues that are before me. ... The job of an attorney general is to represent and defend in court the laws of their client, which is the state Legislature, unless and until a court strikes it down."
He then acknowledged to the newspaper he didn't answer the question because "I can't go back and answer some hypothetical question like that."
Davis seized on the interview, blasting him on Twitter for not taking an overt stand against interracial marriage bans.
"Greg Abbott won't say whether he'd defend an interracial marriage ban -- troubling but not surprising from someone who defends a 'poll tax,'" Davis tweeted.
She also tweeted an image declaring Abbott "refuses to say" what his position is on interracial marriage bans.
Texas' ban on same-sex marriage is being contested in the courts, and Davis wants Abbott to stop defending it, likening it to an interracial marriage ban.
Texas, like many states in the South, had a broad anti-miscegenation law that barred interracial marriages -- until they all were overturned by a 1967 Supreme Court ruling.
Abbott is married to Cecilia Phalen Abbott, a Mexican-American woman who would be the state's first Latina first lady if her husband wins. (The marriage actually would not have been illegal under the old anti-miscegenation law, since Abbott's wife is not black.)
The line of attack from Davis comes after the Democratic nominee earlier released a campaign ad invoking the accident that left Abbott paralyzed from the waist down and relying on the use of a wheelchair.
The ad opens with an image of a wheelchair, and then criticizes Abbott for allegedly not doing enough to help other victims, despite receiving a large monetary settlement after a falling branch paralyzed him. It criticizes Abbott for supporting legislation that limits awards on legal settlements and other positions.
The narrator in the ad says, "A tree fell on Greg Abbott. He sued and got millions. Since then, he's spent his career working against other victims."
Despite calls from Republicans to apologize, Davis defended the ad at a press conference, flanked by disability rights activists, including two people in wheelchairs.