'We have a Constitution': Boehner warns Obama on exec orders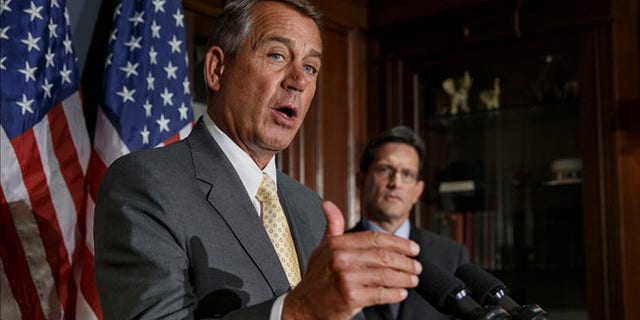 House Speaker John Boehner issued a stern warning to President Obama ahead of Tuesday night's State of the Union address: "We have a Constitution. We abide by it. If he tries to ignore it, he's going to run into a brick wall."
The House speaker was addressing concerns that Obama is preparing to bypass Congress this year with more executive actions. Advisers for days have signaled that Obama will promote that approach in his State of the Union address -- and will use his "pen" and his "phone" in 2014 to achieve the results he wants.
The president took a first step in that direction on Tuesday, announcing an executive order raising the minimum wage for new federal contract workers to $10.10 an hour, from $7.25. Obama will use the move to apply additional pressure on Congress to approve a similar increase for all workers.
Boehner, speaking later to reporters, said Obama likely has the authority to raise the wage for federal contractors. He downplayed the impact the move would have. "Let's understand something: this affects not one current contract, it only affects future contracts with the federal government. And so I think the question is, how many people, Mr. President will this executive action actually help? I suspect the answer is somewhere close to zero," he said.
But Boehner reminded the president not to overstep his bounds as he weighs other executive actions.
"House Republicans will continue to look closely at whether the president is faithfully executing the laws -- as he took an oath to do," Boehner said. "Now I think dealing with federal contracts and the minimum wage, he probably has the authority to do that but we're going to watch very closely because there's a Constitution that we all take an oath to, including him."
The minimum wage push is expected to be a centerpiece of Obama's State of the Union address, along with other measures his team says are meant to address "income inequality."
Obama will also take credit for an economy that by many indicators is gaining some strength on his watch. As a result, he will talk positively about a recovery that remains elusive to many Americans.
Some Democrats are warning Obama to tread carefully.
"We hope that he does not dwell on the successes of the economy, which may be apparent in employment statistics, the GDP and stock market gains, but which are not felt by folks at the grocery store," Democratic political analysts James Carville and Stan Greenberg wrote in a recent strategy memo.
The president will present Congress with an agenda largely unchanged from what he called for a year ago, but one that nevertheless fits into this year's economic opportunity theme. He will continue to seek an overhaul of immigration laws and expanded pre-school education as well as an increase in the minimum wage.
But after a year in which those proposals languished and gun control failed, Obama will stress success through his executive actions -- though their reach would be far more modest than what he could achieve through legislation.
"Congress is slow to action and we're not going to wait for that," White House chief of staff Denis McDonough said in an interview on "CBS This Morning."
Meanwhile, the president continues to face questions over the success and future of his signature health care law. Though the administration has worked to address widespread technical problems that plagued the launch of health care exchanges in October, lawmakers are still voicing concerns about the financial stability of the system.
One such lawmaker, retiring Democratic Rep. Jim Moran, told WAMU that he's "afraid that the millenials ... are less likely to sign up."
Insurance companies are depending on such young and healthy customers to buy health insurance, to offset the cost of taking on older and sicker customers -- as required under the law.
Fox News' Mike Emanuel and The Associated Press contributed to this report.