Voter Abstention A Challenge In Costa Rica's Presidential Election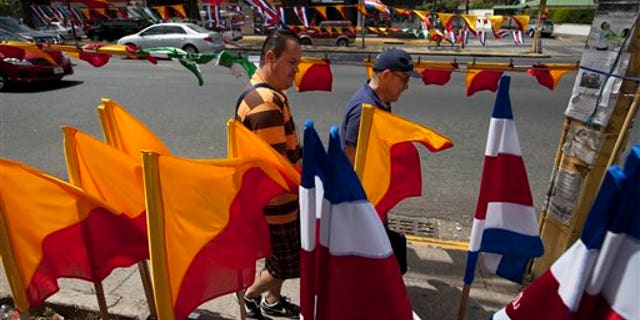 SAN JOSE, Costa Rica (AP) – Luis Solis' main challenger in Sunday's presidential election is voter abstention.
The center-leftist's only flesh-and-blood rival in the runoff dropped out of the race last month, leaving Solis one remaining challenge: getting enough Costa Ricans to the polls to give him a respectable vote total.
Solis topped the first round of the presidential vote in February with only about 30 percent of the vote and a margin of less than 1 percentage point over Johnny Araya of the governing National Liberation Party. But just over a month later, polls showed Solis had built a lead of two or three to one, and Araya stopped campaigning, saying it would be a waste of money.
Solis, who turns 56 later this month, has vowed a more activist government that focuses on building up small and medium-sized local businesses while strengthening social and environmental programs in a country long considered the most stable in Central America.
While his Citizen Action Party opposed the Central American Free Trade Agreement, Solis said he won't try to pull out of the deal, but will manage it better.
Solis will have to negotiate to get his policies through Congress. His party holds just 13 of the 57 seats in the National Assembly. And analysts say Sunday's vote total could affect his influence as well.
"If he gets less votes that what he got in the first round, he won't have political legitimacy even if legally he is president," said Francisco Barahona, a political science professor at the University of Costa Rica
The son of a shoemaker turned small businessman, Solis studied history at the University of Costa Rica and obtained a master's degree in Latin American studies at Tulane University in the United States. He also has taught at Florida International University and at the University of Michigan.
Back home, he taught at local universities and worked in the country's Foreign Ministry at the time when President Oscar Arias was helping mediate an end to Central America's civil wars. He later served as an ambassador and as secretary general of the National Liberation Party.
Solis quit the party in 2005, complaining of corruption, and went back into teaching. He joined Citizen Action only in 2009.
Araya, 57, will still appear on the ballot because Costa Rica's constitution doesn't allow for candidates to drop out but the former San Jose mayor said he will stay home Sunday and won't attend a gathering at his party's headquarters.
Even so, National Liberation Party chief Bernal Jimenez is urging party supporters to vote. National Liberation retains the largest voting bloc in congress, but its popularity has been eroded by corruption allegations and discontent over high unemployment under the administration of outgoing President Laura Chinchilla.
Few had expected Solis to even make the second round of the presidential election, in a country where politics have been dominated for three decades by only two parties, National Liberation and the Social Christian Unity party.
Follow us on twitter.com/foxnewslatino
Like us at facebook.com/foxnewslatino