Virginia Democratic lawmakers oppose George Mason renaming law school after Scalia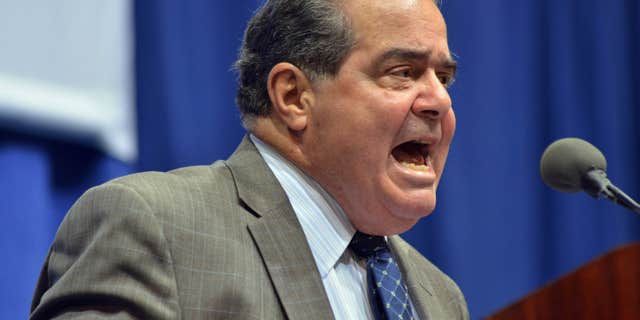 Eleven Virginia Democratic lawmakers said Tuesday they are against George Mason University renaming its law school after the late Supreme Court Justice Antonin Scalia.
The group of legislators sent a letter to the State Council of Higher Education for Virginia (SCHEV) asking it to reject the university's plan over concerns about whether Scalia is worthy of the honor. The university said it needs the council's approval for the new name.
Scalia "was also one of the most controversial justices in modern history," the lawmakers wrote. "Indeed, we have received pleas from alumni who are deeply concerned that this decision will undermine their ability to find future employment or undermine their professional reputation."
Del. Marcus Simon, D-Falls Church, said he has received more than 1,000 signatures to an online petition he started opposing the name change.
"This is a big, in-your-face kind of a move," Simon said of the renaming proposal, which highlights Mason's growth in recent years as a conservative powerhouse in law and economics, fueled partly by the Koch Foundation money. He said he's concerned about using $30 million to attract students "and trying to shape their young minds and train them in the Scalia way of thinking. That's troubling to me."
Sen. Scott Surovell, D-Fairfax, questioned the secrecy of the donor and the lack of input from George Mason alumni, students and the public.
"To simply steamroll people's collective input over $20 million from an anonymous donor is outrageous," he said.
The school announced last week that it planned to rename its law school the Antonin Scalia School of Law. The new name honoring the conservative icon was suggested by an anonymous donor, who is giving the school $20 million. The Charles Koch Foundation also contributed an additional $10 million.
Charles Koch is CEO of Koch Industries and along with his younger brother David is known for his support of conservative and libertarian causes.
George Mason tweaked the proposed named change Tuesday to the Antonin Scalia Law School after the previous acronym was mocked on social media.
Law school dean Henry Butler said in a letter Tuesday to students and alumni that the large sum of money from the donor allows flexibility in the naming and that Antonin Scalia Law School was a logical substitute.
"We just want to be sure we're being respectful to Justice Scalia, to the school and our students" in constructing the name, law school senior associate dean David Rehr said Wednesday.
Butler's letter said the school is also looking into whether it can accommodate requests from students who don't want Scalia's name to appear on their diplomas.
Rehr said that $20 million gift is explicitly conditional on naming the school for Scalia.
SCHEV spokesman Greg Weatherford said the council received Mason's application Wednesday, and that staff would review it and make recommendations in the coming weeks.
The Associated Press contributed to this report.