Virginia Couple Denies Crashing White House State Dinner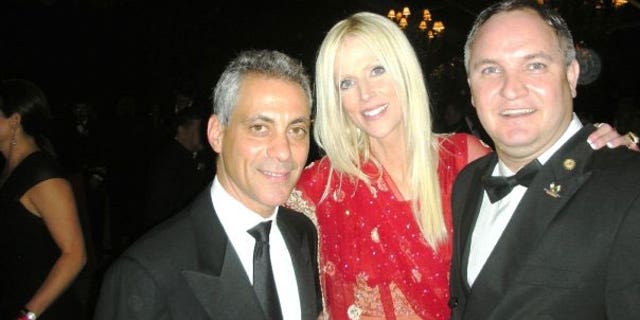 NEWYou can now listen to Fox News articles!
The couple who slipped into a White House dinner without an invitation denied Tuesday that they were gate-crashers.
Appearing on NBC's "Today" show with his wife, Michaele, Tareq Salahi said the firestorm surrounding their attendance at the state dinner for the visiting Indian prime minister has been a "most devastating" experience.
"We're greatly saddened by all the circumstances...portraying my wife and I as party crashers. I can tell you we did not party-crash the White House," Salahi said.
"We were invited, not crashers, and there isn't anyone who would have the audacity or the poor behavior to do that," added Michaele Salahi. "No one would do that, and certainly not us."
But, it's not the first time the Salahis have been under fire -- in May, the Virginia Department of Agriculture and Consumer Services issued a warning that a charity the couple are a part of may no be a charity at all.
Salahi serves on the board of directors at the Journey for the Cure Foundation, which the government agency warned was not registered with the state of Virginia. However, the foundation's Web site says they are nonprofit 501 and provides a federal tax ID number.
The foundation is also listed as an "official partner" of the America's Polo Cup, the event run by by the Salahis.
In addition, a high end deal loaned Michaele $30,000 worth of jewelry for the state dinner and never returned it, even after multiple attempts by the jeweler, WTTG reported. The jeweler reportedly got the bling back during a photo shoot Tuesday.
The socialite couple and wanna-be reality TV stars followed up their Tuesday interview with a photo shoot in Georgetown for "Best of D.C.," a book published by Global Village Publishing & Media that highlights tourist attractions in the Washington, D.C. area.

Dennis Roche, who owns an upscale hair salon frequented by Michaele Salahi, told Fox News that the couple arrived at the shoot but then canceled it due to heavy media presence. Roche said that a "big party" had been planned for the couple later Tuesday at their Virginia winery.
The Salahis, who are also contestants for Bravo's upcoming reality TV show, "Real Housewives of D.C.," said Tuesday an explanation is forthcoming that will exonerate them from allegations of misconduct in the breach of White House security. Tareq Salahi said the couple has "turned over documentation" to the Secret Service and is fully cooperating with their investigation.
"I am certain we will be completely exonerated," Salahi said, adding that both he and his wife have "great respect" for President Obama.
Part of that explanation may be the role played by Michele Jones, a senior Pentagon official, who spoke with the Salahis about the Nov. 24 dinner ahead of their arrival.
Jones, a special assistant to Defense Secretary Robert Gates, said denied in a written statement issued through the White House on Monday evening that she ever said or implied she would get the Virginia couple into the White House fete.
"I specifically stated that they did not have tickets and in fact that I did not have the authority to authorize attendance, admittance or access to any part of the evening's activities," Jones said. "Even though I informed them of this, they still decided to come."
The White House issued Jones' statement after questions were raised about communications between the administration and the couple prior to the dinner. A friend of the couple told The Washington Post that the Salahis interpreted their e-mail exchange with Jones as permission to attend the party.
Meanwhile, White House Press Secretary Robert Gibbs said Tuesday that the White House is also examining its own procedures to ensure that such a security breach never happens again.
"I don't think there is any doubt in what the Secret Service has said that those individuals should not have gotten on the complex," Gibbs said in an interview with Fox News.
"I will be honest with you -- the White House is evaluating our procedures, too," Gibbs said. "We want to make sure that anybody that comes here is safe and secure. If you didn't get invite, which they didn't, you shouldn't be here at an event."
Gibbs declined to elaborate a day earlier on how, exactly, the White House social office allowed unknowns to pass through the gates and enter the dinner, where they managed to meet Obama in the receiving line and snap photos with Vice President Biden and Obama Chief of Staff Rahm Emanuel.
During a press conference with reporters on Monday, Gibbs acknowledged there was no "relay" between the agency and the White House social office on the Salahis but otherwise refused to delve into security lapses.
"I think the Secret Service, through the director, has admitted that somebody who wasn't on a list and wasn't waved in was allowed into an event that clearly, he said, shouldn't be, and that no call or reach-out ever came to anybody in terms of staff from the Secret Service about whether or not there was confusion on a name on a list," he said.
Cathy Hargraves, who until June had been in charge of supervising guests lists for state dinners, told Newsweek magazine that she was told by Obama Social Secretary Desiree Rogers in February that she wasn't needed to serve as official greeter and name checker because "in these economic times, I don't think we're going to have very many lavish expensive dinners. It wouldn't look very good."
But Gibbs declined to place blame on any individual from the White House social office, saying he will "let the investigation put the onus on where the onus should be."
In their first televised appearance on Tuesday, the Salahis also refuted claims that they demanded handsome compensation from television networks for the chance to tell their story.
That denial came after a television executive told The Associated Press over the weekend that the Salahis had contacted news networks asking for a payment in the mid-six figures range in exchange for an interview. The executive, who spoke on condition of anonymity, said the couple urged media outlets to "get their bids in."
Despite their claims of innocence, Michaele Salahi is said to be trying to land a part on an upcoming Bravo reality show, "The Real Housewives of D.C." And the Salahis' antics aren't the first, according to MyFoxDC.com, which reported that the two crashed a Congressional Black Caucus Foundation dinner on Sept. 26.
"I don't want to say it's like a kid getting his hand caught in the cookie jar, but in essence, that's pretty much what it was," said Lance Jones, a communications official with the foundation. "I had a sheet in front of me that said who was sitting at what table, and they weren't on that list."
Jones said he also had the couple removed from the event at the D.C. Convention Center.
"I was told we had a couple sitting at our table that didn't belong, and as a result I walked back to security guards and I asked them to walk over with me-- that we might have a situation of some uninvited guests," Jones said. "I walked back to the table checked the list. Upon confirming that they did not belong, we escorted them out."
The Salahis, who could face criminal charges, Secret Service Director Mark Sullivan and White House Social Secretary Rogers all have been asked to testify on Thursday to the the House Homeland Security Committee, led by Chairman Bennie Thompson.
Thompson, D-Miss., said Monday he wants answers about the Secret Service's security deficiencies.
"This is a time for answers," Thompson said in a statement Monday. "This is not the time for political games or scapegoating to distract our attention from the careful oversight we must apply to the Secret Service and its mission."