Vice President Biden Says His Ancestors Were Undocumented Immigrants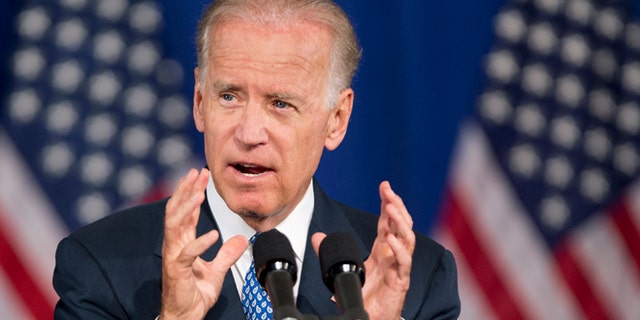 Never one to mince words, Vice President Joe Biden on Wednesday said his own ancestors included undocumented immigrants.
Biden apparently was trying to quash the common comparison made between today's immigrants and those of yesteryear, who often are portrayed as having complied with all immigration laws.
"My great-great grandparents came escaping the [Irish] famine and they didn't all come here legally," Biden said during a Skype chat Wednesday after a questioner, attempting to distinguish between present and past immigrants, said her family came to the country legally from Ireland in the 1800s, according to Politico. "They didn't all come legally. And the existence of the system [wasn't] all truncated like it is now. I'd check your ancestry to make sure that they did come legally if that's a concern to you."
My great-great grandparents came escaping the [Irish] famine and they didn't all come here legally.
Biden hosted the chat with White House domestic policy head Cecilia Muñoz, who has served as an Obama administration ambassador of sorts on the issue of immigration.
Biden also said Congress should approve a bipartisan comprehensive immigration measure the Senate passed in June. That measure includes tightened border security, expanded visas for foreign workers and path to legal status for many of the 11 million undocumented immigrants living in the United States.
The vice president stressed that House Speaker John Boehner, a Republican from Ohio, should bring the Senate version of the bill to a vote on his chamber's floor.
Boehner has said he will not rubber-stamp the Senate bill, which conservative members of the House – where Republicans have a majority – are opposed to provisions that give a break to undocumented immigrants and expands the visa program for foreign workers.
Boehner has said the House would favor dealing with the emotional and complex issue of immigration in a piecemeal fashion, with separate measures addressing different aspects.
"Pass the bill, John Boehner, bring the bill up and let us pass it," Biden said, according to published reports. "He is unwilling to let the House speak, he is unwilling to let the House vote."
President Obama, who had said early this year that he expected a comprehensive bill reforming the immigration system to pass by the end of 2013, recently said he would accept a piecemeal approach to changing immigration laws so long as it included a path to legal status.
Follow us on twitter.com/foxnewslatino
Like us at facebook.com/foxnewslatino