Veterans say wading in WWII memorial's Rainbow Pool 'disrespectful'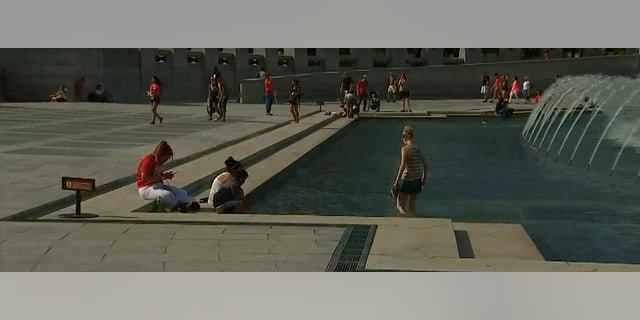 NEWYou can now listen to Fox News articles!
Visitors to the WWII Memorial in Washington, D.C., are trying to beat the heat by wading in its waters – a move U.S. veterans say is disrespectful and that needs to stop.

The memorial was completed on the National Mall in 2004, but the controversy over wading and toe-dipping in its Rainbow Pool and fountains seems to have reached a flash point this summer, particularly during last week's heat wave.
Holly Rotondi, executive director of Friends of the National World War II Memorial, told The Washington Post that she recently received a phone call from the son of a World War II veteran complaining about visitors dipping their feet in the water, saying it was "very disrespectful to the generation" who fought in and lived through the war.
Beyond the issue of whether the wading is disrespectful, such activity is against National Park Service rules that are posted at several locations around the memorial -- which honors the 16 million who served in the U.S. armed forces and the more than 400,000 who died in World War II.
"Honor Your Veterans. No wading. Coins damage fountain," the signs read.
Park Service official Mike Litterst told Fox 5 TV last week that rangers won't arrest any of the roughly 4.4 million people who annually visit the WWII memorial who may decide to go into the fountain.
"But we do ask people … to honor the veterans, honor their sacrifice," he said.
In a story about the controversy published in Military.com, a reader named Charlie Lima, who described himself as a veteran, commented that the wading was disrespectful albeit not hurtful.
"It's not 'hurting' anyone, but is incredibly disrespectful to vets," he posted. "I can't believe that as vets ourselves we don't have more respect for other vets than that, to give this activity a free pass like it is OK or something. Everything at the memorial is symbolic, even the water."
However, others suggest that visitors should be able to interact with the memorial, saying the problem is really the result of a design flaw and even argue that WWII veterans – mostly now in their 90s -- would allow those who come to honor them a place to cool off.
To be sure, tens of thousands of WWII veterans have come to the memorial since its completion, through the nonprofit group Honor Flight Network, which pays for their trips. The group reports flying in 159,705 WWII veterans, including 20,886 last year.
Eric Echevarria, 31, of Atlantic City, told The Post while wading the memorial's pool with his toddler that it's a place to "relax, cool off" after a long day of walking.
"It's all about what the value [of the memorial] is or what the meaning is to you," he said.
Rotondi acknowledges that she can "sympathize with both sides," but argued "there's a limit to what can be tolerated at a national memorial."