Veterans group mistakenly suggests McCain has passed, accidentally emailing draft of a news release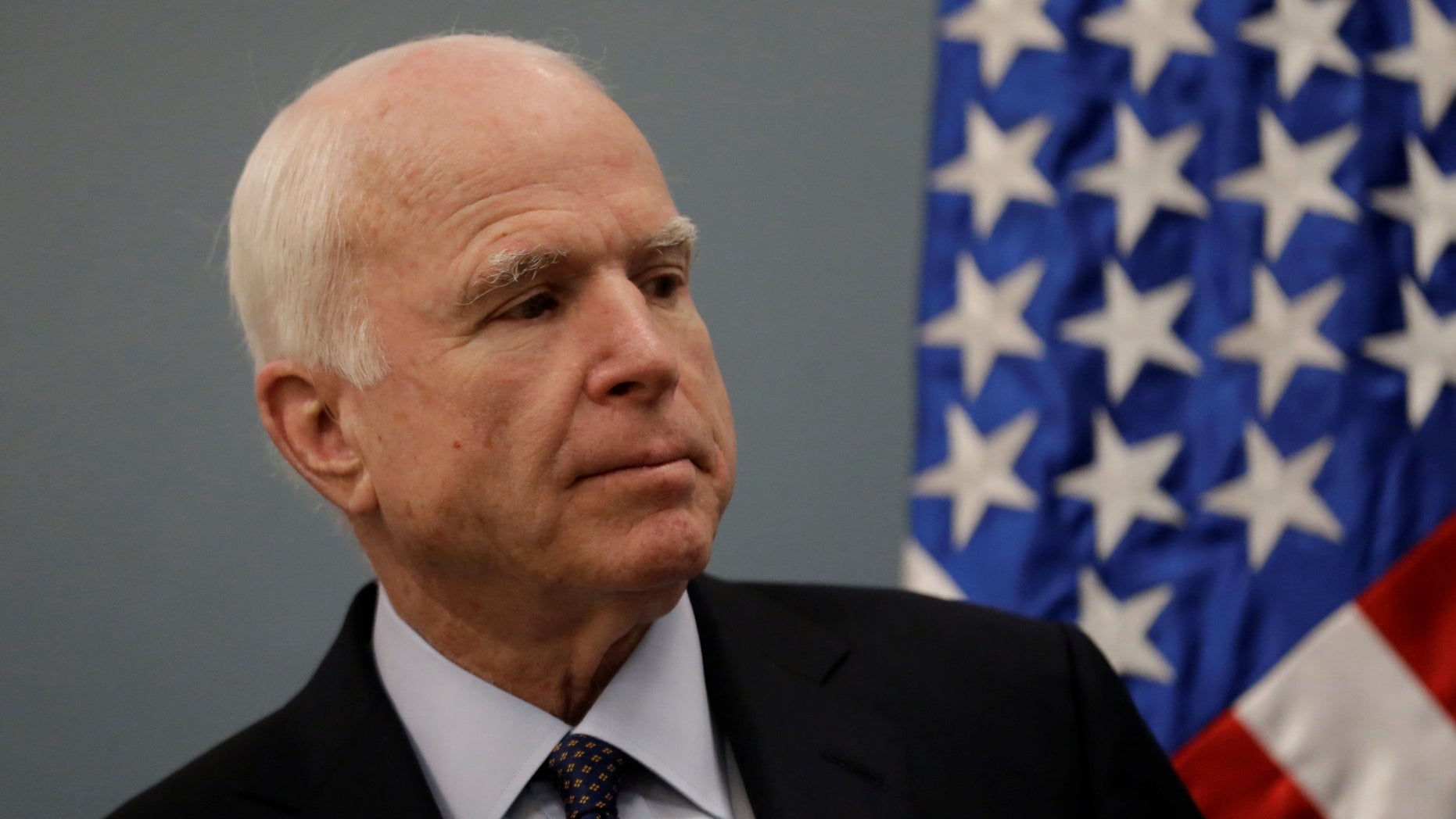 A veterans service organization on Friday inadvertently suggested that Sen. John McCain, R-Ariz., had passed, sending out a a draft email to reporters with a subject line that read, "VFW Remembers Sen. John McCain."
The nonprofit organization, Veterans of Foreign Wars, mistakenly emailed a draft release to reporters announcing the death of McCain, who has been at his Sedona ranch recovering from recent surgery and continues to battle an aggressive form of brain cancer.
The email obtained by The Washington Times began with an obvious piece of boilerplate material: "WASHINGTON (Month xx, 2018)."
"The 1.7 million-member Veterans of Foreign Wars of the United States and its Auxiliary are saluting the life of one of their own, U.S. Sen. John S. McCain III, who died (today/yesterday) after battling brain cancer," the body of the email read.
WHITE HOUSE OFFICIAL MOCKED 'DYING' MCCAIN AFTER HASPEL CRITICISM, SOURCES SAY
VRW told the Times that the email was accidentally sent out by the group's public affairs division.
"It was a mistake, and for that I apologize to all recipients and most especially to the McCain family," said Joe Davis, VFW director of communications.
McCain  has been a member of THE  VFW for 32 years.
McCain's diagnosis has been at the heart of a fair amount of controversy this week. On Thursday, reports emerged that a White House communications official, Kelly Sadler, had made a darkly joking comment at a meeting in which McCain's opposition to a CIA directorship nomination by President Trump was discussed. "It doesn't matter, he's dying anyway," the comment went, according to reports.
Cindy McCain, the senator's wife, fired back on fired back on Twitter Thursday, reminding Sadler of the human side of politics.
On Friday, McCain's daughter Meghan, a co-host on ABC's "The View," shared her disdain by suggesting that the aide should've been fired for her insensitive remarks.
"I don't understand what kind of environment you're working in when that would be acceptable and then you can come to work the next day and still have a job and that's all I have to say about it," she said on the talk show.
McCain has been unable to return to the Senate in the aftermath of surgery and cancer treatment.