Venezuelan Opposition Leader Urges Citizen Groups To Organize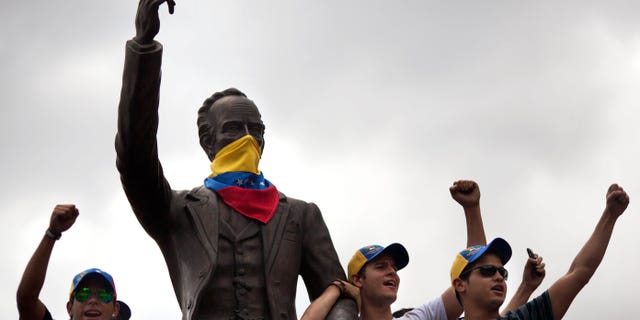 CARACAS, Venezuela (AP) – A leader of the Venezuelan opposition called Monday for citizens to begin organizing committees that could sustain the pressure that continuing street protests have placed on the socialist government of President Nicolas Maduro.
Former presidential candidate Henrique Capriles announced the effort via Twitter, directing people to a blog post that laid out plans for the so-called popular defense committees. In an apparent effort to organize and expand the opposition base, he said politics would be set aside, but that could be difficult in a country so polarized. Venezuela faces inflation that reached 56 percent last year, shortages of basic commodities and one of the highest rates of violent crime in the world.
"Leave aside the political agenda and violence which the government wants to draw us into, so that we can concentrate on the social problems that affect all of us," Capriles' statement said. The objective is to create a "great social movement" to press for change in the country.
The groups could begin with as few as three people: a coordinator, a logistics chief and someone in charge of publicity. Each of those members would be asked to get 10 more to join. The groups would meet to discuss problems in their community and potential solutions.
Capriles' office did not immediately respond to requests for comment. He is the governor of Miranda state and narrowly lost an election last year to replace former President Hugo Chavez following his death.
The protests have so far been mostly concentrated in middle class neighborhoods, including thousands who took to the streets on Sunday. The opposition faces the challenge of eroding Maduro's base of support among the poor and Capriles' message about confronting social problems affecting everyone seems to be an attempt to bridge that gap.
Capriles attached a list of previously articulated demands, including the release student protesters and fellow opposition leader Leopoldo Lopez, who was jailed Feb. 18 on charges of instigating violence.
Lopez himself also issued a statement from jail, calling for demonstrators to keep filling the streets and demanding resignation of the interior minister and chief prosecutor.
"There is no reason to give up our fight," he said in a message posted on YouTube. "We can't surrender." The message was read by Carlos Vecchio, political coordinator for Lopez's party, who said he was speaking from seclusion as he remains a step ahead of an order for his arrest on similar charges.
Meanwhile, Venezuelan Foreign Minister Elias Jaua defended the government's actions at a meeting of the United Nations Commission on Human Rights in Geneva.
"This aggression does not have its origin in social unrest," Jaua said. He reported that 18 people had died in the student-led protests and said 73 people remained in custody.
Follow us on twitter.com/foxnewslatino
Like us at facebook.com/foxnewslatino