Venezuelan Opposition Leader Leopoldo Lopez Ordered To Stay In Jail Pending Trial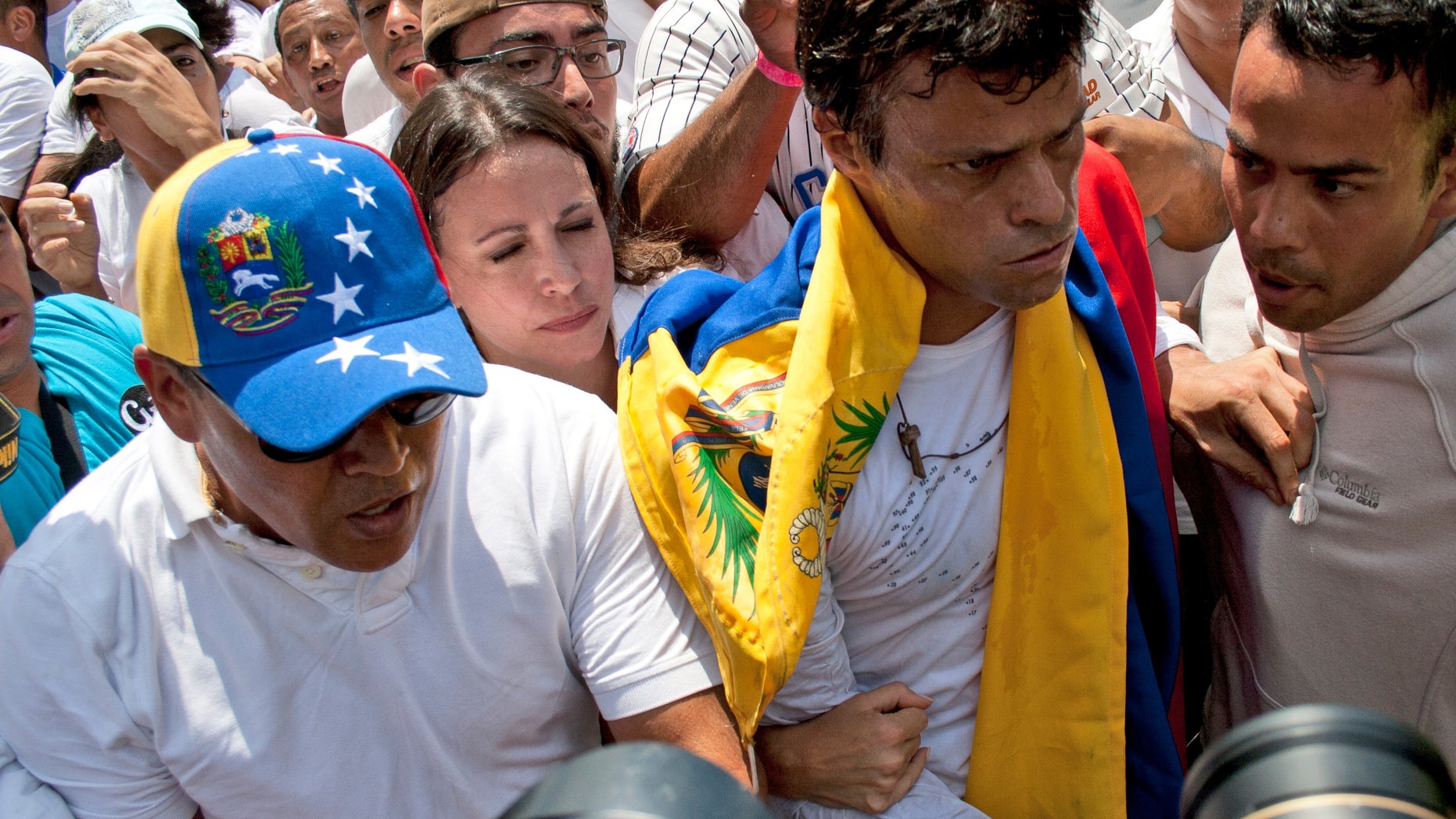 A Venezuelan judge has ruled that anti-government opposition leader, Leopoldo Lopez, must stay in jail pending the start of his trial in August on charges of inciting violence at demonstrations earlier this year.
The judge handed down his ruling before dawn Thursday following marathon deliberations lasting three days in which Lopez's attorneys argued that the former mayor was being hounded for his political beliefs.
Lopez, 43, is the combative head of the Popular Will party. Before turning himself in to authorities in February, he had been spearheading a movement to force President Nicolas Maduro's resignation.
Authorities ordered his arrest after three people were killed February 12 during clashes between security forces and anti-government protesters that took place after peaceful demonstrations ended. At least 42 people have been killed on both sides in three months of unrest.
If convicted, the Harvard University-educated politician could face up to more than 13 years in jail. The trial is expected to begin in August, his lawyers said.
Maduro's arrest of his opponents has drawn widespread criticism abroad, with Amnesty International calling the charges against Lopez a "politically motivated attempt to silence dissent" at a time of mounting frustration with 57 percent inflation and record food shortages.
A report Thursday by the Geneva-based International Commission of Jurists described cases of arbitrary detentions and intimidation of student protesters and political leaders that point to a lack of independence for judges and prosecutors.
Also on Thursday, supporters read a letter from Lopez written by hand from the courthouse in which he accused the judge presiding over his case of "selling her conscience to the corrupt powers." In a similarly defiant tone, allies called for a mass demonstration Sunday in the same Caracas plaza where Lopez in February emerged from days of hiding to turn himself into authorities after delivering a fiery speech to a huge crowd.
Referring to Lopez as a "prisoner of conscience," David Smolansky, they mayor of Caracas' El Hatillo district, said the jailed activist's "only crime is thinking differently."
Each day of the preliminary hearing began for Lopez around 4 a.m., when he was woken in his cell at a military prison outside Caracas and taken under heavy police escort to a downtown courtroom, where proceedings lasted late into the night. Journalists and Lopez's wife were barred from attending the hearing.
Based on reporting by The Associated Press.
Follow us on twitter.com/foxnewslatino
Like us at facebook.com/foxnewslatino