Venezuelan opposition leader banned from holding office defiant, 'I will run'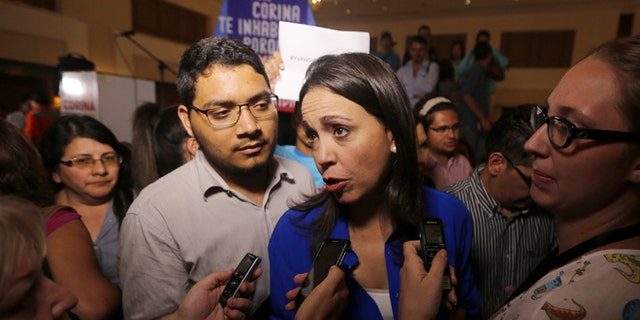 NEWYou can now listen to Fox News articles!
Caracas, Venezuela – Opposition politician María Corina Machado told Fox News Latino that she will run for another term in Venezuela's legislature, in spite of a government-imposed one-year ban on her holding public office that was first reported earlier in the week.
"I will run," she said. "I will go before the national electoral authority on August 3 … and present my position. I have all the requisites to run according to the Venezuelan Constitution, and the government knows it."
Machado was defiant during a phone interview, saying, "This is a regime that is terrified because it knows that it has lost."
Two other prominent opposition leaders – Daniel Ceballos, former mayor of San Cristóbal Municipality, in Táchíra state, and Vicencio "Enzo" Scarano, former mayor of the municipality of San Diego, in Carabobo state – have been banned from taking part in the parliamentary elections being held on Dec. 6 by the office of the country's comptroller general.
On Monday, Machado received a letter saying she can't run to be a deputy in the legislature because she failed to declare a portion of the salary she received during her tenure in the National Assembly, which ended abruptly last year because of what she describes as a harassment campaign by the administration of President Nicolás Maduro.
"The comptroller general's office does not have the authority to rule me ineligible," Machado insisted.
According to the government, Machado failed to declare as income "Cestatickets," the Venezuelan equivalent of food stamps.
"I never received those coupons," she told FNL several times during the interview.
Machado, a 47-year-old who, with 2.6 million Twitter followers, is more popular than Maduro (2.4 million), is the sometimes-battered face of the radical wing of the opposition. She was attacked physically by a pro-government member of the National Assembly in 2013.
The following year, she was removed from the legislature by the head of the chamber, Diosdado Cabello, over an appearance at the Organization of American States that the regime deemed to be illegal.
The Dec. 6 vote is widely seen as a referendum on Maduro, the embattled President who has ruled through violent street protests, challenges in the Venezuelan Supreme Court to his legitimacy, severe shortages of goods, a booming inflation rate and a soaring black market dollar exchange rate – not to mention ever-declining oil revenues, which account for 96 percent of all of the hard currency the country receives.
"Today in Venezuela, voting is an act of rebellion," Machado told FNL. "These elections are being held under a dictatorship – the darkest and most corrupt Venezuela has seen."