Venezuelan Government Angry After Colombia Hosts Opposition Leader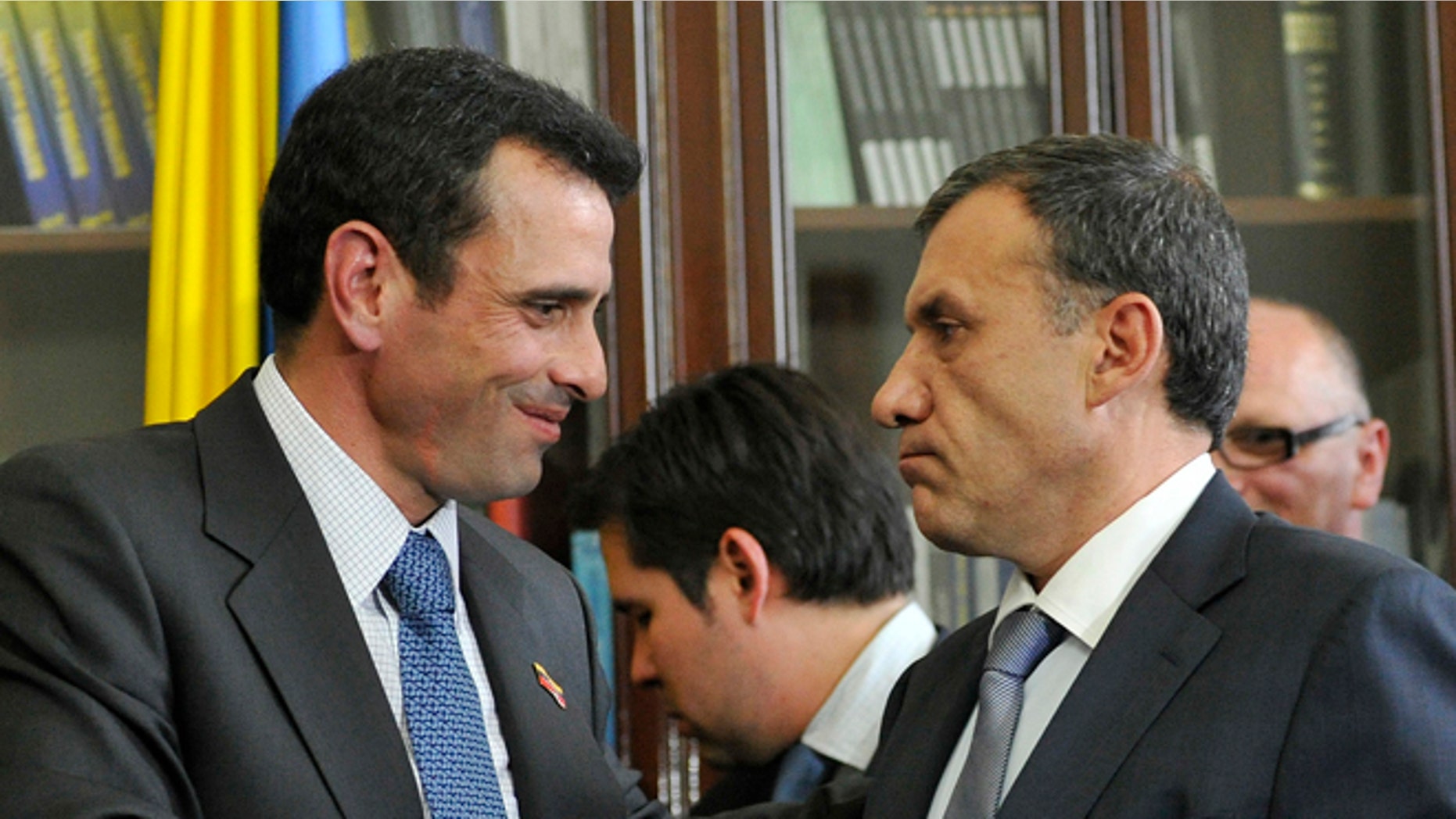 CARACAS, Venezuela – Venezuelan official voiced their anger Wednesday amid news that the Colombia's president met with Venezuelan opposition leader Henrique Capriles, warning that it could severely damage relations between the neighboring countries.
Colombian President Juan Manuel Santos received Capriles, who is trying to build international support for his efforts to overturn an April 14 presidential election he claims was fraudulent. Capriles narrowly lost to governing party candidate Nicolás Maduro.
Venezuelan Foreign Minister Elias Jaua told state TV that the meeting "will bring a derailment of the good relations that we have." Parliament Speaker Diosdado Cabello compared the meeting to "placing a bomb on the train."
Jaua says Venezuela will re-evaluate its role as an observer at the peace talks in Cuba between Santos' government and Colombia's biggest rebel group. He said Maduro had recalled Venezuela's envoy to the talks for consultations.
"Without a doubt today's situation obliges us to study Venezuela's participation as a facilitator in the peace accord," Jaua said.
Venezuelan officials played an important role in bringing the talks about, and Venezuela has long been a haven for leaders of the rebel group in the negotiations, the Revolutionary Armed Forces of Colombia.
The Havana talks recessed Sunday after both sides said they had reached agreement on agrarian reform. They are to resume negotiations June 11.
Santos has recognized Maduro's election victory and attended his inauguration last month. Colombian officials had no immediate comment on Venezuela's objections to his meeting with Capriles.
During a visit to Colombia's parliament, Capriles said he didn't care "what this illegitimate government says," calling its criticism "mosquito bites."
Capriles claims Maduro, the anointed successor of the late President Hugo Chávez, stole the election through fraud, voter intimidation and abuse of government resources.
The opposition leader described as a "farce" an audit that will review only the results from electronic voting machines. Capriles also wanted an examination of voter registries and fingerprints to find out if all the votes cast were legitimate.
"In Venezuela, in my beloved homeland, on April 14 they stole the election, they stole them not through an automated system, they stole it like you steal elections when you put in more votes than the people want," Capriles said.
He has asked the Supreme Court to annul the election result, which is considered highly unlikely because the panel is dominated by pro-government justices.
The government says Capriles is to blame for the deaths of 11 government supporters in post-election violence. He rejects the allegations.
Based on reporting by The Associated Press.
Follow us on twitter.com/foxnewslatino
Like us at facebook.com/foxnewslatino