Venezuela launches anti-American, in-your-face propaganda campaign in the U.S.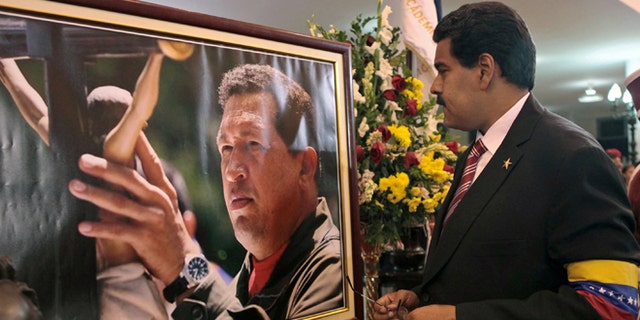 NEWYou can now listen to Fox News articles!
What's a little propaganda between adversaries?
Venezuela may be wracked by severe shortages, its economy plagued by hyperinflation and a sagging currency, but that doesn't mean that the country can't scrape together the money for a little propaganda offensive.
This week New York City has been awash with publicity efforts on behalf of the socialist governments of Hugo Chávez and Nicolás Maduro. A full-page ad in the New York Times bore an open letter from President Maduro to the American people, assuring that "we are friends of the American people."
Meanwhile at the United Nations, an exhibit of photographs sponsored by the Venezuelan mission celebrated the life and career of Chávez.
Photo: Courtesy the Venezuelan mission to the U.N.
At the dedication, the country's ambassador to the U.N., Rafael Ramírez, told those gathered that the late president had "endowed the Venezuelan people with all the instruments for the full exercise of all their political rights."
"As a result," he added, "today our country has a deeply democratic and participatory political system."
The U.S. and Venezuela have been at odds over the South American nation's jailing of opposition leaders, using violence to quell protests and Maduro's claim that the U.S. is attempting to destabilize his regime.
The tensions have culminated in recent weeks in a back-and-forth of bluster, punitive sanctions and orders to reduce diplomatic staff.
Maduro's open letter starts out with a series of boasts that are possibly intended as barbs. "We have never attacked another nation," it reads. "Our people live in a region of peace, free of weapons of mass destruction ... Immigrants from around the world, live among us, whose diversity is respected."
The president mentions a frequently-cited charitable effort on Venezuela's behalf that benefits poor Americans: "Since 2005, Venezuela has provided 'heating oil' through subsidies for low-income communities in the United States, thanks to our company CITGO. This contribution has helped tens of thousands of American citizens survive in harsh conditions, giving them relief, and necessary support in times of need."
After accusing President Barack Obama of taking a "unilateral and aggressive measure" by imposing sanctions on people in Maduro's administration believed to have taken part in human-rights abuses, the Venezuelan president demands that "the U.S. government immediately cease hostile actions against Venezuelan people and democracy" and "retract its libelous and defamatory statements and actions against the honorable Venezuelan officials who have just obeyed our laws and our constitution."
Like us on Facebook