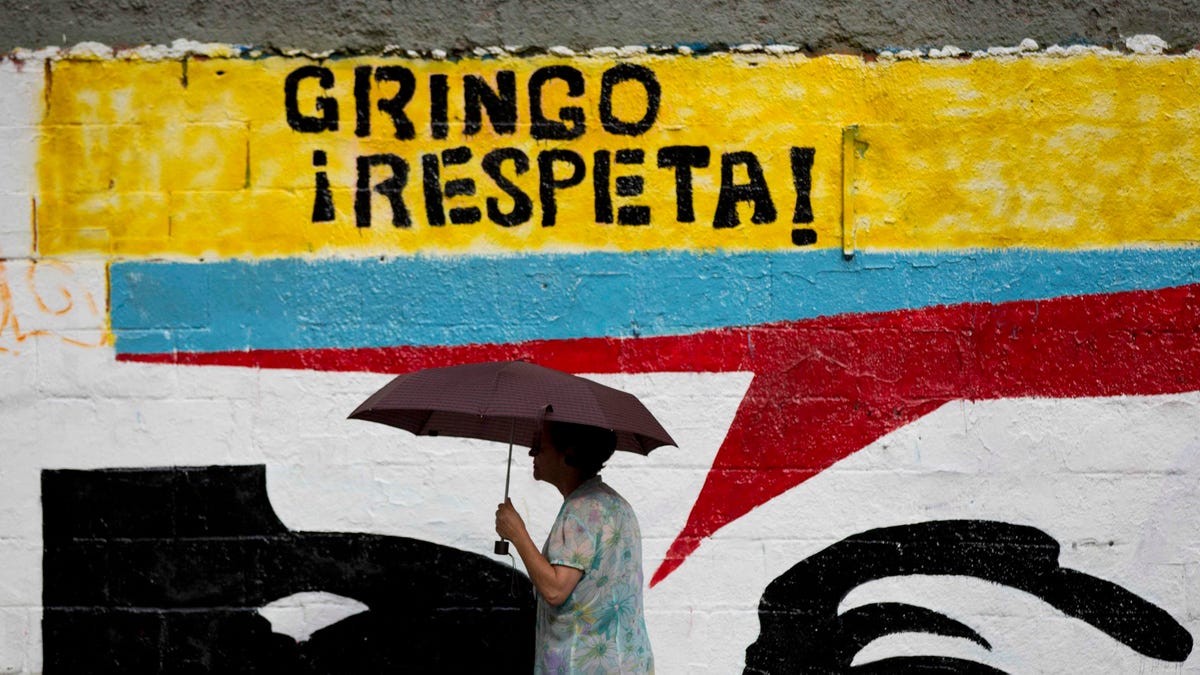 CARACAS, Venezuela (AP) – Venezuela has given the U.S. two weeks to slash its diplomatic mission here to less than than 20 percent of its current size as tensions between the two nations rise.
Foreign Minister Delcy Rodríguez made the announcement Monday after a rare meeting with the top American diplomat in Caracas. She said the U.S. mission must be cut to 17 diplomats to strike a balance with the 17 Venezuelan diplomats that serve in the U.S. It is up to the U.S. to decide which of an estimated 100 diplomats stationed here it wishes to send home.
Over the weekend, President Nicolás Maduro said his socialist government had detained several Americans spies, and would be taking a series of retaliatory measures, including imposing a visa requirement for American tourists, banning the entry of conservative Republicans like former Vice President Dick Cheney and Sen. Marco Rubio, and imposing rules to curtail the movement of the U.S. diplomats he accuses of plotting with the opposition to oust him.
State Department spokeswoman Marie Harf, who spoke before the meeting in Caracas ended, said the U.S. was "clearly concerned" about Venezuela's new policies toward diplomats and tourists.
"There has been a lot of anti-American rhetoric coming out of the Venezuelan government, with a lot of baseless allegations," she said.
Harf declined to say how many diplomats work in the U.S. Embassy, an imposing compound that sits above Caracas in a secluded, tree-lined neighborhood.
The U.S. has not exchanged ambassadors with the South American country since 2010. Lee McClenny represents the mission as chargé d'affaires. Reflecting the distant state of relations between the two nations, McClenny's name was twice misspelled as "Clenny" in government statements before Monday's meeting, which Rodríguez described as cordial.
Maduro regularly rails against the U.S. for meddling in his country's affairs. He accuses the U.S. of staging an "endless coup" which he blames for Venezuela's chronic shortages and worsening economy. He has taken to leading weekly chants of "Gringo, go home," and last month accused the U.S. of plotting with opposition leaders to bomb the presidential palace.
The U.S. did endorse a brief coup led by opposition leaders that toppled Maduro's mentor, the late President Hugo Chávez, for two days in 2002.
Michael Shifter, president of Inter-American Dialogue, said he doesn't expect the U.S. to respond with a dramatic change in its own policies toward Venezuela.
"It's clear Maduro is flailing about, not knowing what to do, so he's falling back on the tried and true by blaming the U.S.," said Shifter, adding that the government has so far failed to present convincing evidence of U.S. involvement in destabilizing acts. "The problem is it's no longer credible."
The new restrictions underscore Venezuela's role as the most stridently anti-American country in the hemisphere. Cuba, Venezuela's closest ally, is in talks with the U.S. to expand staffing in the two countries' diplomatic missions and let diplomats travel outside their respective capitals without having to ask permission.
Maduro is expected to see U.S. President Barack Obama in five weeks at the Summit of the Americas in Panama. As recently as January, he was photographed grinning and shaking the hand of Vice President Joe Biden, a photo opportunity that now seems unthinkable.
Meanwhile, four North Dakota missionaries detained and then deported from Venezuela last week were recovering on the nearby island of Aruba. Their pastor Bruce Dick said they were expected home Tuesday.
It's unclear whether the missionaries were the Americans Maduro was referring to when he said the government had arrested U.S. citizens engaged in espionage.
Speaking on Monday, Dick called their multiday ordeal "a bit of a shock."