Venezuela Congress Gives President Nicolás Maduro Power To Rule By Decree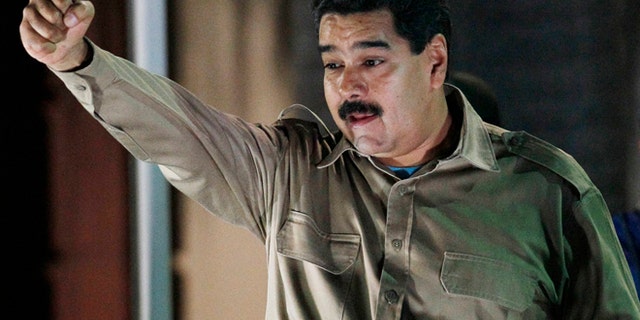 CARACAS, Venezuela (AP) – The Venezuelan congress granted President Nicolas Maduro emergency decree powers Tuesday that will strengthen the embattled leader's hand as he goes after businesses the government accuses of sabotaging Latin America's biggest oil economy.
The National Assembly's vote had been widely expected since Maduro requested a month ago to be given expanded power to enact laws without consulting congress for up to a year.
The same tactic was employed four times by Maduro's mentor and predecessor, the late Hugo Chávez, to promulgate dozens of laws that dramatically boosted state control over the economy.
But unlike the charismatic Chávez, who had near-absolute command over his party, doubts about Maduro's leadership have risen since he defeated opposition leader Henrique Capriles by a razor-thin margin in April's presidential election and as worsening shortages of basic goods and galloping inflation, now at 54 percent, have eroded popular support for his rule.
In what may be a preview of more shock measures to come, Maduro in recent days has ordered the military to seize dozens of appliance stores, slash prices on imported electronics and arrest more than 100 business owners for alleged price gouging.
On Tuesday, the Venezuelan unit of General Motors Corp. was fined the equivalent of $85,000 for allegedly overcharging and practicing "usury" in the sale of car parts to local concessionaires. The government also asked Twitter to take down accounts of users posting the illegal black market exchange rate for Venezuela's bolivar currency, which is trading at about one-tenth of the official value.
Such measures have rallied Maduro's working-class base and even won approval from some government opponents who've joined the long lines snaking outside appliance stores nationwide for the last 10 days in search of deep discounts on TV sets and refrigerators.
The key question is whether Maduro will maintain the radical stance after next month's mayoral elections, which the opposition is trying to frame as a referendum on his rule, or adopt a more pragmatic tack in an effort to stabilize the economy.
After Tuesday's vote, National Assembly President Diosdado Cabello led a march of more than 2,000 red-shirted supporters from the legislature to the presidential palace to deliver the text of the decree law to Maduro.
Addressing a crowd smaller than the ones Chávez was accustomed to drawing, Maduro reiterated a pledge to use his expanded powers to keep prices low across industries and limit profit margins to 30 percent. He also vowed to start 2014 with a frontal attack on corruption.
"They underestimated me; they said Maduro was an amateur," he told the crowd. But "what you've seen is little compared to what we're going to do."
The legislative process leading up to Tuesday's vote was marred by controversy after an opposition congresswoman was stripped of her immunity from prosecution over corruption charges, allowing for her substitution by a pro-government lawmaker who gave Maduro the crucial 99th vote needed to prevail.
Capriles lambasted the maneuver as a naked power grab and vowed Tuesday to retaliate with a strong performance for opposition candidates in the Dec. 8 municipal elections.
"I'll give it to you really straight so it registers," Capriles warned Maduro in a message on Twitter. After the December elections "we're going for you and your disastrous government, constitution in hand."
Follow us on twitter.com/foxnewslatino
Like us at facebook.com/foxnewslatino