USS Carl Vinson Carrier was not on way to North Korea, reports say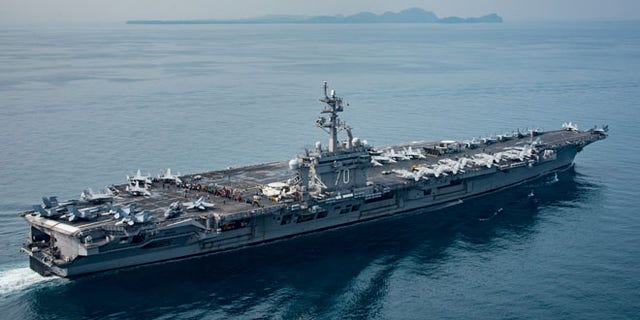 NEWYou can now listen to Fox News articles!
The U.S. Navy said on Tuesday that it did not move the USS Carl Vinson toward North Korea despite President Trump's earlier comments he made on Fox Business that he was sending an "armada" to deter Pyongyang.
"We are sending an armada, very powerful. We have submarines, very powerful, far more powerful than the aircraft carrier," Trump told the Fox Business Network's Maria Bartiromo last week. "We have the best military people on Earth. And I will say this: he (Kim Jong Un) is doing the wrong thing."
The New York Times reported that while Trump made the comments, the carrier and three warships were "sailing in the opposite direction," and instead headed toward the Indian Ocean to take part in a joint exercise with the Australian Navy.
The Navy was criticized for taking a week to correct the report. A senior White House official reportedly said the pentagon did not realize the mistake until Tuesday."At the end of the day it resulted in confused strategic communication that has made our allies nervous," Bonnie Glaser, senior adviser for Asia at the Center for Strategic and International Studies in Washington, D.C., told The Wall Street Journal. "If you don't have a consistency with your actual strategy and what you're doing with your military, that doesn't seem terribly convincing."
The Vinson is not expected to arrive near the peninsula until next week.