US Mideast envoy quits after attempt at peace deal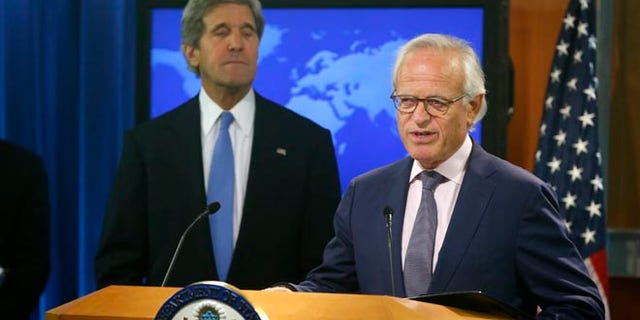 U.S. special Mideast envoy Martin Indyk is resigning after nearly a year of unsuccessful efforts to forge an Israeli-Palestinian peace deal, Obama administration officials said Friday.
The officials said Indyk's departure, and his return to his previous job at The Brookings Institution think tank, is expected later Friday. The officials spoke on condition of anonymity because they were not authorized to discuss the matter publicly. The State Department declined to comment.
A former U.S. ambassador to Israel, Indyk was appointed to the envoy post last July by Secretary of State John Kerry when he announced a resumption in peace talks with the goal of reaching a settlement within nine months. However, the negotiations collapsed before that target date amid what Kerry and other U.S. officials said were negative steps taken by both sides.
With the peace process in hiatus, it is unclear whether Indyk will be replaced. His deputy, Frank Lowenstein, will assume the envoy position on an interim basis, the officials said.
Indyk's resignation marks the second time the Obama administration has lost a Mideast peace envoy following a failed bid to bring the parties together. Former Sen. George Mitchell stepped down from the post in May 2011 after two years of frustrating efforts to get negotiations going.
The latest effort, in which Kerry and Indyk had invested significant time and energy, collapsed in March when Israel and the Palestinians each backed out of pledges they had made when the peace talks resumed. Each side blamed the other for the breakdown. The Palestinians accused Israel of reneging on a promised prisoner release and continuing to construct Jewish settlements on disputed territory, and the Israelis accused the Palestinians of seeking greater U.N. recognition. The Palestinians then formed a unity government backed by the militant Hamas movement, which Israel refuses to deal with.
Indyk, 62, had taken a leave of absence from his job as vice president and foreign policy director of Brookings when he was appointed envoy on July 29, 2013.
At the time, he thanked President Barack Obama and Kerry for "entrusting me with the mission of helping you take this breakthrough and turn it into a full-fledged Israeli-Palestinian peace agreement."
"It is a daunting and humbling challenge, but one that I cannot desist from," Indyk said then.
Prior to joining Brookings, Indyk had served as former President Bill Clinton's ambassador to Israel and was a key part of the 2000 Camp David peace talks. He was also a special assistant to Clinton and senior director for Near East and South Asian affairs at the National Security Council from 1993 to 1995. And he served as assistant secretary of state for Near Eastern affairs in the State Department from 1997 to 2000.