US lawmakers seek answers in 'troubling' violation of Sudanese Christian woman's human rights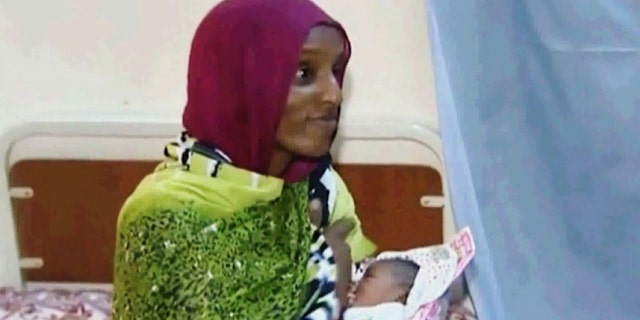 As a Sudanese Christian who faced execution for refusing to renounce her faith remains holed up with her family in the U.S. Embassy in Khartoum, a host of religious, human rights and immigration experts have been summoned to Capitol Hill to testify about her plight in the war-torn African nation.
The congressional hearing on Meriam Ibrahim, who gave birth while imprisoned in chains, is aimed at raising awareness of what one lawmaker called a "troubling violation of a basic human right."
"Meriam Ibrahim has been imprisoned in Sudan in fear of execution, chained during the late stages of her pregnancy, forced to give birth in prison, released from prison and re-arrested on flimsy charges," Rep. Chris Smith, R-N.J., told FoxNews.com. "This all is the result of her being Christian in a country in which the ruling authorities refuse to recognize the right of people to choose their own religion. Our hearing will examine this troubling violation of a basic human right."
Smith, chairman of the House Foreign Affairs Committee's subcommittee on global human rights, originally planned to hold the event last month, but it was postponed when it appeared Ibrahim, 27, would be released and allowed to leave Sudan. She was ultimately not allowed to leave the country due to issues with her passport and has since been staying at the U.S. Embassy in Khartoum with her husband, Daniel Wani, and their two children, Martin and Maya.
[pullquote]
Other scheduled speakers at the hearing include Zuhdi Jasser, vice chair of the U.S. Commission on International Religious Freedom, Tony Perkins, president of the Family Research Council, and Grover Joseph Rees, former general counsel for the U.S. Immigration and Naturalization Service.
International outrage in the case has grown since Ibrahim -- a physician and the daughter of a Christian mother and a Muslim father who abandoned the family as a child -- was convicted of apostasy in mid-May. She could have spared herself death by hanging simply by renouncing her faith, but Ibrahim held firm, telling a judge she was "never" a Muslim.
Sources close to the matter tell FoxNews.com that Ibrahim isn't likely to leave Khartoum until the end of Ramadan on Monday or the three-day Eid al-Fitr celebration that follows. But the path for her to seek exile in the United States got a little easier last week when a lawsuit filed by Ibrahim's father to formally establish her as his Muslim daughter was reportedly dropped. More than 50,000 people have signed a WhiteHouse.gov petition launched by the Family Research Council asking President Obama to grant Ibrahim expedited safe haven in the United States.
Ibrahim and Wani, who has dual Sudanese-American citizenship, married in a 2011 ceremony and operated several businesses, including a farm, south of Khartoum, prior to her incarceration. Sudan's penal code criminalizes the conversion of Muslims into other religions, which is punishable by death. Muslim women in Sudan are further prohibited from marrying non-Muslims, although Muslim men are permitted to marry outside their faith. Children, by law, must follow their father's religion.
Ibrahim's case first came to the attention of authorities in August, when members of her father's family complained that she was born a Muslim but married a Christian man. They claimed her birth name was "Afdal" before changing it to Meriam. The document produced by relatives indicating she was given a Muslim name at birth was reportedly fake. She also refused to answer a judge who referred to her as "Afdal" during a court hearing in May, when she declared that Christianity was the only religion she knew.
"I was never a Muslim," she told a judge. "I was raised a Christian from the start."
Wani, who suffers from muscular dystrophy, was initially not allowed to visit Ibrahim after the birth of their daughter at a prison clinic in Omdurman, human rights attorney Safwan Abdalmoniem told FoxNews.com. Wani was ultimately allowed to see his wife and child two days after the girl's birth, but conditions in the prison hospital wing were deplorable and "inadequate," Abdalmoniem said in late May.
U.S. diplomats, meanwhile, have been "fully engaged" in Ibrahim's case for nearly two months.
"Through the U.S. Embassy in Khartoum, the White House and the State Department, we have communicated our strong concern at high levels of the Sudanese government about this case," State Department spokeswoman Nicole Thompson told FoxNews.com on May 29. "We have heard from many, many Americans that they are deeply alarmed by [Ibrahim's] plight. We have conveyed these views to the Government of Sudan."