US flies roughly 85 percent of airstrikes against Islamic State, in complex mix of tactics, politics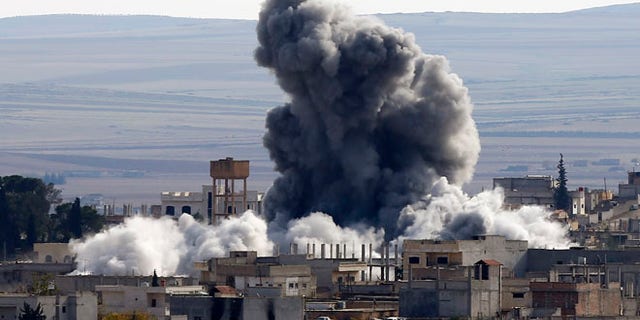 The United States is conducting roughly 85 percent of the multi-national air strikes against Islamic State in Iraq and Syria, according to the most recent Pentagon report.
U.S. fighter planes and drones have conducted 819 strikes, compared to 157 from the 10 other countries, states the detailed report obtained last week by FoxNews.com.
The U.S. began the strikes in Iraq on Aug. 8 and was joined roughly five weeks later by Australia, followed by France, Belgium, the Netherlands and the United Kingdom. They joined as part of President Obama's plan to have international support in the effort to stop the militant group's foray into western Iraq and eastern Syria. Canada was the last to join, on Oct. 7, and the last to launch a strike.
France on Sept. 17 became the first Western county other than the U.S. to launch an air strike, destroying an Islamic State depot.
The U.S. ordered the strikes in Syria on Sept. 23, about 72 hours after five Arab nations -- Bahrain, Jordan, Qatar, Saudi Arabia and United Arab Emirates -- agreed to participate.
The five other countries flying attacks in Iraq have committed at least 30 fighter jets and four support aircraft. Their missions have destroyed Islamic State military equipment such as vehicles and depots. And at least one mission last month targeted a captured oil refinery, a top Australian military official said.
Still, U.S. military officials have release few specifics about the missions including information about the accuracy of the strikes, which has been questioned.
U.S. Central Command did not respond this week to several requests for information about strike accuracy and why the U.S. flies the vast majority of the sorties.
And David Johnson, vice admiral of the Royal Australian Air Force, recently told The Guardian that he wouldn't discuss enemy casualties or target locations for fear of Islamic State's "aggressive propaganda campaign.
However, one clear challenge is that pilots -- out of concern for killing civilians -- have only a limited number of targets and reportedly can attack only at night.
Another is that Islamic State, a combination country and army, presents an elusive and unconventional target.
Dakota Wood, a defense expert at the Heritage Foundation and retired Marine Corps special operations officer, said Monday that the decisions about which countries will fly which missions or how many mission involves several logistical and political factors.
"You have to find the right pilot to execute a mission in a given tactical environment, which includes fuel time, moving targets and anti-air defenses," he said. "This takes a certain amount of skill."
Wood also said the other countries could have joined in the effort under limited rules of engagement, like Germany did in the war in Afghanistan. He said, for example, that the Arab nations might not be willing to attack vehicles because such a strike would kill a lot of fighters.
Another possibility is that Central Command could be marshaling the majority of sorties to U.S. pilots, Wood said.
Oklahoma Sen. James Inhofe, the top Republican on the Senate Armed Services Committee, is among those expressing concern about the challenges of zeroing in on ISIL or ISIS, as Islamic State is also know.
"We need more targeting capability," he recently told The New York Times.
That the combined 10 other countries have flown fewer attack missions is perhaps no surprise consider the U.S. essentially has the world's biggest, most powerful military -- including roughly 4,800 attack and fighter planes among more than 13,600 aircraft.
That's compared to the Royal Bahraini Air Force, which reportedly has less than 50 planes capable of dropping bombs on strategic enemy targets.
The Britain-based Syrian Observatory for Human Rights told The Associated Press Sunday that U.S.-led coalition warplanes carried out as many as 30 airstrikes overnight against ISIS militants in and around the group's de facto capital of Raqqa, in northeastern Syria, which bring the total to roughly 1,000.
The Local Coordination Committees, a collective of activists, also confirmed the airstrikes, but neither group had casualty figures and the strikes were not confirmed by the U.S. military.