US cyber command opening up new front against ISIS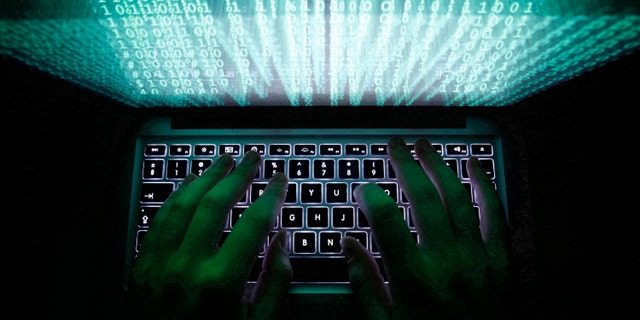 The U.S. is supplementing its ground and aerial assaults on ISIS with a cyber-attack campaign, opening up a new, high-tech front in the war against the Internet-savvy terror group.
President Obama was scheduled Monday to address future efforts against ISIS at a conference in Germany with several European leaders, The New York Times reported. One of those efforts is the burgeoning cyber war.
"We are dropping cyberbombs," Deputy Secretary of Defense Robert Work told The Times. "We have never done that before."
Though the cyber assault is the latest tact taken in the effort to destroy the terror group, details of the program have been vague, and its effectiveness is tough to evaluate.
The National Security Agency has conducted phone surveillance on ISIS for years, The Times reported, but the NSA's military counterpart, Cyber Command, had not trained its sights on ISIS until recently. Now, secret tech weapons employed against more traditional U.S. adversaries such as Iran and North Korea will be deployed against the Islamist group.
"Our cyber operations are disrupting their command-and-control and communications," Obama said after an April meeting at CIA headquarters in Virginia.
The operation's objective is to upset ISIS' efforts to attract new recruits and spread propaganda. Officials also hope to stymie electronic cash transfers. By talking publicly about the program – albeit in little detail – the administration hopes to psychologically affect ISIS' command structure, making them question the integrity of their communications. It's also hoped that lower-level extremists may be scared off by the knowledge that someone may be monitoring them.
U.S. Cyber Command is based out of Ford Meade, Md., and the East Coast facility began shifting its focus to ISIS after some prodding from Defense Secretary Ash Carter, The Associated Press reported.
Late last year Carter told cyber commanders they had 30 days to bring him options for how the military could use its cyber warfare capabilities against the group's deadly insurgency across Iraq, Syria, Libya and Afghanistan. Officials said he told commanders that beefing up cyber warfare against the Islamic State group was a test for them, and that they should have both the capability and the will to wage the online war.
But the military cyber fight is limited by concerns within the intelligence agencies that blocking the group's Internet access could hurt intelligence gathering.
Officials said Carter told commanders that the U.S. must be able to impact Islamic State operations without diminishing the indications or warnings U.S. intelligence officers can glean about what the group is doing.
On Jan. 27, Carter and Marine Gen. Joseph Dunford, chairman of the Joint Chiefs of Staff, went to Fort Meade for an update.
Officials familiar with Carter's meetings said the secretary was frustrated that, as Cyber Command has grown and developed over the past several years, it was still focused on the cyber threats from nations such as Iran, Russia and China, rather than building a force to fight more agile insurgents.
"He was right to say they could be more forward leaning about what they could possibly do against ISIS," said James Lewis, a cybersecurity expert at the Center for Strategic and International Studies. "You could disrupt their support networks, their business networks, their propaganda and recruitment networks."
However, Lewis added, the U.S. needs to be careful about disrupting the Internet to insure that attacks don't also affect civilian networks or systems needed for critical infrastructure and other public necessities.
U.S. officials have long been concerned by militants' ability to use the Internet as a vehicle for inspiring so-called lone wolf attackers in Western nations, radicalized after reading propaganda easily available online.
"Why should they be able to communicate? Why should they be using the Internet?" Carter said during testimony before the defense appropriations subcommittee. "The Internet shouldn't be used for that purpose."
The Associated Press contributed to this report.