UK Conservative MPs back Trump visit in fiery parliament debate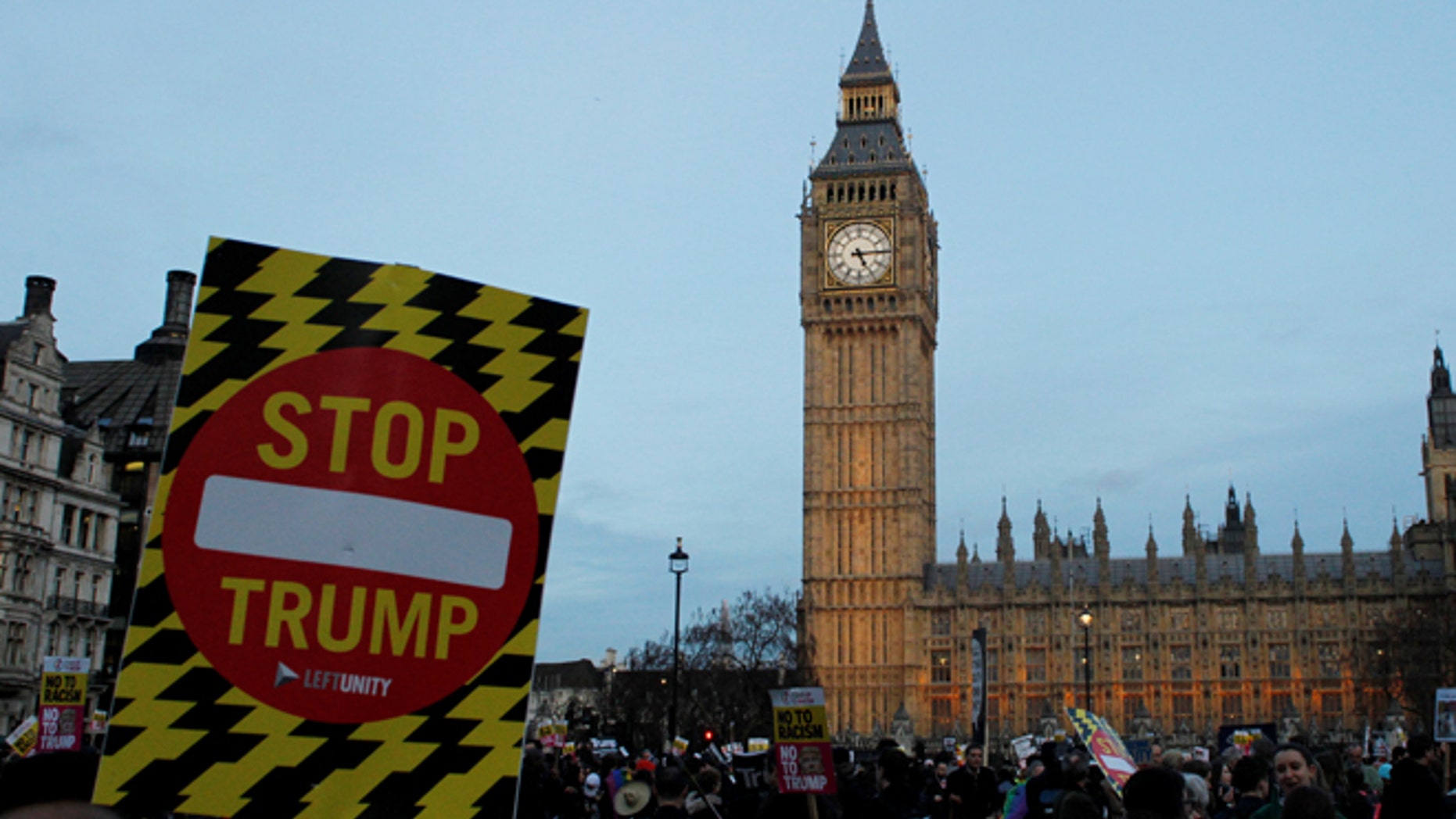 UK Members of Parliament clashed Monday in a heated debate over President Trump's state visit as left-wing MPs called for the invitation to be withdrawn -- while some Conservative Party MPs accused their opponents of hypocrisy and insulting the American people.
Prime Minister Theresa May extended a state visit invitation to Trump when she visited the White House in January – a move that angered some segments of the UK population and left-leaning lawmakers, who have pointed to Trump's language about women and his hardline stance on refugees and immigrants as reasons to oppose such a visit.
The debate in Parliament's Westminster Hall was triggered after an online parliamentary petition seeking to prevent Trump from making a state visit to the U.K. picked up 1.8 million signatures. A counter-petition picked up over 300,000 signatures. The debate coincided with anti-Trump demonstrations in major UK cities.
While a visit to the U.K. was always likely, a state visit differs from an official visit as it is hosted by Queen Elizabeth II, and therefore is filled with pomp and ceremony, often involving a carriage ride with the Queen, a state banquet and an address to both Houses of Parliament.
Only two presidents – George W. Bush and Barack Obama – have been afforded state visits during Elizabeth's reign. The petition claims that Trump's "misogyny and vulgarity" would mean the visit would embarrass the monarch.
During the debate, left-wing MPs from the Labour Party, Green Party and Scottish National Party tore into the Republican president, accusing him of racism, sexism and xenophobia, and blasted May for extending the invitation in the first place.
"It is difficult to know whether to be appalled at the morality of this invitation or just astonished at the stupidity of the invitation," said SNP MP Alex Salmond, who called May's outreach "stomach-churning."
UK SPEAKER BERCOW MOCKED, CALLED A HYPOCRITE OVER TRUMP SNUB
Green Party MP Caroline Lucas added that Trump had "shown such effrontery to basic climate science" in his views on climate change.
"It's extraordinary that Trump, from the cavernous depths of his scientific ignorance, is prepared to challenge the conclusions of 97 percent of the world's experts on this matter," agreed Labour Party MP Paul Flynn, who later described Trump as a "petulant child" for his behavior.
However, Conservative Party MPs were united in the fact that the visit should go ahead, despite some of their own personal misgivings about some of the things he has said or done.
Nigel Evans, in a passionate speech, compared Trump's election to the British vote to leave the European Union, and argued that the American voter should be respected.
"Just like we had the forgotten people in the United Kingdom, there are the forgotten people of the United States of America. They're the ones who packed that stadium on Saturday to cheer Donald Trump after his month in the presidency because actually they like what he says," he said.
"There are 61 million people who voted for Donald Trump and when we stand up in this country and then condemn him for being racist – and I've seen no evidence of that – or they attack him an unseemly way, we're actually attacking the American people," he said.
Other Tories accused their opposition colleagues of hypocrisy, considering that leaders with sketchy human rights records have been afforded state visits. When Flynn mentioned Trump's infamous 2005 "grab them by the p***y" remark, Tory MP Jacob Rees-Mogg took him to task.
"I am grateful to the honorable gentleman for giving way and for his response to Mr. Trump's perhaps ill-considered phraseology, but what complaint did the honorable gentleman make when [Japanese] Emperor Hirohito came here, who was responsible for the Rape of Nanking?" he asked.
"[Chinese President] Xi Jinping was here last year, where were the demonstrations then? How many votes did Xi Jinping get? We had a state visit from a Chinese leader 10 years after Tiananmen square," added Evans. "It's double standards."
James Cartlidge, meanwhile, warned that rescinding the invitation would make Britain "a laughing stock" and would only benefit Russia.
"There will be smiles all around in the Kremlin if we follow this petition because what they want in the Kremlin above all else is to divide the West," he warned.
There was no vote at the end of the debate, and ultimately it is up to the British Government whether to withdraw the invitation, or downgrade the visit. It seems highly unlikely that, now extended, the government would retract the invitation.
The government had responded to the petition saying "HM Government believes the President of the United States should be extended the full courtesy of a state visit. We look forward to welcoming President Trump once dates and arrangements are finalized," the statement said.
House of Commons Speaker John Bercow caused controversy earlier this month when he broke with a tradition of neutrality by saying that he was opposed to Trump addressing both Houses of Parliament during his visit. The comments sparked a backlash, as well as a motion of no-confidence tabled against him.