U.S. Sends Ships, Rescue Teams to Japan After 'Catastrophic' Tsunami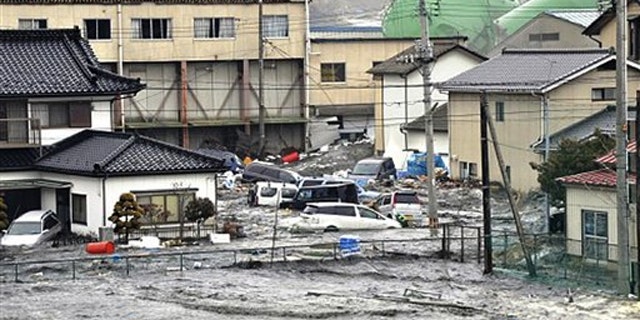 President Obama said Friday that the United States will offer "whatever assistance is needed" to help Japan recover from the earthquake and tsunami that struck the country, calling the crisis a "heartbreaking" and "potentially catastrophic disaster."
He addressed the tsunami at a press conference in Washington, D.C., as the U.S. military dispatched ships and other resources to the Pacific. Japan's government made a formal request for assistance Friday morning.
"We're going to stand with them as they recover and rebuild from this tragedy," Obama said.
Seven U.S. ships are on their way to the region. Pentagon spokesman Col. Dave Lapan said U.S. and Japanese officials will work out what role the United States will play in the recovery. Nearly 40,000 U.S. military personnel are stationed across the country.
Two elite search-and-rescue teams, one out of Virginia and another out of Los Angeles County, also prepared to each send a 72-member team and tons of rescue equipment, in conjunction with efforts coordinated by the U.S. Agency for International Development.
Obama, who was notified of the disaster before dawn Friday morning, spoke with Japanese Prime Minister Naoto Kan. The magnitude 8.9 earthquake triggered a deadly tsunami which obliterated coastal areas in Japan and surged in the opposite direction through Hawaii and eventually to the western U.S. coast.
Though people in Oregon, California and Washington were evacuated Friday morning as a precaution, so far the tsunami has not caused major damage to the United States. The Federal Emergency Management Agency was instructed to be ready to respond to any regions of the United States that are affected.
But with hundreds in Japan reported dead and amateur footage showing cars and buildings being swept away, U.S. officials stressed that they would help Japan in whatever way possible.
"Michelle and I send our deepest condolences to the people of Japan, particularly those who have lost loved ones in the earthquake and tsunamis," Obama said in a written statement. "We will continue to closely monitor tsunamis around Japan and the Pacific going forward and we are asking all our citizens in the affected region to listen to their state and local officials."
"The friendship and alliance between our two nations is unshakeable," Obama said, "and only strengthens our resolve to stand with the people of Japan as they overcome this tragedy."
The Pentagon said earlier that the U.S. Pacific Command reported all American military personnel in Japan had been accounted for. Press secretary Geoff Morrell said there are no reports of injuries to U.S. personnel there or damage to U.S. installations or ships in the area.
Morrell, who is traveling with Defense Secretary Robert Gates in Brussels, said that Gates was briefed by Pacific Command officials Friday while he was attending a NATO meeting on the Afghanistan war.
The Defense Department later sent out a Tweet saying U.S. forces in the Pacific "are ready to respond and provide disaster relief if requested."
The State Department sent out a similar message offering assistance.
FEMA Administrator Craig Fugate said his agency was "closely monitoring" the situation.
"Our immediate priority is the safety of the people and communities in the affected areas. We remind everyone who lives in the region to monitor their local news for instructions from their state and local officials and if told to evacuate -- evacuate," he said.
Vice President Joe Biden, making a joint appearance in Chisinau, Moldova Friday with Prime Minister Vlad Filat, said "the thoughts and prayers of the American people" are with the Japanese, who he said had suffered through a "mega earthquake."
"We, the United States, stand ready to do anything we can to help our Japanese friends as they deal with the aftermath of this tragedy," Biden said.
The Associated Press contributed to this report.