U.S. Says Mob Tried to Assault Envoy in Syria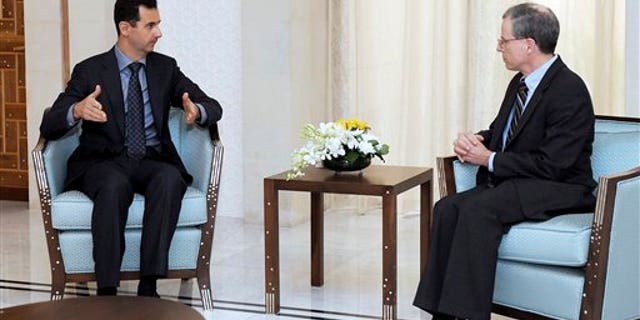 The Obama administration blamed the Syrian government for an attack on the top U.S. envoy to Syria, saying it was part of an ongoing, orchestrated campaign to intimidate American diplomats in the country.
Administration officials said they had lodged formal protests with Syrian authorities over the incident but there were no plans to recall Ambassador Robert Ford from Damascus. He wasn't injured.
They also said Ford would continue to meet opposition figures and press the government to end its brutal six-month crackdown on pro-reform demonstrators. The crackdown led President Barack Obama and some European leaders to demand that Syrian President Bashar Assad step down.
The White House and State Department said no one was injured when a violent mob pelted Ford and several colleagues with tomatoes and eggs as they entered the office of a prominent Syrian opposition figure. However, they said several heavily armored embassy vehicles sent to help extricate them from the situation were badly damaged with broken windows and dents when the same crowd hurled rocks.
"It is not an isolated incident, it is part of a pattern that we've seen," State Department spokesman Mark Toner told reporters.
He added that it was "part of an ongoing campaign to intimidate our diplomats as they were undertaking their normal activities and duties. Intimidation by pro-government mobs is just not civilized behavior. It's an inexcusable assault that reflects intolerance on the part of the regime and its supporters."
Toner said the assault reflected "the same kind of intolerance that we see that stirs the regime to use arrests, beatings and tortures and killings against those whose crime is only exercising their universal rights to gather peacefully and express their opinions."
At the White House, spokesman Jay Carney said the attack was "unwarranted and unjustifiable." He praised Ford for bearing witness to the "brutality of the Assad regime" and putting "himself at great personal risk to support the legitimate aspirations of the Syrian people."
Ford and his colleagues had left the embassy to visit opposition leader Hassan Abdul-Azim, who heads the outlawed Arab Socialist Democratic Union party. Trying to keep a low profile, they parked about a block away and walked to the office where they were confronted by the crowd, according to Toner.
Abdul-Azim said Ford was inside his office when the Assad supporters tried to force their way in, breaking some door locks. Office staff prevented them from rushing in, but the ambassador was trapped inside for about three hours by the hostile pro-government protesters outside. Ford called the U.S. embassy for help and alerted Syrian authorities to the situation. But Syrian security forces did not show up for more than an hour.
Syria's Foreign Ministry said the U.S. Embassy informed the ministry that Ford was confronted by protesters when he visited Abdul-Azim. The statement added that the ministry immediately contacted security authorities, who "took all measures needed to protect the ambassador and his team and secured their return to their work in accordance with Syria's international commitments."
Ford has angered the Syrian regime in past months by visiting a couple of the protest centers outside of Damascus in a show of solidarity with the anti-government uprising. The latest incident could further raise tensions between Washington and Damascus, which has accused the United States of helping incite violence in Syria. In August, Obama demanded Assad resign, saying he had lost his legitimacy as a ruler.
The attack on Ford came five days after government supporters threw eggs and stones at France's ambassador as he left a meeting in Damascus with a Greek Orthodox patriarch. Ambassador Eric Chevallier was unharmed.
Tension between the West and Syria -- Iran's closest Arab ally -- have been rising for months.
Washington and the European Union have imposed sanctions on some Syrian officials, including Assad, because of Assad's crackdown that has left some 2,700 people dead, according to the United Nations.
A trip in July by Ford and the French ambassador to the central city of Hama to express support for protesters drew swift condemnation from the Syrian government, which said the unauthorized visits were proof that Washington was inciting violence in the Arab nation. Authorities then warned both ambassadors not to travel outside the capital without permission.
A month later, the Obama administration brushed off a complaint by Syrian authorities that Ford violated their travel rules by leaving Damascus without permission. The Syrian foreign ministry registered concern over Ford's trip in August from Damascus to the southern village of Jassem, where he met opposition activists.