U.S. Navy Moves Closer to Japan, Confident in Providing Relief Despite Radiation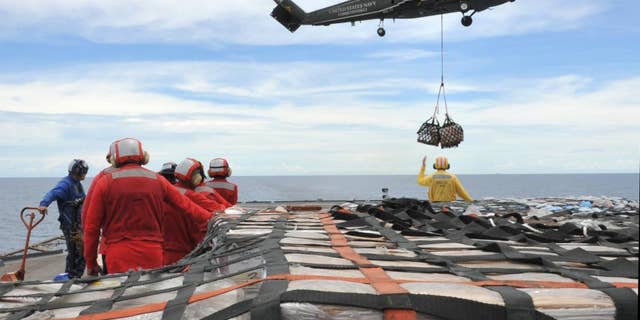 NEWYou can now listen to Fox News articles!
The U.S. 7th Fleet repositioned itself about 48 hours ago after contamination from multiple explosions at nuclear plants in Japan was initially detected. A spokesman tells Fox News that the fleet is now operating north of Sendai - the town closest to the quake's epicenter - which is upwind of the Fukushima plant.
"Radiological hazards are going to be a very real and challenging fact of life in this operation," Commander Jeff Davis says, "But we're confident that we have the ability to mitigate against the hazards and still provide meaningful assistance to the victims -- primarily by watching the wind direction closely and adjusting our ships' positions as necessary."
Aircraft and crews returning from missions ashore are also being monitored for signs of contamination.
The USS Ronald Reagan Carrier Strike group continued operations off the east coast of Honshu, and an additional destroyer, the USS Mustin, is at sea south of the disaster site.
The Strike Group flew 29 Humanitarian Aid Lift missions Tuesday, delivering 17 tons of supplies including food, water and blankets. A total of 25 tons have been delivered to date, providing assistance to 2,000 people. Aircraft also conducted three search and rescue missions.
Tuesday morning, sensitive instrumentation on USS George Washington in Yokosuka detected low levels of radioactivity from the Fukushima plant. While there was no danger to the public, forces recommended limited precautionary measures for personnel and their families, including limiting outdoor activities and securing external ventilation systems as much as possible. The military stressed these measures are strictly precautionary in nature, and they do not expect that any Federal radiation exposure limits will be exceeded even if no precautionary measures are taken.
Three other ships continue their transit to Japan and are expected to arrive Thursday. The ships will position themselves in the Sea of Japan off the eastern coast of Honshu, where they will be in the best position to launch disaster relief missions over land.
A Navy P-3 "Orion" aircraft from the base in Okinawa flew two missions to survey and assess sea debris that could potentially affect travel.