U.S. House Minority Leader Pelosi Slams Fellow Democrat Obama Over His High Deportation Record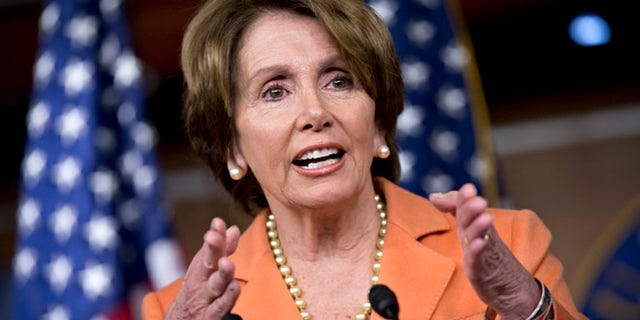 In a rare political move, U.S. House of Representative Minority Leader Nancy Pelosi took aim at President Barack Obama for the record number of deportations that have occurred during his tenure.
Pelosi, a California Democrat, said the Obama administration's nearly two million deportations seem in contradiction to the policy adopted during his tenure of applying discretion to the removal of undocumented immigrants.
That policy, from 2010, held that deportation efforts would prioritize immigrants who pose a public safety or national security threat.
But Pelosi, in an interview over the weekend with Spanish-language TV network Telemundo, said that people who do not meet the criterion of high-priority deportation targets were being deported in high numbers.
"If somebody is here without sufficient documentation, that is not reason for deportation," Pelosi said, according to a transcript. "If somebody has broken the law, committed a felony or something, that's a different story. And when those people are apprehended, they are deported. So I don't see any reason for these deportations."
Pelosi also indicated that she has been raising concern for years.
"For years we have been after the administration not to have this disparity of discretion that is used. It's wrong."
With immigration reform stalled in Congress, and no clear indication that a bill may pass next year, pressure has been building on Obama to do what he has the power to do – slow down the deportation machine.
Many protests for immigration reform that would provide a path to legal status for many of the country's estimated 11 million undocumented immigrants, as well as halt or curb the deportations, have increasingly been targeted at Obama as well as Congress.
In recent weeks, during a speech in California on immigration, the president was interrupted by a heckler who demanded that he use his powers to curb deportations and address flaws in the immigration system.
"I need your help," said the young man, Ju Hong, a 24-year-old immigration activist. "My family will be separated on Thanksgiving. Please use your executive order. You have the power to stop deportation."
The outburst led others in the audience to chant about stopping deportations. The president told Hong that he was wrong to assume that he had the power to do such things on his own.
But the incident helped intensify the spotlight on how enforcement has been stepped up under Obama.
Pelosi is not the only Democrat who has put aside partisan politics to assail Obama over his handling of immigration.
Rep. Luis Gutierrez, an Illinois Democrat who has been the most vocal proponent in Congress of an immigration overhaul that would help undocumented immigrants legalize, often says that the president can act on his own to remedy some flaws in the system.
Frustration has been mounting among advocates of more flexible immigration policies over the stalled effort in the House of Representatives to vote on a measure.
Republicans in the House, where they have the majority, have resisted bills that would extend a path to legal status to undocumented immigrants.
The Senate passed a bipartisan immigration reform measure in June that, among other things, tightens security along the border, steps up interior enforcement, expands foreign worker visas and provides opportunities for undocumented immigrants who meet a strict set of criteria to legalize their status.
The immigration reform effort, however, has stalled in the House amid a refusal by many Republicans to support a path to legal status and expanding foreign worker visa programs.
Follow us on twitter.com/foxnewslatino
Like us at facebook.com/foxnewslatino