U.S. Farmers Blame GOP For Crippling Immigrant Labor Shortage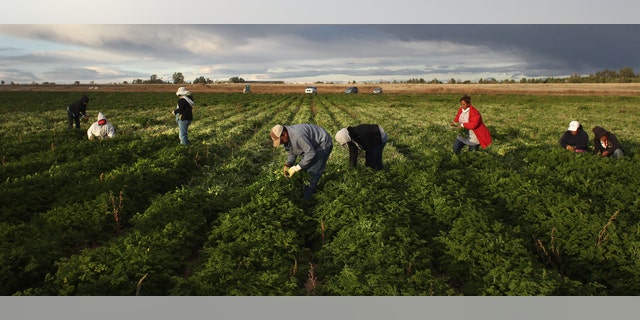 They were an ironclad voting bloc for Republicans.
But the dynamics may be changing for agriculture business owners, who are struggling to find American workers willing to do the physically demanding work, and struggling to find even undocumented workers amid stricter immigration enforcement along the border and inside the United States.
And while consumption of fresh produce by Americans has risen, the farmers have not been able to benefit because domestic production has fallen short, leading to a $1.4 billion annual loss in farm income, according to The New York Times.
The result: farmers are looking at the GOP as the culprit.
Republicans, some say, have blocked many of the changes in immigration policies that could resolve many of their labor problems.
And so they have become one of the most vocal industry groups putting pressure on Congress – particularly Republicans – to advance immigration legislation, which has stalled in the House of Representatives.
Tom Nassif, president of the Western Growers Association, has made numerous trips to Washington D.C. to plead the case for more flexible immigration laws.
"We've had secure borders with Mexico for the last decade," he said, according to the Times. "We don't have that argument at this point. Now we want people to see the real damage of not doing anything, which is a declining work force, and it means losing production to foreign countries."
Some Republicans are parting with their party on the issue and backing Democrat-led immigration measures. Reps. David Valadao and Jeff Denham, both of California, are among a few Republicans who are supporting a measure in the House that would provide a path to legal status for undocumented immigrants.
But many Republicans are against supporting any measure that gives a break to undocumented immigrants. They say that such measures amount to amnesty, or rewarding law breakers.
Saying they feel desperate, agricultural groups are opting to hold back campaign donations.
Nassif said his group is withholding hundreds of thousands of dollars in congressional races, an about-face from its generous support in the past.
"I can tell you if the Republicans don't put something forward on immigration, there is going to be a very loud hue and cry from us in agriculture," the Times quoted Nassif as saying. "We are a tremendously important part of the party, and they should not want to lose us."
Mike Gempler, head of the Washington Growers League, is quoted in the Washington Post echoing the sentiment.
"We're seeing a lack of response to our needs and concerns from significant parts of the Republican caucus in the House," Gempler said. "They either have ideological issues or they are catering to a more reactionary crowd."
Follow us on twitter.com/foxnewslatino
Like us at facebook.com/foxnewslatino