U.S. Economic Model Works Despite Woes, Says Clinton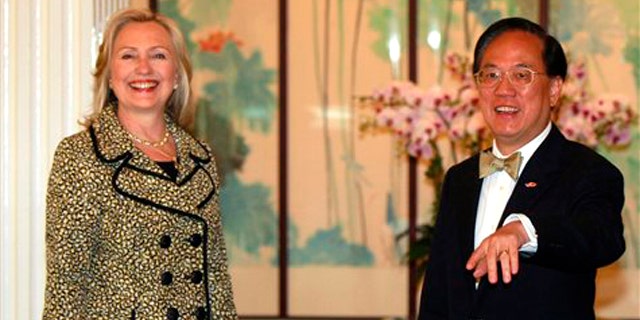 NEWYou can now listen to Fox News articles!
U.S. Secretary of State Hillary Rodham Clinton sought Monday to reassure financial markets in Asia and around the world that America's economy is sound despite its current woes and the deadlock over the national debt.
In a speech to the U.S. Chamber of Commerce in Hong Kong, Clinton predicted a deal on the debt would be reached before the August 2 deadline to avoid an unprecedented default. She said the partisan debate over the debt ceiling was a fact of life in American politics.
"The political wrangling in Washington is intense right now," Clinton said. "But these kinds of debates have been a constant in our political life throughout the history of our republic. Sometimes they are messy ... but this is how an open and democratic society ultimately comes together to reach the right solution. So I am confident that Congress will do the right thing and secure a deal on the debt ceiling and work with President Obama to take steps necessary to improve our long-term fiscal outlook."
But Asian stocks fell Monday after U.S. political leaders failed to reach a deal on raising Washington's debt limit and avoiding an impending default.
Japan's Nikkei 225 was off 0.6 per cent at 10,068.6 points, while China's Shanghai Composite Index declined by a similar margin to 2,754.97. Hong Kong's Hang Seng Index also lost 0.6 per cent to 22,308.8.
Many analysts expect U.S. leaders to reach a last-minute deal to raise the government's $14-trillion borrowing limit before an Aug. 2 deadline. But markets are watching anxiously for what tax or spending changes might be part of the settlement.
A default could mean the U.S. government could not pay all its bills starting next month, including interest and principal on Treasury bonds. That would cause shockwaves through Asian economies and financial markets.
"The only thing you can be assured of over the coming hours and days is volatility as the political posturing continues in the U.S.," said Ben Potter, market strategist for IG Markets, in a report.
In China, major stocks were down Monday. The market heavyweight PetroChina Ltd., Asia's biggest oil and gas producer, declined 0.8 per cent, while Industrial Commercial Bank of China Ltd. was off nearly one per cent.
Seoul lost 0.6 per cent to 2,156.31. Sydney and Singapore were both off by nearly one per cent.
The U.S. dollar was largely unchanged at 78.37 yen, down slightly from Friday's 78.43. The euro also was largely unchanged at $1.438.
"Of course, countries in this region are grappling with challenges," Clinton said. "But we are bullish on Asia's future. And while the United States is facing its own challenges, make no mistake: We are bullish on America's future, too."
Clinton appealed to China and others not to lose faith in the American economic model, which she said is resilient and has recovered from numerous past crises.
"America remains an `opportunity society,"' she said, "a country of possibility and mobility where a brilliant idea hatched in a college dorm room or a product invented in a garage can find a global market and grow into a multibillion-dollar company."
She urged Asia to embrace open and fair economic policies that have propelled growth in the past.
Because of those principles, "every time in history when the United States has experienced a downturn we have overcome it," she said.
Clinton called on nations around the world to play by the same rules, ending protectionism and easing other trade barriers as well as combating corruption and defending intellectual property rights.
"All who benefit from open, free, transparent and fair competition have an interest and a responsibility to follow its rules," she said. "Enough of the world's commerce takes place in developing nations that leaving them out of the rules-based system would render that system unworkable -- and ultimately that would impoverish everyone."
Her speech in Hong Kong was delivered at the tail end of a 12-day, around-the-world diplomatic tour that began in Europe but has focused on Asia for the past week. Clinton arrived in this former British colony late Sunday after three days in Bali, Indonesia, where she attended a regional security forum at which North Korea and tensions in the South China Sea topped the agenda.
Before Monday's address, Clinton met with senior officials from Hong Kong's government.
Afterward, she will drive to Shenzhen in southern mainland China for talks with Chinese State Councilor Dai Bingguo. Clinton will return to Washington later Monday.