U.S. Defense Secretary Chuck Hagel Heads To Mexico To Deepen Ties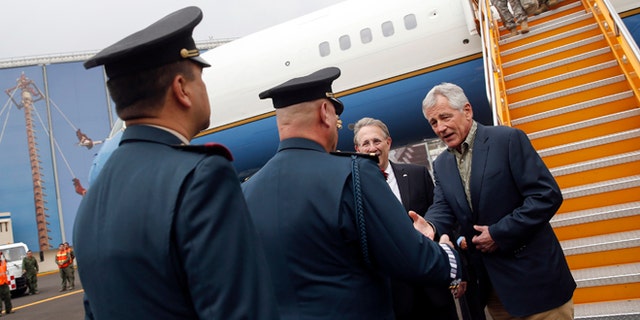 MEXICO CITY (AP) – U.S. Defense Secretary Chuck Hagel said Wednesday he is exploring ways to deepen U.S.-Mexican defense ties, including the possibility of training exercises with Mexican forces.
Hagel made the comment Wednesday to reporters traveling with him to Mexico City for talks Thursday with his Mexican and Canadian counterparts.
Military relations between the U.S. and Mexico have long been troubled, beginning with Mexico's loss of territory to the U.S. in the 1800s. More recently, ties have been strained by the battle against cross-border drug trafficking.
Hagel said Thursday's talks would also touch on security threats in the region, such as violent extremist groups, as well as potential areas of cooperation, including disaster relief planning and humanitarian assistance. Hagel also is scheduled to visit Guatemala before returning to Washington on Friday.
Hagel, on his first trip to Latin America since he took office in February 2013, said he sees a lot of room for improvement in how the U.S. interacts with the region.
"Over the years we've probably never done enough to reach out to our Latin American partners," he said, in part due to an absence of crisis-driven urgency.
"The places that get most of the attention around the world are the trouble spots," he said.
Hagel is only the third U.S. secretary of defense to visit Mexico. William Perry was the first in 1995; the other was Robert Gates, who was here most recently in 2010.
As a sign of improving defense ties, U.S. officials point to Mexico's interest in buying American military hardware. Last week the administration notified Congress of a proposed $680 million sale to Mexico of 18 Black Hawk helicopters.
Mexico previously had been buying Russian helicopters.
Follow us on twitter.com/foxnewslatino
Like us at facebook.com/foxnewslatino