U.S. Authorities Deport Member of 'Dream 30' As Other Activists Hold Hunger Strike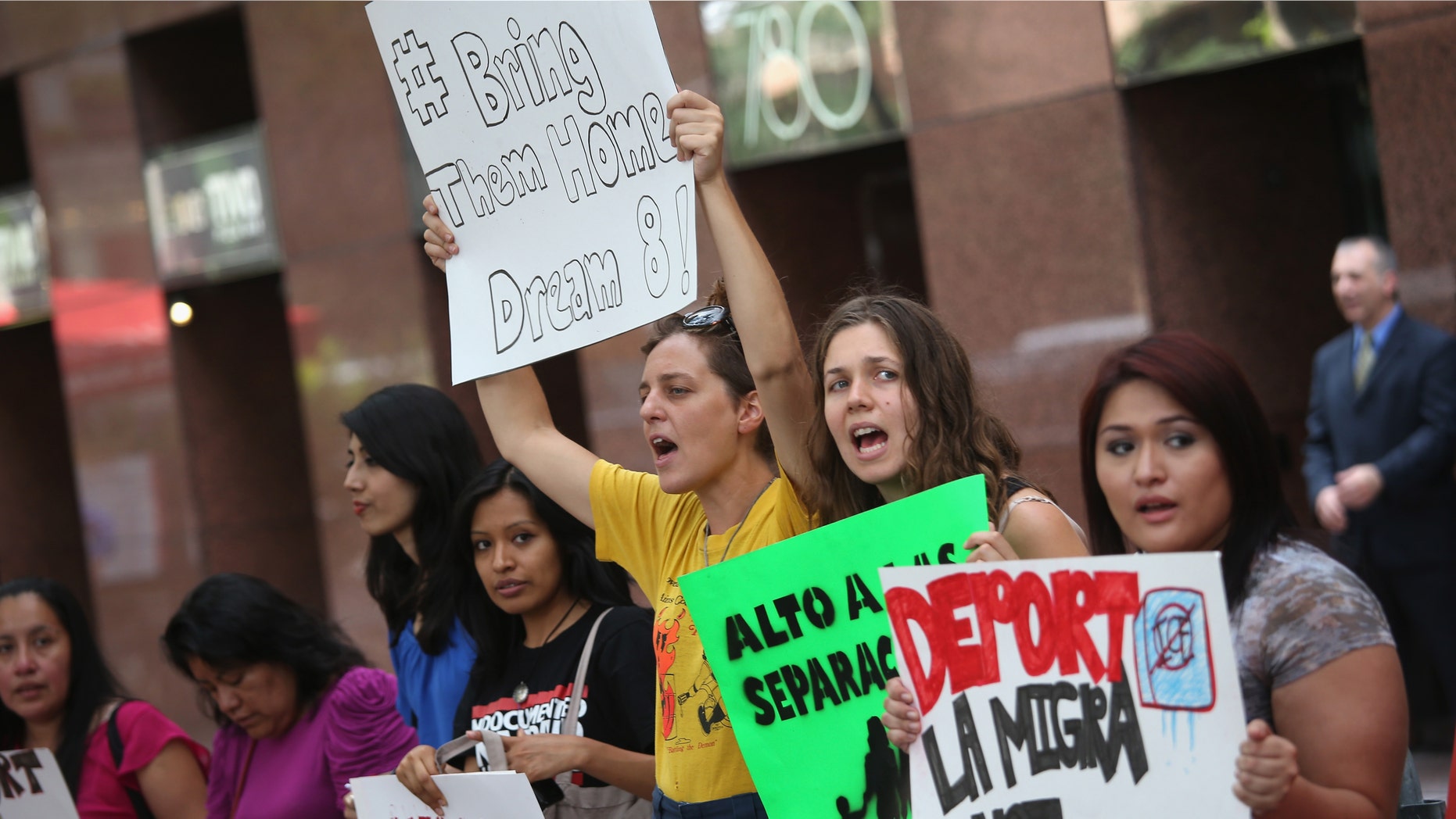 Immigration officials deported on Tuesday morning one of about 30 activists who approached authorities at the Texas-Mexico border in late September and requested political asylum, according to the lawyer for the group.
The activist, Rocio Hernandez Perez, was put on a plane to Mexico, according to David Bennion, the attorney. Hernandez Perez, 23, was in the group that took part in the Sept. 30 crossing, which was the most recent of a series of increasingly provocative protests against the record number of deportations under the Obama administration.
"Her attorney was not informed until she was already on the plane," said a statement by the National Immigrant Youth Alliance, or NIYA, the organization that coordinated the crossing.
Some of the others who crossed the border with Hernandez Perez are staging a hunger strike inside the Texas immigration detention center where they have been held, Bennion said.
The 17 approved cases have been held nearly a week after approval, with no explanation why they haven't yet been paroled per [immigration] policy. The clear message from [the Department of Homeland Security] is: don't try this again.
They want to be released pending a decision on their asylum claim, and they also want an end to deportations, which are approaching 2 million since Barack Obama became president.
Immigration and Customs Enforcement said Tuesday a judge determined Hernandez Perez was ineligible for immigration relief. No explanation was provided on the Mexican national's case.
Bennion said Hernandez Perez's aunt and uncle were kidnapped by the Zetas, one of Mexico's most brutal drug cartels.
ICE spokeswoman Leticia Zamarripa told the Associated Press that Hernandez Perez "was removed from the country."
The immigrants, all of whom are Mexican, except for one from Peru, had hoped to reunite with their families and draw attention to others like themselves who were brought to the United States illegally as children, but who were not present last year when the Obama administration tweaked its immigration policy and offered them provision legal status.
Some reports have said the group included 30 people, other reports said 34. The Sept. 30 action came a few weeks after another group – of nine people – made the same attempt, approaching U.S. authorities at the border and requesting political asylum. All of them, who were known as the Dream 9, were released from detention after they were determined to have a credible fear of persecution and released pending a final decision on their asylum claim.
But NIYA and Bennion say the second group is being treated more strictly by U.S. authorities. Roughly eight have been released from detention, but the rest remain locked up.
Bennion said that 12 of the immigrants were "reinterviewed by the asylum office after the initial interview because, as the asylum office told me, these are high profile cases."
Bennion said on a Facebook post that 16 of his clients received approval to proceed with their asylum claim after their initial interview, and nine got denials. Bennion said that marked a 36 percent denial rate, "far higher than the national rate of 9 percent," despite factors that he said should have worked in their favor, such as fluency in English.
Bennion added that he is not optimistic about the prospects for those from the group who have received denials and awaiting a review of their case.
"The 17 approved cases have been held nearly a week after approval, with no explanation why they haven't yet been paroled per [immigration] policy," he said.
"The clear message from [the Department of Homeland Security] is: don't try this again."
The tactics of both groups have been controversial, even among those who advocate for more lenient policies for undocumented immigrants. Their critics say they are engaging in publicity stunts that can actually undermine the work of those who are pushing for immigration reform laws.
Those who favor strict immigration enforcement said the decision to deport Hernandez Perez was justified.
"It is clear that Ms. Hernandez Perez and the other activists were attempting to abuse our asylum process for the purpose of advancing a political cause," said Ira Mehlman, a spokesman for the Federation for American Immigration Reform, or FAIR, which lobbies for strict immigration policies. "As such, she was properly denied entry to the United States and returned to her native country."
"The United States is under no obligation to admit people who have no legal right to enter the U.S., who clearly intend to remain in the country illegally, and who have no valid claim for asylum in this country."
Their supporters say they are heroes who are taking risks to change flawed immigration policies and out-of-control deportations that have separated families.
Immigration attorney Matthew Kolken, who has been following the cases of both groups that requested asylum, said the U.S. government is being vindictive.
"Ms. Rocío Hernández Pérez's deportation is clearly a shot across the bow to reform activists, and the message has been heard loud and clear," Kolken said. "If you stage a protest questioning the policies of the current administration they will make an example of you. That's the Chicago way. What the administration doesn't seem to grasp is that these activists aren't bringing a knife to a gun fight."
In an interview with the Guardian in September before her arrival at the border, Hernandez Perez said she was brought to the United States from Mexico as a child, and decided to "self-deport" after her undocumented status kept her from getting a driver's license and financial aid to attend college.
"At that point everything changed for me," she is quoted as saying. "I thought I would be able to go to college, and live my life fully as an American, but then I realized it wasn't going to happen."
She said, according to the publication, that her parents encouraged her to return to Mexico.
"They wanted me to get a good education, be able to drive without being stopped all the time by the cops because I didn't have a license. They didn't like seeing their kid treated like a criminal."
She said that life in Mexico was filled with danger, and that influenced her decision to risk a return.
"We hear people shooting each other just a block away," she is quoted as saying. "We see pictures of bodies being dumped on the TV, women being raped and their parts strewn over the city."