U.C. Berkeley Professor Confirmed to California Supreme Court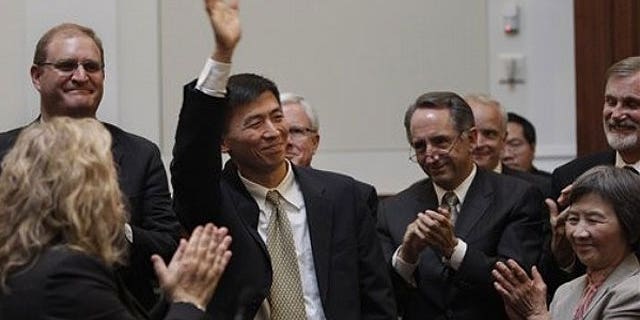 A U.C. Berkeley law professor whose nomination to a federal appeals court was blocked by Senate Republicans was unanimously approved Wednesday for the California Supreme Court.
The state's three-member Commission on Judicial Appointments unanimously voted for Goodwin Liu's nomination, and Gov. Jerry Brown was scheduled to swear Liu in on Thursday.
"This has to be the most peaceful and enjoyable judicial appointment conference in the country," Liu said to laughter from about 100 spectators who filled the state Supreme Court chamber to watch the hearing.
Several influential Republican senators who took exception to Liu's outspoken opposition to Samuel Alito's 2006 appointment to the U.S. Supreme Court prevented Liu from becoming a member of the 9th U.S. Circuit Court of Appeals after President Barack Obama nominated him for that post last year.
Liu came to Brown's attention during the bruising confirmation process for the appeals court.
Brown said he began discussing the state Supreme Court vacancy with the law professor after Liu withdrew from consideration in May.
The governor nominated Liu in July to fill the vacancy created by the retirement of Carlos Moreno, the high court's only Latino.
Of the 1,500 letters the judicial commission received, only about two dozen opposed Liu's appointment, and all speakers at Wednesday's hearing spoke in support of him. The three members voted after just a few questions.
Liu will be put to work immediately. The court is scheduled to hear arguments on Tuesday on whether the financial backers of the measure that banned gay marriage can appeal a federal judge's decision striking down the ban.
Liu signed onto a 2008 legal brief with other law professors arguing that same-sex couples were legally entitled to marry.
That position was a source of criticism in Washington during his unsuccessful bid for the federal appeals court. Judicial Watch, a Washington, D.C.-based legal advocacy group, brought it up again in a letter to the California commission as one example of several that he was an "activist" judge unfit for the bench.
The Commission on Judicial Nominees, which is tasked with vetting state judicial nominees, reported to Brown that Liu was "exceptionally well qualified."
Liu, 40, is the son of Taiwanese immigrant doctors, He was born in Georgia, grew up in Sacramento and earned an undergraduate degree from Stanford University and a law degree from Yale University. He later clerked for U.S. Supreme Court Justice Ruth Bader Ginsburg.
Liu was Brown's first judicial appointment since becoming governor in January.
During Brown's first tenure as governor between 1975 and 1983, he appointed Rose Bird as California's first female appointment to the high court. But she was voted out of office in 1986 along with two other colleagues who opposed the death penalty.