Tucson Illustrates High Medical Cost of Treating Shooting Victims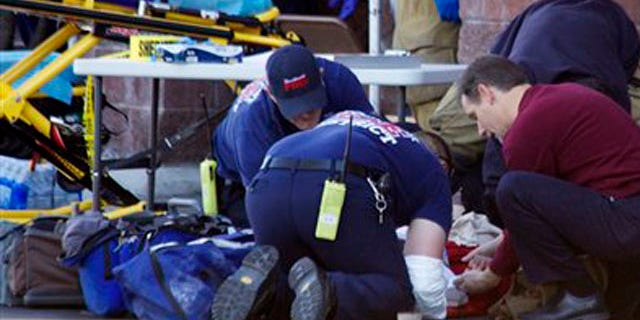 As Rep. Gabrielle Giffords, D-Ariz., is moved Friday from Tucson to a rehab hospital in Houston, she will begin weeks of extensive treatment and therapy as she tries to recover from the traumatic brain injury she suffered two weeks ago at the hands of a lone gunman.
But for the victims of the Tucson tragedy, it will also mark the latest expense in their costly journey of medical care. The estimated medical costs associated with treating the victims of the mass shooting offer just one example of how gun violence contributes greatly to America's collective medical bill.
Estimates provided to FoxNews.com by a Maryland-based researcher who studies these expenses show the lifetime medical costs for the 13 surviving Arizona victims could exceed $500,000. The cost of hospital care alone was estimated at $250,000.
Dr. Ted Miller, a senior research scientist with the Pacific Institute for Research and Evaluation, provided the calculations. The costs are staggering, but so are the costs for any gunshot victim.
Miller's data showed that in 2007, the average medical cost for an individual with a firearms injury was $48,610 (in 2010 dollars). Nationwide, that added up to about $1.4 billion.
Some of these costs are virtually unavoidable.
A doctor with the American College of Emergency Physicians said that at his hospital, a gunshot wound to the head, chest or abdomen will cost $13,000 as soon as the patient comes in. After that, cost depends on how severe the wound is.
Of course, not all these costs are borne by the victim. A study conducted by Miller and other experts a decade ago -- which appeared in the Journal of the American Medical Association -- showed nearly half the costs are paid for by taxpayers, mostly via Medicaid and Medicare.
Miller said Medicaid-enrolled victims typically pay nothing, while Medicare-enrolled victims could pay a small amount. The burden on those with private insurance varies, but he said a typical out-of-pocket expense would be about $2,000.
"It really depends widely on your insurance," Miller said, noting that some insurers require a 20 percent co-pay from patients.
The new health care law makes a few changes that will presumably reduce the amount people pay out of pocket for this kind of emergency care. Provisions that went into effect late last year will restrict health plans from limiting payment for out-of-network emergency room visits. It also restricts health plans from capping lifetime benefits.